D-II baseball final
Aviano wins first baseball title
by
Gregory Broome
May 25, 2019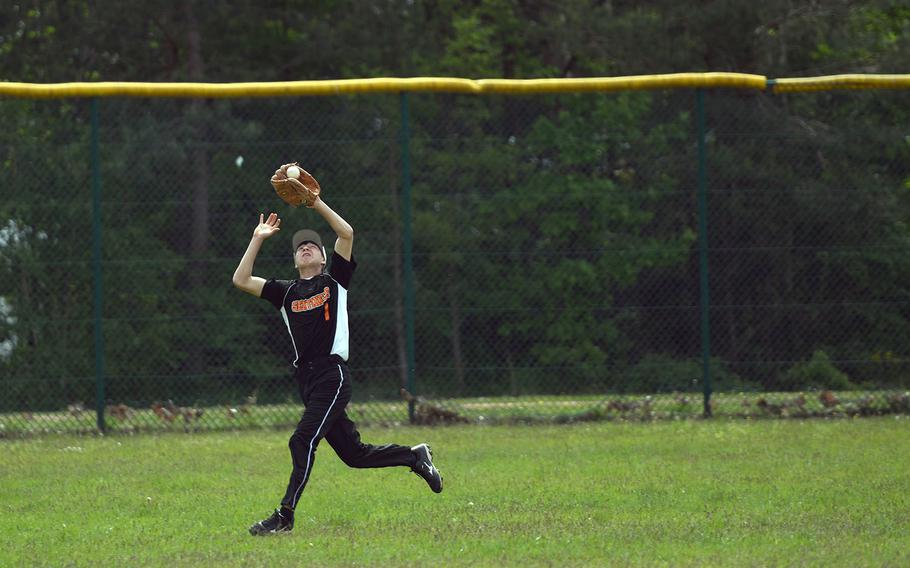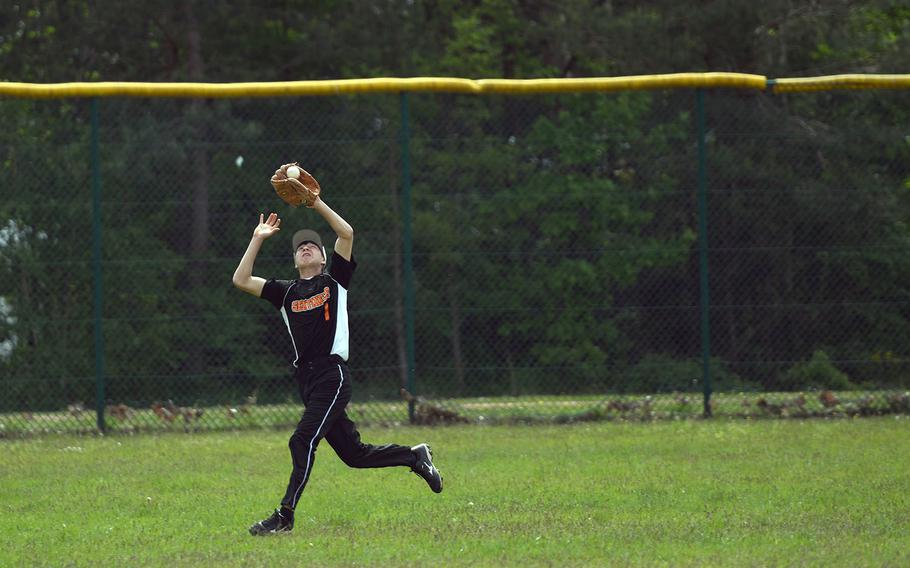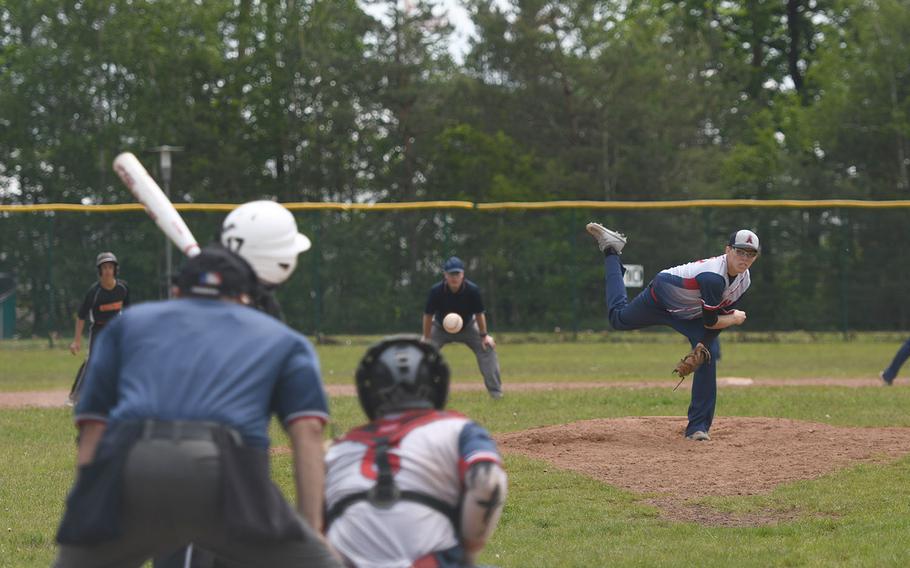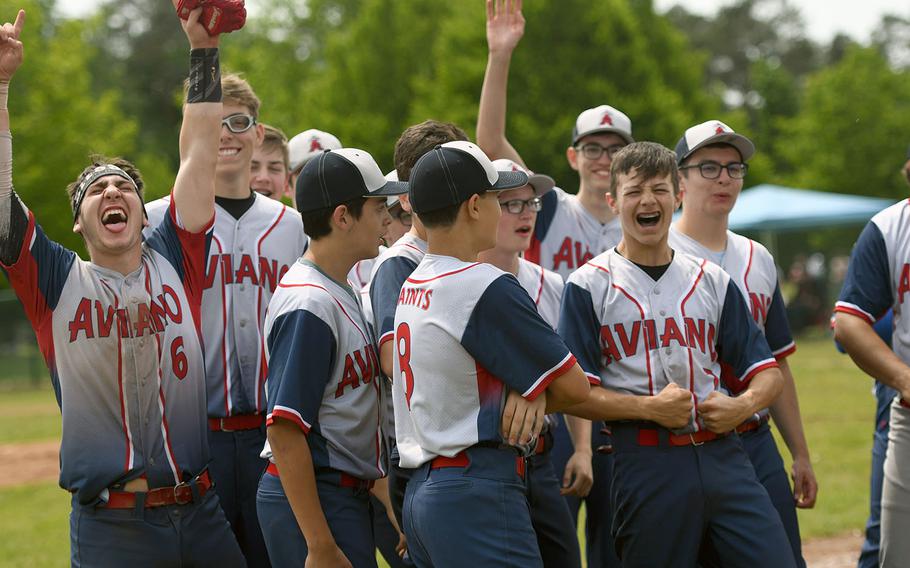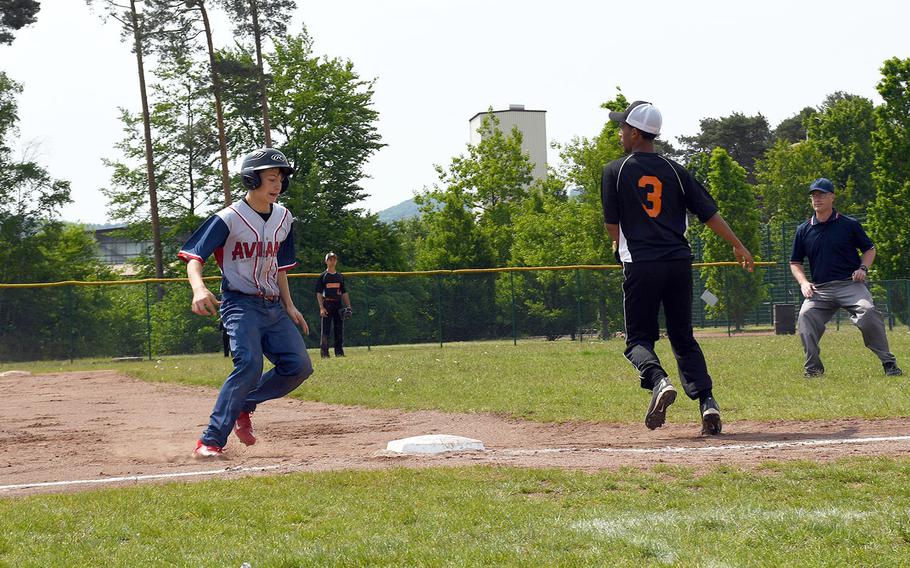 RAMSTEIN AIR BASE, Germany -- DODEA-Europe crowned a new Division II/III baseball champion Saturday, in more ways than one.
The Aviano Saints beat the Spangdahlem Sentinels 13-5 in the small-school.championship game Saturday at Ramstein Southside Fitness Center, claiming the first baseball championship in the school's history and completing a remarkable ascent from the depths of Division II/III to its peak.
"It's amazing to be a part of this," said Saints star Nick Smith, who had an RBI and three runs scored in the game. "To come out here, get a banner, first one, it feels great."
Aviano head coach Kevin Lehde took over a program mired in a multiple-season losing streak and squarely in the basement of Division II/III. But steady improvement led to an encouraging berth in the 2018 semifinals, and a strong spring set them up for success in the 2019 tournament, where it arrived with considerable fan support considering its school's distance from southwestern Germany.
"The spirit that our school shows for our sports teams is immeasurable," Lehde said.
That spirit spilled over onto the field as the Saints emerged as the tournament's most overpowering team. An early close call, namely the 8-7 opening win over the same Spangdahlem team it would eventually face for the title, was the impetus for the team to swing away in a 24-1 preliminary rout of Ansbach and a 17-0 dismantling of defending champion Sigonella in a Friday semifinal.
"We just spent our time hitting in the cages, making sure everything was correct," Smith said. "After that we just piled on runs every game."
Aviano's productive bats allowed it to conserve its pitching staff, an imperative under the tournament's strict pitch-count limits. The offensive cushion, and Smith's no-hitter against Sigonella on Friday, kept Payne Varnum "rested and ready to go" for his planned start in the title game, Lehde explained.
"Having pitchers that can throw strikes and throw with pace is everything," Lehde said. "The fact that we still had one, I think, was the big deal."
Varnum made good on the opportunity, earning a strikeout to escape a bases-loaded threat in the first inning and then settled in for the win. The Saints plated five runs in the bottom half of that opening frame, giving their pitcher all the support he needed.
"I was nervous, but I was preparing, so I was ready," said Varnum, who aided his own cause with a 3-for-3, two-RBI performance at the plate. "I got kind of laid-back and was able to throw."
Spangdahlem settles for its fourth straight runner-up finish in the European tournament, a streak that includes one-run losses in 2016 and 2018. Sentinels coach Don Cobb said his team, featuring just two seniors and one junior, proved it belonged among the tournament's finest this week.
"We're an extremely young team," Cobb said. "They fought hard."
broome.gregory@stripes.com Twitter: @broomestripes