Aviano's press flattens Bamberg for boys D-II title
---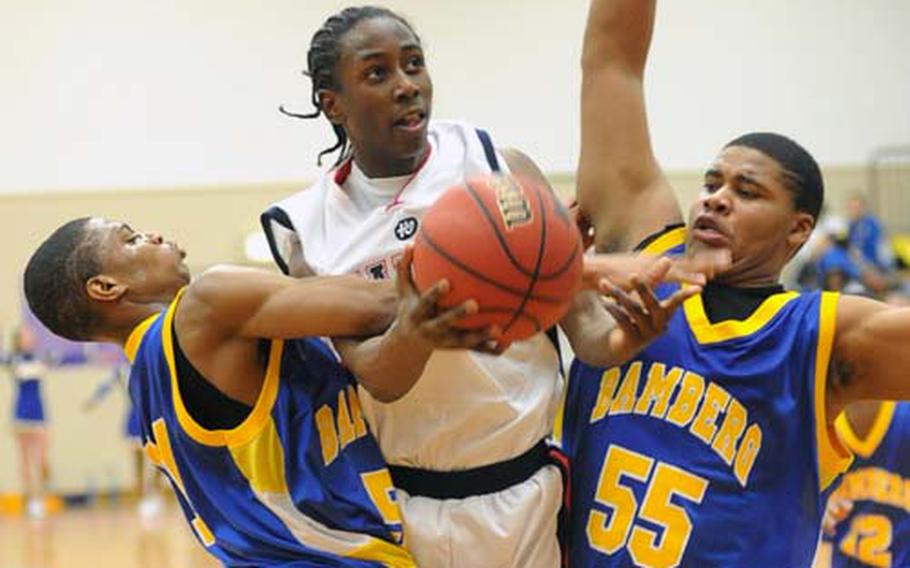 Photo gallery: Div. II and III championships
MANNHEIM, Germany — Sixteen minutes into Saturday night's boys European Division II championship game and some 29 hours after absorbing a 58-53 pool-play loss to the same Bamberg team that stood between them and a European title, the Aviano Saints decided it was time to close things out.
Cranking up a suffocating full-court press, Aviano forced six straight turnovers to open the second half and romped to an 85-59 victory over the Barons.
"My kids are very, very aggressive," veteran Aviano coach Ken McNeely said after the Saints used it to outscore Bamberg 51-26 in the final 16 minutes. "They get all over you. They don't give you any good looks at the basket."
Or even much of a look at the basketball. After halftime, Bamberg, which trailed just 34-33 at intermission, seemingly was stripped of the ball more often than it maintained possession.
Tournament MVP Jamal Tuck scored 15 of his game-high 23 points in the decisive third period, converting four turnovers into layups as the Saints went on a 28-16 run.
Pressure, and a defensive switch, Tuck said, accounted for the turnaround from Thursday's loss, the Saint's first of the season, and Saturday's finish.
"We changed the defense," Tuck said, "so that we'd get more defensive rebounds."
The change worked perfectly in the third period. Bamberg's burly Cortez Lindsey, who pulled down four offensive rebounds in the second period, grabbed none in the decisive third quarter. His teammate, All-Europe senior Josh Robinson, generally a rebounding maniac, did beat Aviano's Bobby Henderson for three offensive rebounds in the decisive stanza, but sank just one put-back basket.
"It was a fight down there on the blocks," Henderson said of the rebounding melee that followed every miss. "We battled the whole game."
The last time Aviano appeared in a title game, the Saints lost to a Hanau team coached by the same Tim Smith who guided the Barons this season. Bamberg, seeded fourth, won the D-III title last season, while Smith coached Hanau to the D-IV crown in that school's final season. Bamberg and Smith, however, were forced to settle for second this time.
The victory completed the day's second sweep. Earlier, the Baumholder boys and girls claimed D-III crowns, and immediately prior to the boys title game, the Aviano girls wrapped up an unbeaten season by downing SHAPE 50-39 in the D-II girls championship contest.
"Last year, the girls came in second, and we didn't do very well," Tuck said. "This year, we came up here to win it."
McNeely, who said his team prepped for this event by winning "a big tournament in Italy" and whose personal victory total is "well over 700," saw the 2009 Europeans as a coming-out party for the American Schools in Italy League. Usually a mere afterthought in Central Europe, ASIL teams won three of the six tournaments in which they had representatives here, and grabbed a second and a third in two other events.
"[A]SIL has some good teams," McNeeley said. "[D-IV champ] Sigonella beat Naples [D-II] twice, Vicenza was third here, and AOSR was tough. It was a good year south of the Alps."
Division II boys championshipAviano 85, Bamberg 59(Saturday at Mannheim)
Bamberg 17 16 10 16—59Aviano 12 22 28 23—85Scoring—Bamberg: Ryan Morris 17, Joshua Robinson 12, Daniel Kieser 11, Quadel Webb 6, Josh Fletcher 5, Cortez Lindsey 4, Kevin Brown 2, Don Garcia 2; Aviano: Jamal Tuck 23, Bobby Henderson 19, Kareem Williams 15, Sean Outing 12, Joshua Nunez 10, Denzell Barnett 6.Division II All-Tournament teamsGirlsAlyssa Lane (MVP) and Jasmine Mailoto, Aviano; Ebonee DeVos and Tammy Northshield, SHAPE; LeAmber Thomas and LeAndra Thomas, Wiesbaden; Jessica Krause, Black Forest Academy; Raquel Davis, Bamberg.
BoysJamal Tuck (MVP), Joshua Nunez and Kareem Williams, Aviano; Ryan Morris, Joshua Robinson and Quadel Webb, Bamberg; Kenny Conlan, SHAPE; Sam Freeman, Ansbach.
---
---
---
---