Aviano's Hight excels in volleyball despite getting a late start
by
Kent Harris
November 1, 2007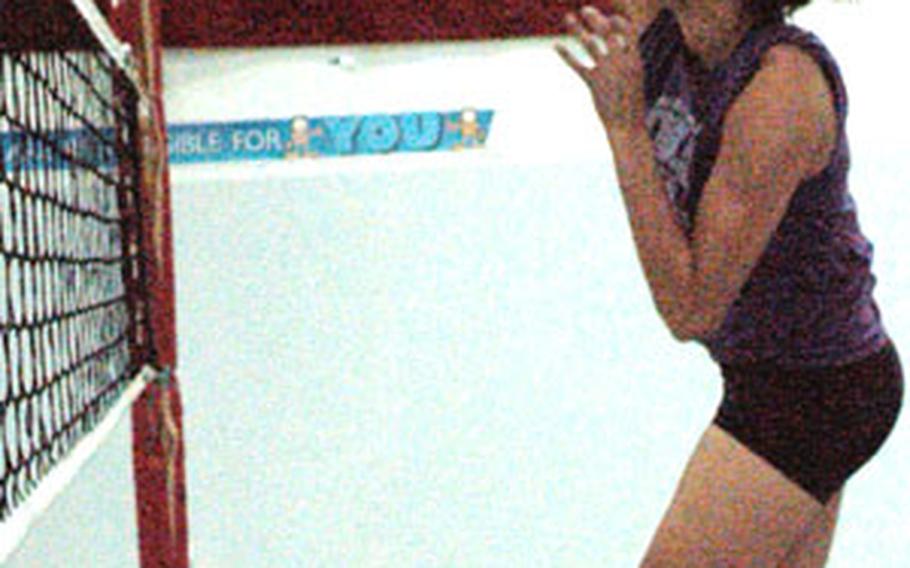 AVIANO AIR BASE, Italy — Hans Hillestad has had quite a bit of success coaching the girls volleyball team at Aviano.
The Saints' victory Saturday over Milan pushed their winning streak in games against American Schools in Italy League competition to 99 straight contests. Aviano has the top seed in the DODDS-Europe Division II championship tournament, which begins Thursday in Kaiserslautern, Germany.
Suffice it to say that the Saints have had more than a few good players over Hillestad's 13 years at the school.
But not many of them started off their high school years focusing on cheerleading. And while many played the sport for years, that's not the case for the biggest hitter on this year's squad.
Senior Tiffany Hight, 17, said she had never really seen a volleyball game before trying out for soccer her sophomore year. Hillestad was the coach.
"He told me if I made the soccer team, I'd have to try out for volleyball," Hight said after a recent practice.
"He was joking, but I didn't know that. He had told me since my freshman year that he wanted me to play volleyball."
Hight had never played that sport before. At least not the proper way.
"Just the P.E. kind where you carry and hit it any way you want," she said.
Growing up in Kansas, Hight had always been athletic. But she had stuck to individual sports such as gymnastics and track. She moved to Aviano before high school started when her stepfather, Staff Sgt. Ben Dame, transferred in.
Soccer was her first attempt at a team sport. And her skills were pretty raw.
"I was fast," she said. "They put me on the other team's best player. I didn't have good eye-foot coordination to take the ball away. So I'd get to the ball first and kick it away."
Hight tried out for the volleyball team her junior year and quickly decided she had found her sport.
"She loves playing volleyball," Hillestad said of his 5-foot, 8½-inch middle hitter.
And how does he explain her adapting to the game so quickly?
"She has this blue shirt underneath with a big 'S' on it," he said, laughing. "I don't know how else to explain it."
Hight gives a lot of the credit to Hillestad for putting in extra time with her. And her teammates for providing encouragement and the desire to win. She said her biggest adjustment was learning how do something she now does routinely.
"Hitting," she said. "I could jump. But the whole approach was awkward."
Not any longer. Hillestad said Hight is averaging about four kills per game.
On Oct. 21, for example, she had 21 kills against Vicenza, and 14 kills and a block against Marymount International as the Saints swept both matches. The previous week she had 10 kills against Sigonella and 12 kills, a block and three service aces against Naples.
Hight enjoys volleyball enough that she and fellow co-captain Alex Simon play for a local Italian team.
The pompoms, she said, are gone for good.