D-II semifinals
Aviano, Rota host small school semifinals
---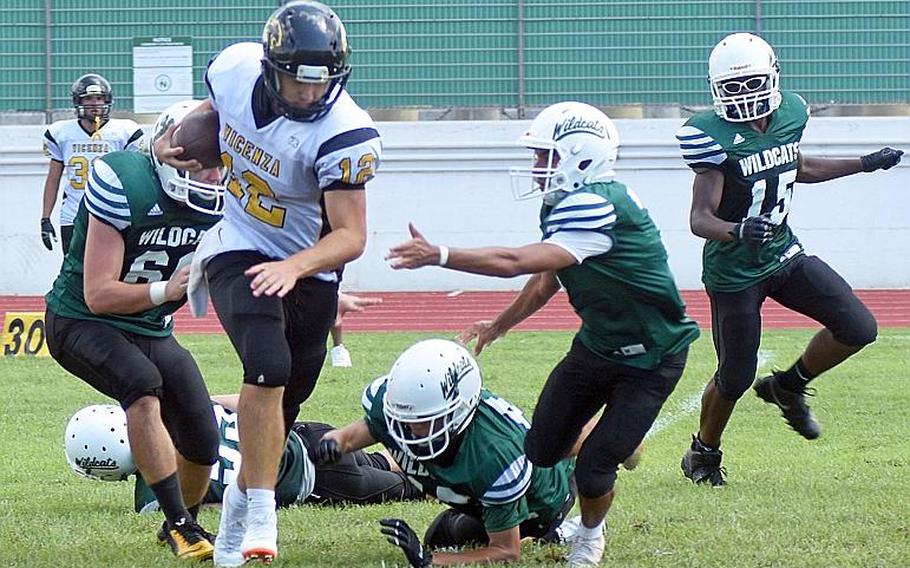 This weekend's 2019 DODEA-Europe Division II football semifinals would seem to have two clear favorites. But a closer look reveals that the outcomes might not be so obvious.
The top-seeded defending champion Aviano Saints host the fourth-seeded Naples Wildcats in one semifinal game Saturday, while the second-seeded Rota Admirals host the third-seeded Vicenza Cougars in the other.
Aviano and Rota are far more accomplished than their semifinal opponents.
The Saints have followed up the breakout championship season they enjoyed a year ago with an equally strong 2019 regular season. Aviano won all of its conference games this fall, wrapping up the unbeaten run with a 24-21 defeat of Rota on Oct. 19. The Admirals' loss in their regular-season finale spoiled their own undefeated season, though they were already assured of a home semifinal entering the final weekend.
Vicenza and Naples, meanwhile, walked a far bumpier path to the playoffs. The Cougars' two-game September win streak gave them the numbers they needed to crack the postseason, while Naples entered the last weekend of the regular season stuck in a winless last-place tie with SHAPE. The Wildcats rolled past the Spartans 39-7 to claim the fourth and final playoff berth in the five-team division.
Those respective narratives would logically end with Aviano and Rota advancing to the Nov. 2 European championship game. But when the Saints and Admirals shared the field with their less-heralded opponents this fall - coincidentally both on Sept. 14, the first weekend of the Division II conference season - the wins did not come so easily.
Aviano edged Naples 18-7 that day, while Rota knocked off Vicenza 18-6. The Cougars similarly threw a scare into Aviano when those two local Italian rivals clashed; Aviano escaped with a 25-22 win.
That kind of fierce competition was commonplace this fall in Division II, a newly streamlined division that lost two of its seven 2018 members and placed five incumbent teams into battle for four playoff berths. And it's likely to continue this weekend with a pair of semifinals that just may be more unpredictable than the standings would suggest.
broome.gregory@stripes.com Twitter: @broomestripes
---
---
---
---