DODDS-Europe boys volleyball finals
Aviano finally breaks through to win title
by
Kent Harris
November 6, 2010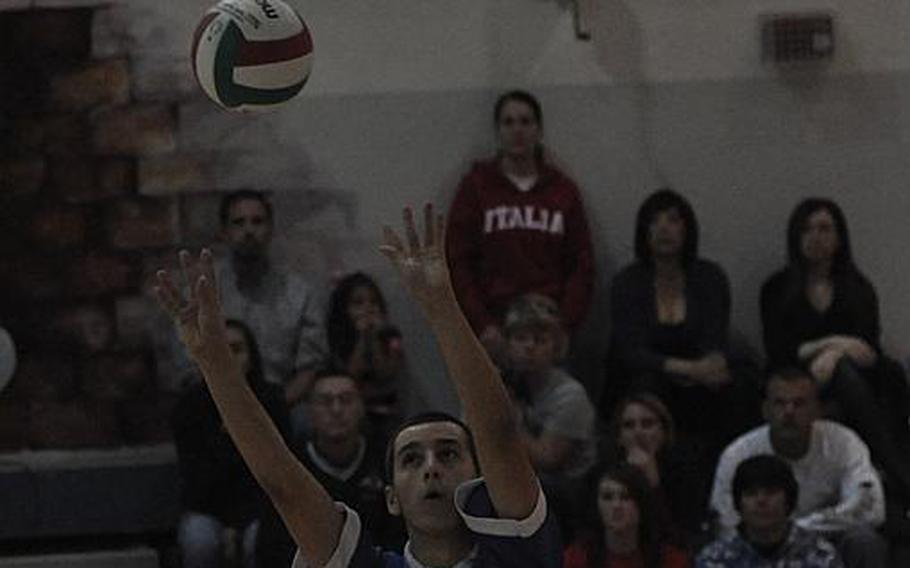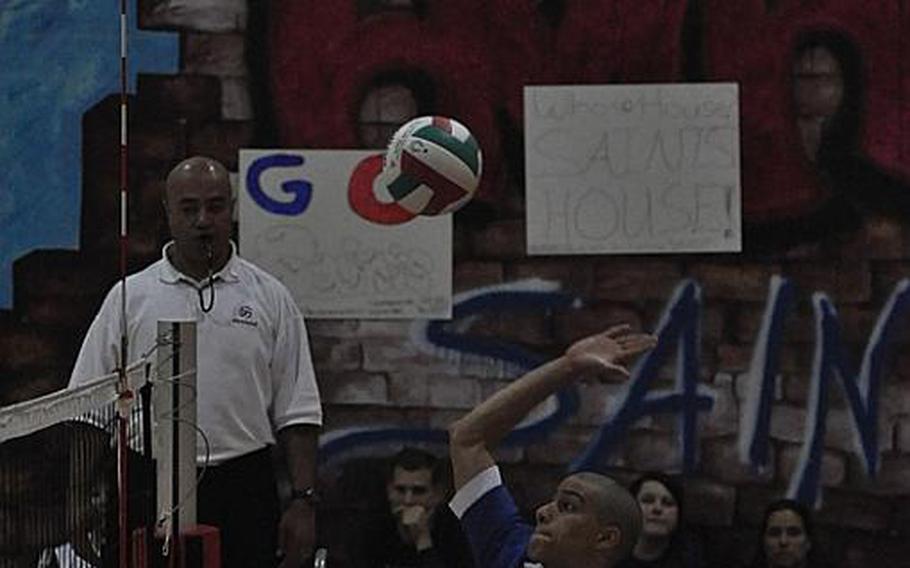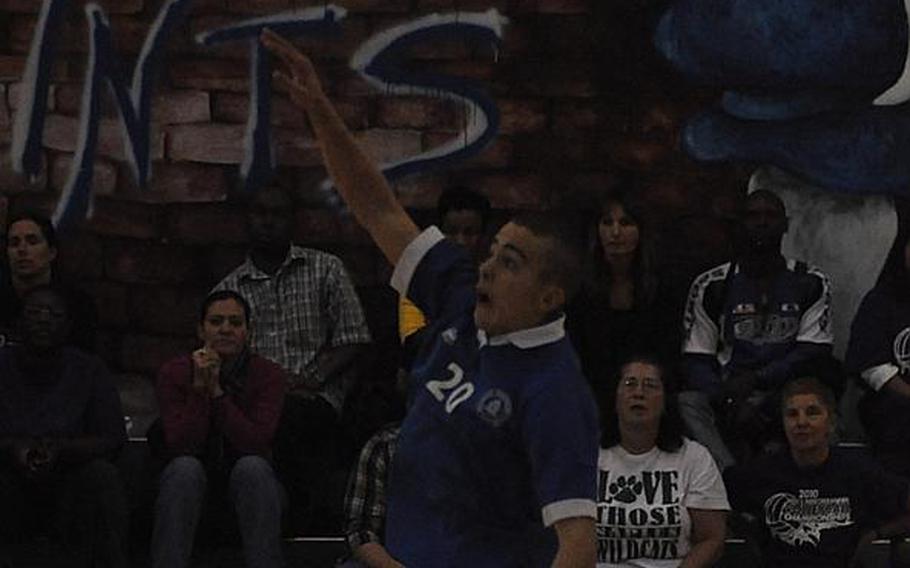 AVIANO AIR BASE, Italy — After three years of coming close, Sam Hillestad ended his high school volleyball career as a champion.
The 6-foot-3-inch senior was named most valuable player Saturday as the Aviano Saints downed Marymount International 25-23, 25-22, 23-25, 25-19 in the final of the DODDS-Europe boys volleyball championships.
The victory broke a string of four straight appearances in the finals for Aviano without a title to show for it. And three in a row for Hillestad.
"It just makes it that much sweeter," Hillestad said minutes after cavorting around the gym with his teammates.
It was those teammates that made the difference, according to coach Louis Lucidi.
"Sam can't score 25 points by himself," Lucidi said. "It's nice to have that one player, but you have to have a team to win this."
Justen Smithers, Trevon Baylor, Zachary Erskine and Ethan Luce all had their moments at the net or helped Patrick Plaza set up one another and Hillestad.
But it was Hillestad — a four-year standout whose parents teamed to coach the successful girls team for more than a decade — who continually broke the Royals' hearts. He had 17 kills and five blocks.
"He's skilled. Very skilled. Smart. Very smart," said Marymount coach Scott Roniger. "You can get him the ball anywhere on the court. Whenever we started making a move, he was someone they could go to every time."
The Saints didn't do that, though, for a majority of the contest. Lucidi said going away from Hillestad keeps the other players involved and keeps the other side off balance.
Smithers played that role well in the opening set, with four kills as the Saints erased a 5-1 deficit and eventually led 23-19. Marymount, which had defeated Aviano in pool play Friday to force the Saints to knock off previously unbeaten Naples to reach the finals, rallied. The Royals scored four of the next five points and looked like they would tie it after Aviano had to scramble to keep the ball alive. But Marymount senior Dusan Micovic spiked the ball into the net, giving Aviano the first set.
Micovic, also named to the all-tournament team, "played his heart out," according to Roniger. He led another Marymount charge in the second set, with the Royals scoring seven straight points to cut the Aviano lead to 24-22. But Luce put the set away empathically with a kill and the Saints were up 2-0.
Hillestad started to dominate in the third set, with four early kills. But neither team led by more than two points before Micovic's kill put his team up 24-21. Aviano rallied for two points, but Marymount won when a volley went wide.
Hillestad came out firing again in the fourth set, with three kills in a sequence of six points as Aviano built a 22-13 advantage. Marymount mounted another rally, but Luce then took over with a pair of kills to end it.
Marymount has finished fourth, third and second in Roniger's three years as coach.
"We were hoping to skip a step this year," he said. "But I'm so proud of the team and the way they played. This is the best that a Marymount team has done for a long, long time."
Tournament favorite Naples, which didn't lose during the regular season and was the tourney's top seed, settled for a 27-25, 25-16 victory over Vicenza for third.
---
---
---
---