Aviano augments star power
---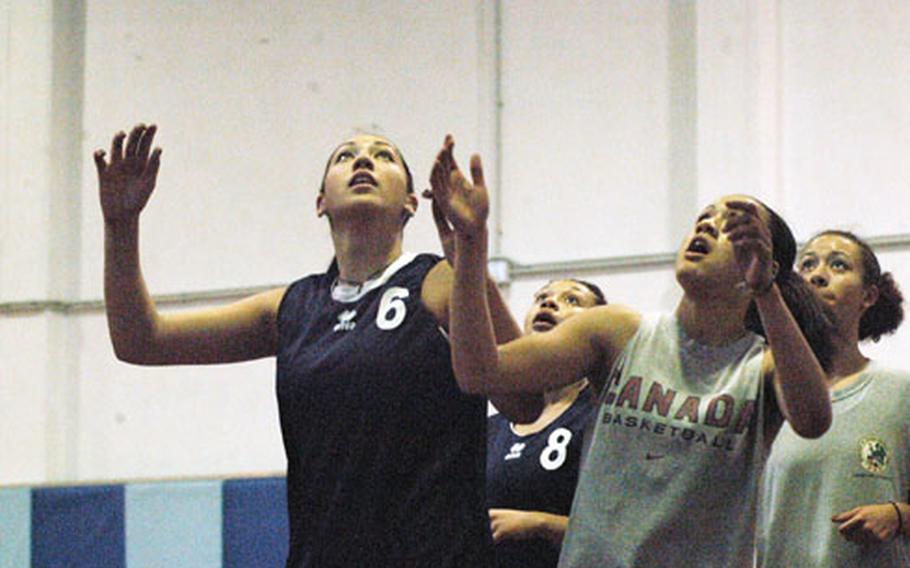 AVIANO AIR BASE, Italy — Sometimes life just isn't fair.
The Aviano girls basketball team reached the European Division II championship game last year, spurred by the play of Alyssa Lane. She's a senior this year and is having another great season — and so is her unbeaten team, thanks in part to 6-foot-1 freshman Jasmine Mailoto.
"We're like Shaq and Kobe," Mailoto says with a smile. "Except I make my free throws."
Shaquille O'Neal did spend a year playing high school basketball while his stepfather was based in Europe with the military. And Kobe Bryant did grow up in Italy where his father played professional basketball. But they weren't on the same team until joining the Los Angeles Lakers. They won three NBA titles together before their relationship soured and O'Neal was traded.
Lane and Mailoto are getting only a year to play together in high school, though they would like more. And, they say, squabbling won't be a reason that they don't win a title.
"We have a great relationship on the court," said Lane, who is averaging 17.9 points and has gotten to demonstrate her shooting range a lot more this year, thanks to Mailoto's play on the inside.
"We know where each other is going to be," said Mailoto, who is averaging 13 points and five rebounds a game. "And it's almost like we know what the other one's thinking."
Unlike many new DODDS athletes, who transfer in to communities by following their parents' military careers, Mailoto wasn't a surprise this year to the Aviano coaching staff. Her father, Master Sgt. Kisona Mailoto, has been stationed at Aviano for three years.
"She probably could have made the varsity team in the seventh grade," coach Greg Mead said.
Her mother, Alessandra, is Italian. Jasmine was born in Aviano and said she's fluent in Italian. She credits much of her success to playing with a series of Italian teams during the last several years after the family transferred back to the area. That includes a stint with the Friuli Venezia Giulia team that played against squads from other countries.
But she said her father, a native of American Samoa, taught her the game.
"I was more of a volleyball, dance type of person," she said. "But when my dad saw that I kept on growing, he told me: 'You've got to play basketball.'"
She said she also gets her height and solid frame from her father.
"He's 5-11, but all of my uncles are at least 6-3," she says.
These days, Mailoto says she's "obsessed" with the game. "I will be looking for a scholarship to play basketball in college," she said. But that's several years away, and Mailoto says there's a good chance she'll be a Saint until that happens.
"I'm probably going to graduate here," she says. "I hope so. If not, I still want to play basketball, wherever that is."
Saints fans won't mind if she sticks around. This season, with Lane on the outside and Mailoto on the inside, coming up with a game plan to beat them isn't easy. The team hasn't been remotely tested during play in Italy.
"(Mailoto's addition) makes us a lot more versatile," assistant coach Shari McGuire said. "And we have a lot of role players who know their roles and do them well."
And then there's Shaq and Kobe. Put it all together, and you've got a winner.
---
---
---
---