Aviano, Alconbury girls retain Europe volleyball crowns
by
Kevin Dougherty
November 6, 2005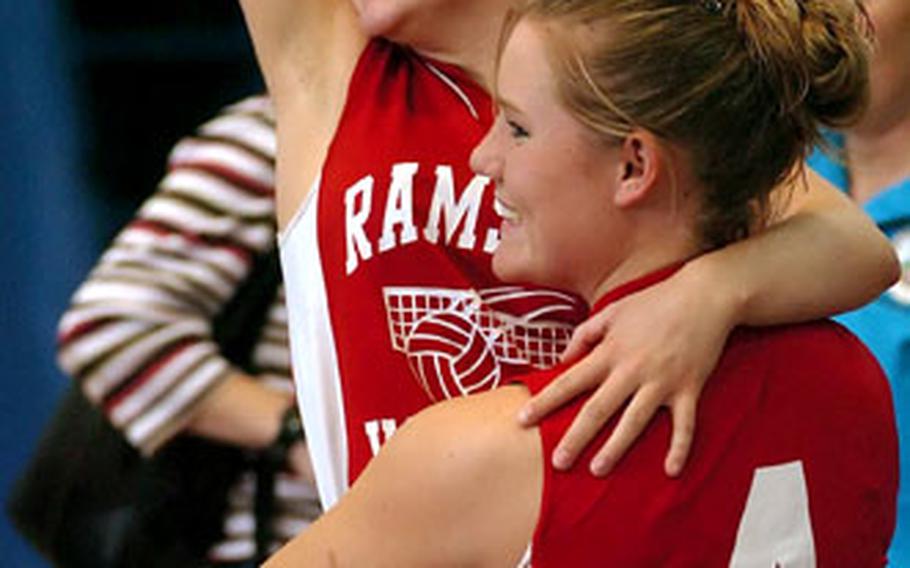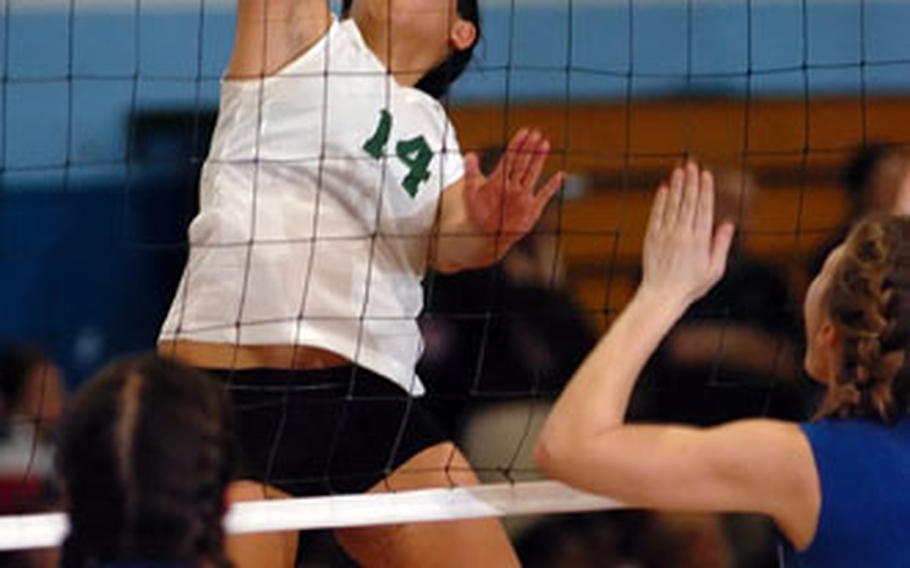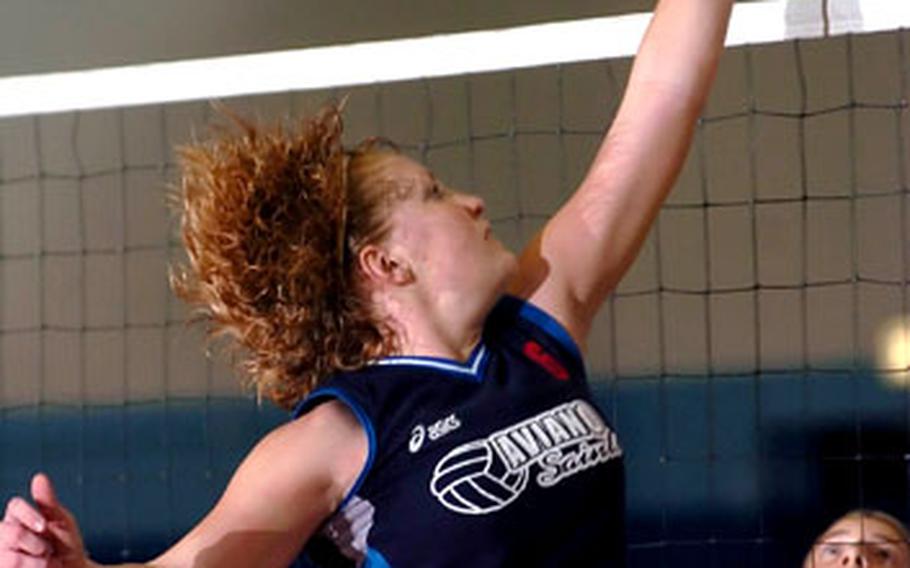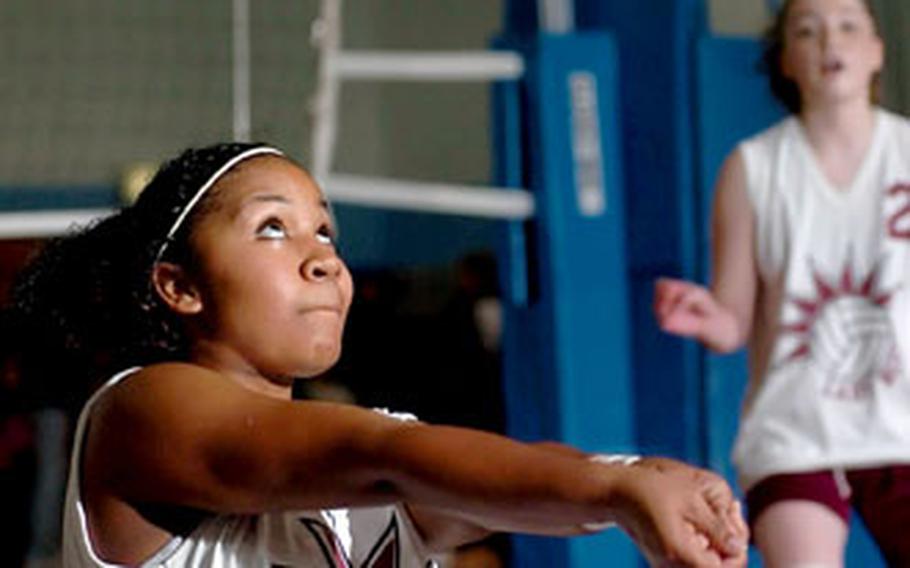 RAMSTEIN AIR BASE, Germany — Defending champions Aviano of Division II and Alconbury of Division IV were joined by Division I Ramstein and Division III Baumholder as winners in the DODDS-Europe volleyball tournament Saturday.
Three of the four title matches were three-game sweeps. And for two of the defeated schools — Frankfurt International School and American School of Milan — the day was bittersweet, since neither was able to claim a title after making it to the championship for the second year in a row.
Division IVIt took four games for Alconbury to prevail against Milan 25-9, 19-25, 25-14, 25-14.
The Dragons said experience, familiarity and hard work were the keys to their victory. Aja Brown led the way with steady play, especially after her team dropped the second game.
"We wanted it more," Ounie Pegues said as she hugged Brown moments after the final point.
Brown also credited the team's maturity and team play. Seven of the players are seniors, and most of them were on last year's team, she said.
"Playing together for four years makes [the victory] even better," she said.
Added coach Emily Dreiling: "The girls definitely got what they earned. They really wanted it this year."
Division IIIBaumholder, which lost in last year's title game to Ansbach, defeated Rota 25-13, 25-10, 28-26.
"Our team is just so fundamentally sound," coach Mike Reiley said as he watched his players celebrate. "There's nothing flashy about us."
Leading Baumholder was senior Kandi Dyer, whose steady play and composure typified how the team played.
The third set was the toughest. Baumholder, which rolled through the first two games, was leading and seemed to be on its way to another comfortable victory when Rota fought back and took the lead.
"We got lazy," Dyer said.
Baumholder called a timeout to regain its focus. It worked. Though the score seesawed back and forth, the Bucs prevailed.
"We told ourselves we came too far to lose now," Dyer said in recounting the timeout discussion. "I'm so proud of all the players. It was a real team effort."
Division IIAviano, the top seed and defending champion, completed a 19-0 season by beating Black Forest Academy, 25-23, 25-7, 25-8.
The opening game belied the dominance that Aviano displayed in the match — and throughout the season. Saints coach Hans Hillestad attributed the tight set to title-game jitters.
"Both teams were really nervous in that first set," he said.
But Aviano settled down and made quick work of BFA, the only team to beat Aviano in 2004.
"This game was so sweet," senior standout Jessica Corder said, referring to the title match. "To beat the only team that beat us last year, it couldn't have been any more perfect."
In the third set, Lindsey Jackson stepped back to serve with the score tied 5-5. Aviano proceeded to win the next 17 points, six on aces. When Jackson relinquished the serve, the score was 22-5, and Aviano players and fans knew a second straight title was within their grasp.
Division IBacked by a raucous home crowd, Ramstein topped FIS in a tight match, 25-18, 25-23, 25-18.
The second game was the closest of all, with FIS taking a brief lead before Ramstein charged back to nip them in the end.
"Sometimes the girls like to play it tight," coach Hia Sebastian said with a satisfied grin.
Leading the charge on Saturday was senior Rachel Rust. She said teamwork, trust and a positive outlook carried the team.
Those traits were most apparent when FIS threatened to even the match in the second game.
"We kept each other up," Rust said. "We're just confident in each other."
In third-place games: Heidelberg defeated Wiesbaden 25-9, 25-11 in Division I; Patch got by Hanau 22-25, 25-14, 15-11 in Division II; London Central topped Sigonella 27-25, 25-23 in Division III; and Lajes beat Incirlik 25-20, 25-17 in Division IV.