Avery can go deep in Pacificwide basketball, too
by
Dave Ornauer
December 19, 2005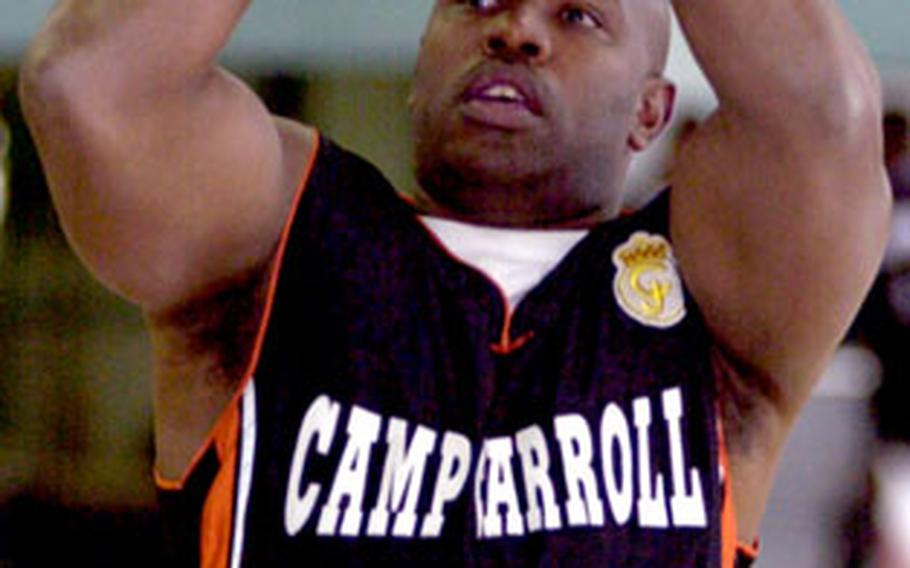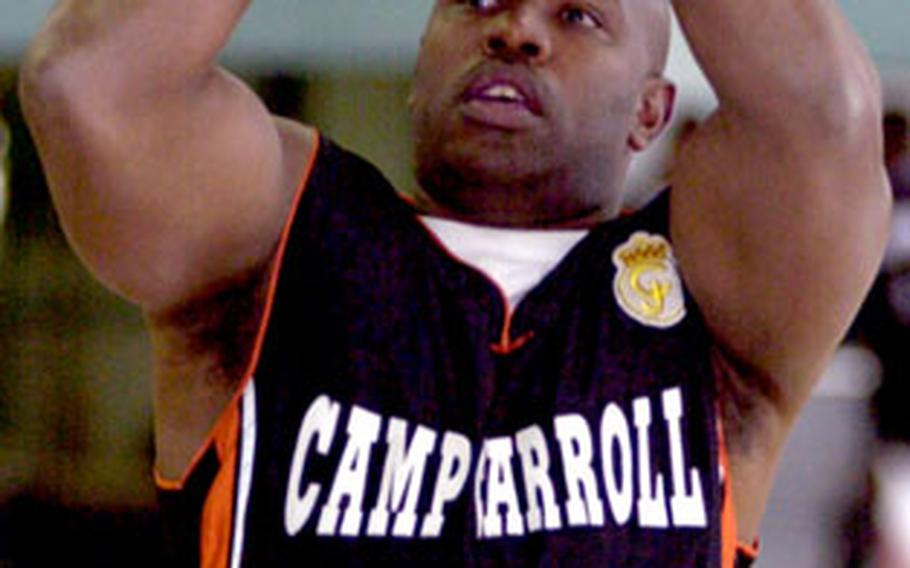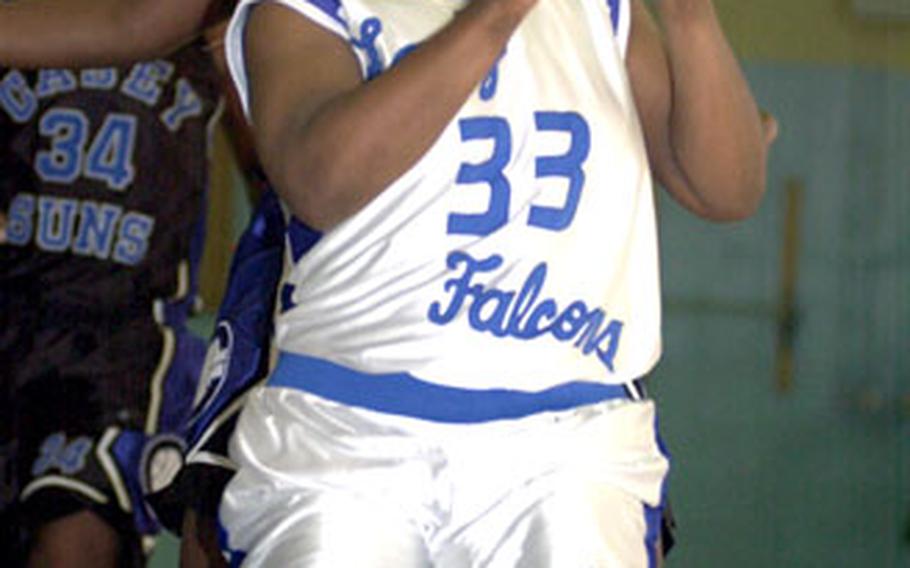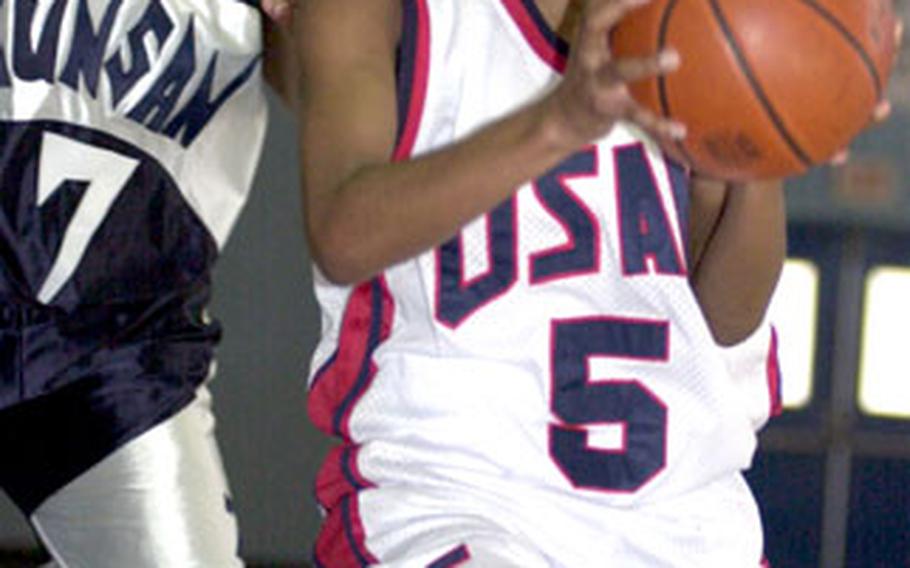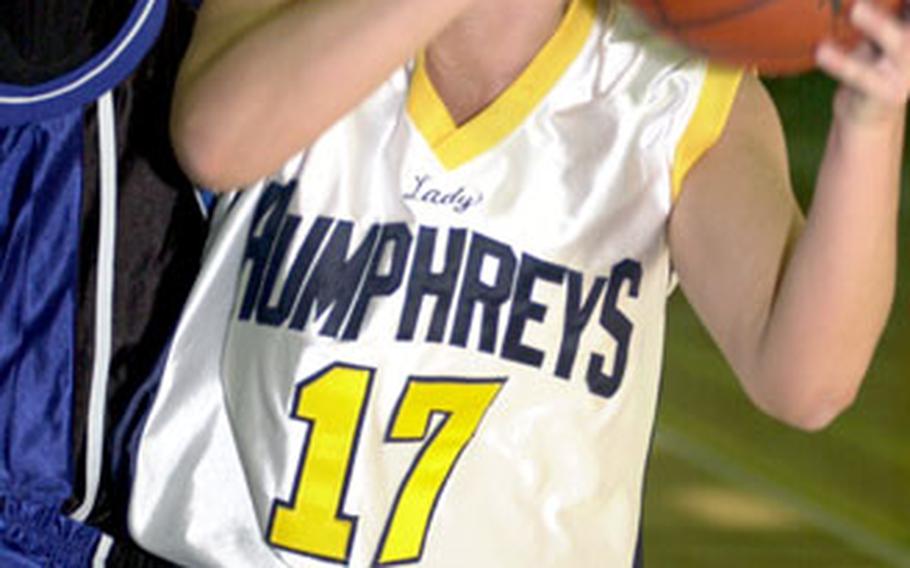 YONGSAN GARRISON, South Korea — Just what is eight-time All-Armed Forces softball slugger Dexter Avery doing with a basketball in his hand, hitting three-point shots like nobody's business?
"He's got skills," said Camp Carroll post-level men's coach Joseph McKinnon of Avery, the Crown Jewels' high-scoring veteran shooting guard. "He could be eight times All-Army in basketball if he wanted to be."
Thus, when Avery isn't bashing softballs over fences in Korea Traveling League games or All-Armed Forces tournaments, he's raining down an average of five three-pointers per basketball game for a Crown Jewels team currently second in the Traveling League at 5-2, 7-3 overall.
Included in that overall record is the team's 66-64 upset of host Yongsan Garrison's Runnin' Rebels Saturday in the 2005 Pacificwide Open Holiday Basketball Tournament. Camp Carroll and Yongsan each finished Saturday's play at 2-1.
Though basketball takes a back seat to balls, gloves and bats, it was hoops that first helped guide Avery through his formative years in Decatur, Ga.
"I grew up doing it," he said. "I picked it up, played it and I enjoyed it. And it helped me get my degree." Avery earned a four-year basketball scholarship to Columbus State University before joining the Army.
"I never even played softball until after college. I couldn't hit a ball over the fence when I first picked up a bat," said Avery, adding that friends introduced him to the game. "I stayed with it and grew to love it."
Along the way, the slugger who plays for Camp Carroll's post team and the International Guzzlers open team helped the All-Army squad win All-Armed Forces tournament titles in 2001 and '03 and silver medals in 1998, 2000, 2004 and 2005.
Though Avery's age places him firmly in the "veteran player" ranks, he said he believes he has more good years left on both hardwood and diamond.
"It's a love you have for the games," he said, for staying in shape and for helping younger players. "It's hard to stop playing."
Falcons top Suwon againIt wasn't as large a victory margin as Seoul American High School's boys enjoyed in their 68-42 thrashing of Suwon Air Base last year, but the Falcons made it two victories in as many Pacificwides over Suwon Air Base, leading by up to 10 points and holding off a late rally for an 83-79 win on Saturday.
"We have their number," said Falcons coach Steve Boyd. "I don't know what it is with them."
A year ago at Osan Air Base, Seoul American became the first high school to win a game against a post- or open-level team since the tournament's inception in 1987.
In Saturday's rematch, Senior guard Jamaal Mohn scored a career-high 34 points, Andrew Luna added 15 and Chris Churchwell scored 14, including two key foul shots in the closing seconds.
"We were a bit shaky in the end but those are the kind of games that I like," Boyd said, who praised Churchwell and inside player Jordan O'Brien, both sophomores.
"I was hoping in this tournament for somebody to emerge. They did," he said.
New sites to host Pacificwide tourneysThe remaining two major Pacificwide open tournaments this season will be at new sites. Osan Air Base picks up the Martin Luther King Invitational, scheduled for Jan. 13-16, while Kadena Air Base on Okinawa hosts the 3rd Kadena Klassic slated for March 3-5.
The Klassic will serve as a replacement for the March Madness Invitational at Guam's Andersen Air Force Base.
Pacificwide Holiday Basketball Tournament
At Collier Field House and Seoul American High School Falcon Gym, South Post, Yongsan Garrison, South Korea:
Men's Pool A
Kunsan Air Base, South Korea 2-0
Camp Carroll, South Korea 2-1
Yongsan Garrison, South Korea 2-1
Camp Casey, South Korea 1-1
Seoul American H.S., South Korea 1-2
Suwon Air Base, South Korea 0-3
Saturday's games
Kunsan Air Base 98, Seoul American H.S. 71
Camp Carroll 2, Suwon Air Base 0, forfeit
Yongsan Garrison 82, Camp Casey 74
Seoul American H.S. 83, Suwon Air Base 79
Camp Carroll 66, Yongsan Garrison 64
Men's Pool B
Truth, Okinawa 3-0
Osan Air Base, South Korea 2-0
Camp Humphreys, South Korea 1-1
Air Force Element, Yongsan Garrison, South Korea 1-2
Camp Hovey, South Korea 1-2
Wonju/Camp Long, South Korea 0-3
Saturday's games
Camp Humphreys 63, Camp Hovey 61
Truth 83, Wonju/Camp Long 58
Osan Air Base 78, Air Force Element 66
Camp Hovey 98, Wonju/Camp Long 35
Truth 88, Air Force Element 60
Women's Pool
Osan Air Base, South Korea 2-0
Yongsan Garrison, South Korea 1-1
Kunsan Air Base, South Korea 1-1
Camp Humphreys, South Korea 1-1
Camp Casey, South Korea 1-1
Seoul American H.S., South Korea 0-2
Saturday's games
Yongsan Garrison 76, Seoul American H.S. 55
Camp Humphreys 58, Camp Casey 45
Osan Air Base 56, Kunsan Air Base 36
Camp Casey 62, Seoul American H.S. 57
Kunsan Air Base 60, Camp Humphreys 46
Osan Air Base 70, Yongsan Garrison 63, OT
---
---
---