Athlete of the Year - girls tennis
Augsburger's improvement documented with title
by
Mark Patton
November 10, 2011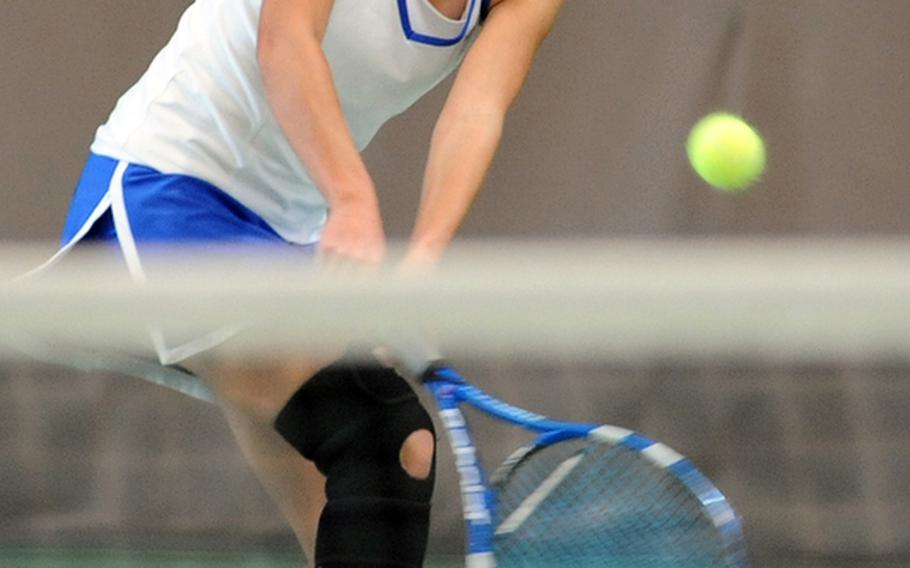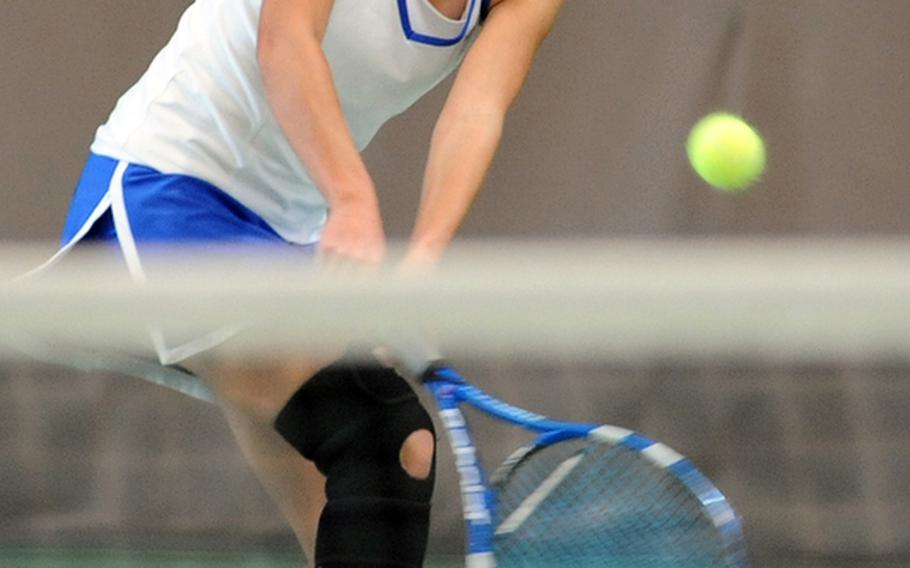 WIESBADEN, Germany — Ramstein junior Meghan Augsburger is no stranger to the stress and excitement of a gold-medal match in tennis.
Augsburger was half of a duo, along with teammate Olivia Rockwell, that walked away with the DODDS-Europe girls double title her freshman year. In 2010, the pair felt silver around their necks.
This year, Augsburger decided to venture out into the singles circuit, and her performance at the championships left no doubt that she was just as comfortable playing solo. Coming into this year's tournament as the No. 3 seed and knocking off top-seeded Marymount International School of Rome senior Ginevra Bolla in the finals propelled Augsburger to be named the Stars and Stripes' Athlete of the Year for girls tennis in 2011.
"I wanted to experience something new," Augsburger said. "At first, I kind of missed doubles, but once I got in the groove, I felt pretty good about singles."
After a September regular season loss at the hands of Bitburg senior Kaitlyn Miller, Augsburger was able to find that groove, finishing the rest of the season without a blemish.
"She's pretty good at putting the last match behind her and moving on," Ramstein coach Kent Grosshuesch said.
In the semifinals of the championship tournament, she had her shot at redemption against Miller.
One of Augsburger's strengths is the ability to wear down her opponents by seemingly being able to track down every shot hit to her side of the court. This is in part thanks to an amped-up conditioning program that Grosshuesch credits for Augsburger's stamina.
Against Miller, the defending European 3,000-meter champion in track, the Royals junior knew her conditioning would be put to the test. Augsburger, arguably the hardest hitting girls player in DODDS-Europe, was able to use her strength to her advantage en route to a hard-fought three-set victory over the second-seeded Miller, a match that touted just how far Augsburger had come since their meeting during the regular season.
"Once I got into the finals, I thought I had a real shot towards it," Augsburger said.
She was right. Augsburger earned a 6-2, 6-7 (7-2), 6-2 victory over Bolla in the finals, a win that prompted tears of joy.
"Every time I win a big match like that, I tend to cry," Augsburger said.
With Augsburger's expected return next year as a senior, it wouldn't be a surprise if the courts were once again wet with her tears.
"Next year, there's not a lot of pressure to win, I've already got two gold medals, can't get much better than that," Augsburger said.
The junior said she's unsure if she'll play tennis for a college team, but if given the chance, she would love to. With a 4.0 grade point average, things seem to be looking in her favor, though, tennis or not.