Athletes gather at Camp Foster for 'Mike' Petty track meet
---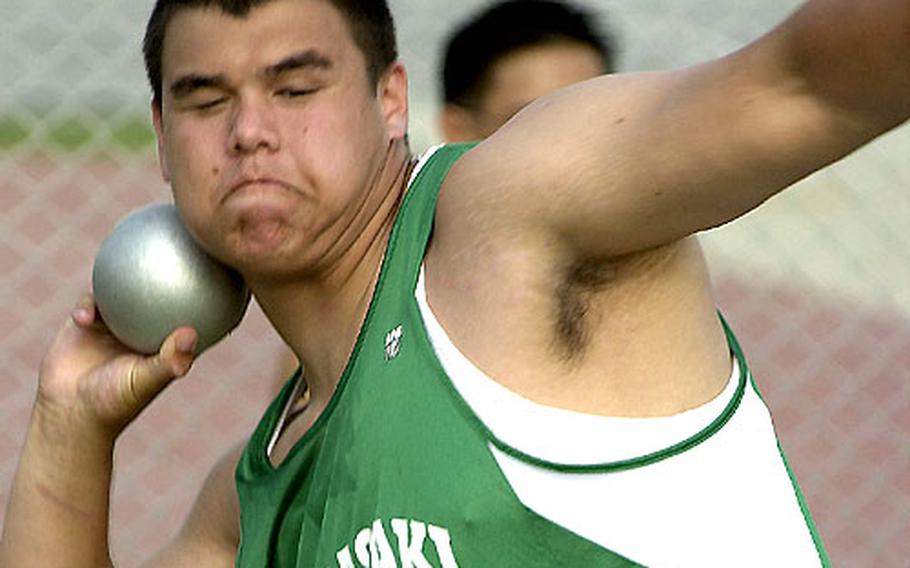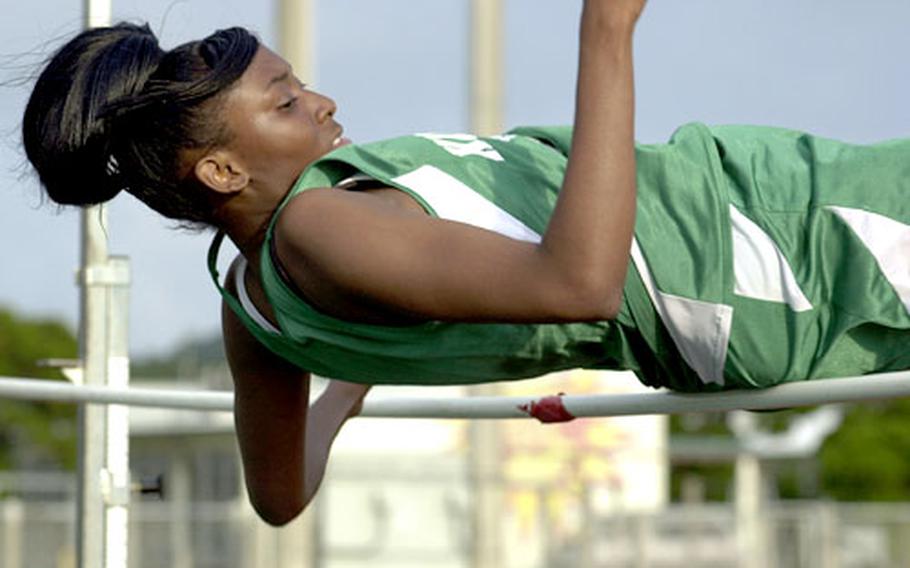 CAMP FOSTER, Okinawa — Matthew C. Perry's track team — all one of it — was ready.
And Kaili Rowland was grateful for the opportunity.
The Samurai freshman and four-sport standout was among about 50 DODEA track and field athletes who got the opportunity to face Pacific-wide competition Friday, the first day of the two-day Alva W. "Mike" Petty Memorial meet at Kubasaki High School.
"Track and field is awesome," said Rowland, the lone representative at the meet from Perry, a small school at Japan's Iwakuni Marine Corps Air Station.
"I haven't run track in forever. This was worth it," she said. "This gives you the opportunity to travel and show each other what you're made of."
On a trip paid for by her father, Mike, a chief warrant officer who accompanied his daughter to Okinawa, Kaili competed in the shot put, long jump, 200 and discus, capturing gold in the discus and taking second in the shot put.
"I want her to get high school competition," Mike Rowland said of his daughter, who last competed as a sixth grader in North Carolina. Her last meet was a USA Track and Field national youth championship in Decatur, Ill., in May 2000. She took third in the shot put and seventh in the discus.
In three years at Iwakuni, Rowland has taken part only in base-sponsored 5- and 10-kilometer runs. Her warmup for the Petty meet was a youth competition last weekend at Iwakuni, in which she ran on a cinder track and long-jumped on a grass course.
"I told her to just go for it. You have nothing to lose," Mike Rowland said. "And if you win, holy cow."
Throwing despite a broken blister on her right thumb and nursing a sore ankle injured during volleyball season in the fall, Rowland tossed the discus 93 feet, 8¼ inches — 17 feet ahead of runner-up LaNoya Foster of Okinawa's Zion Christian Academy.
Asked why he let his daughter play through pain for the Samurai in the volleyball, basketball and the current soccer season, Mike said Kaili's injuries were no more serious than the aches and pains that come with competition.
"It's kind of like you sprain your ankle, you ice it and it's OK in three or four days," Mike said. "It's regular wear and tear."
Rowland was also to run in the mile and 200 finals on Saturday.
Other DODEA athletes from Kadena and Kubasaki High on Okinawa also said they relished facing new competitors.
Other schools traveling to the event were Christian Academy In Japan and American School In Japan and Taiwan's Morrison Christian Academy.
"For once, we get to see somebody different," Kadena shot-putter Jamonti Lee said. "We always face the same people."
"[It's nice] just to see some new faces," added Kubasaki shot-putter Jason Ballard, who won the gold in the event with a throw of 38-7. "It gets boring."
The two noted how meets on Okinawa and in Tokyo are scored differently.
"They all talk in meters and centimeters," Lee said. "We talk in feet and inches."
Facing unfamiliar competitors also led to new feats for Kubasaki and Kadena athletes, as individual bests fell throughout the day.
Sophomore Serafina Smith of Kubasaki hadn't bettered 4 feet, 5 inches in the high jump before Friday. She cleared 4-8, which put her in second place behind Alana McKinlay of Morrison, who jumped 4-9.
"It's hard to live up to your potential when you see the same people every week," said Smith, who later broke the school record in the 400, winning her preliminary heat in 1 minute, 2.99 seconds.
"I got to see what it's like to have people running in front of me," added Kubasaki distance runner Andrea Roxas, who lost for the first time this season in the 3,200 but still ran a season-best 13:21.37.
Kubasaki coach Charles Burns put the meet together in honor of Mike Petty, the school's former athletic director who died of cancer in 1992. Burns said the athletes benefitted from the diverse competition.
"The tougher the competition, the harder you train and the more you learn," Burns said, "and that's the only way you're going to get better in track and field."
The meet champions:
Boys
3,200-Caleb Eby, Christian Academy In Japan, 11 minutes, 2 seconds; 800-Caleb Eby, Christian Academy In Japan, 2:14.08' Long jump—Jerome Crawford, Kubasaki, 18 feet, 10 3/4 inches; Shot put — Jason Ballard, Kubasaki, 38-7; High jump — Jeff McKay, Morrison Christian Academy, 5-10; Discus — Yun Hsien Chang, Morrison Christian Academy, 124-10.
Girls
3,200 — Claire Torok, American School In Japan, 14:01.32; 800 — Lindsay Rutter, American School In Japan, 2:29.77; Long jump — Lorianne Roxas, Kubasaki, 15-11 3/4; Shot put — LaNoya Foster, Zion Christian Academy, 32-11 1/2; High jump — Alana McKinlay, Morrison Christian Academy, 4-9; Discus — Kaili Rowland, Matthew C. Perry, 93-8 1/4.
---
---
---
---