Far East previews
Athletes converge for track, softball, baseball finals
by
Dave Ornauer
May 21, 2011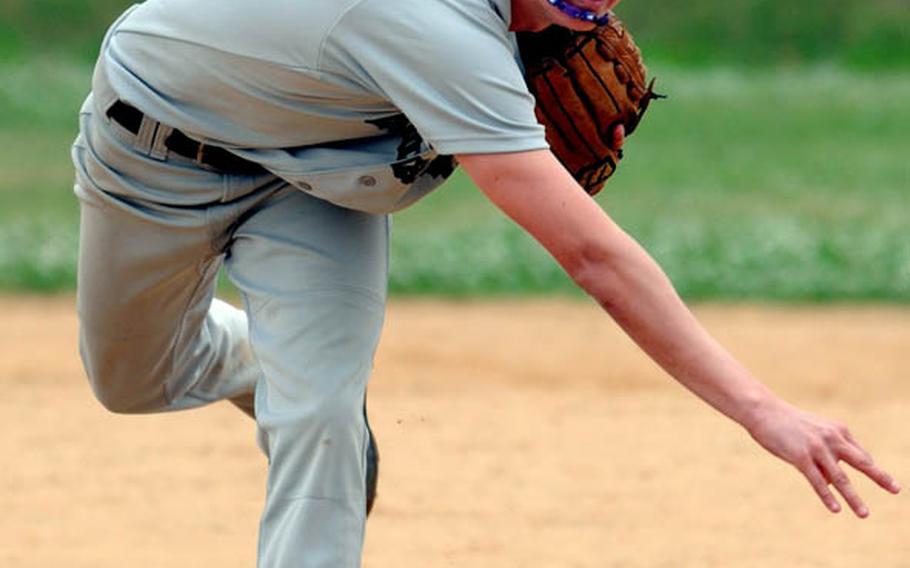 ISHIKAWA, Okinawa – Now that Steve Boyd has become the first coach in Pacific history to win Far East tournaments in three sports in three seasons, can his Seoul American coaching colleague Julian Harden do the same?
Not so fast, Harden says. The win-loss record may seem gaudy, at 12-0, but there's far more to his Falcons girls softball team than its cover.
For one, they're young, and for another, they've not had the same game preparation that their counterparts in Okinawa, specifically defending champion Kadena, has had.
"He has seasoned players. I have a really young team," said Harden, referring to Boyd's Falcons boys soccer team which won the Division I Tournament title Friday, giving Boyd Far East basketball, soccer and cross country titles. Harden has won titles in football and wresting.
While Harden has veteran pitchers in Leilani Shak and Katie Darby, he says his outfield is somewhat green. "We need to work on depth," he said, adding that he repeatedly stresses that Far East, which begins Monday at Kadena, is different from the regular season. "I keep saying this is how it's done, but they have to see it," Harden said.
What they'll see, along with a majority of baseball and track and field teams whose Far Easts also begin Monday, is a wide gap between the preparation that teams on Okinawa have had as opposed to teams in Japan and Korea.
Baseball and softball run Monday-Thursday at Daegu and Kadena, while track is slated for Monday-Wednesday at Kubasaki.
Harden's team had two weekends of play rained out, along with many attempts at makeup games. The rest of DODDS Korea's diamond teams suffered likewise. "The team cannot improve without the league improving; you need games for that to happen," Harden said.
Far worse was what teams in Japan endured, in the wake of the March 11 Tohoku-Kanto earthquake and subsequent tsunami. DODDS Japan sports shut down until the end of the month and the only regular-season play most teams got was during two weekends in late April.
Nile C. Kinnick's baseball team, led by pitching tandem Daniel and Donald Ross, lost all but four players due to voluntary departures. While most came back, "we didn't have a lot of time" to work with them as a team, coach Michael Valenzuela said.
"You prepare them the best you can," he said. "We're going into this as underdogs. We know that and like that position."
Kinnick's track team, the defending overall Far East meet champion, had 97 athletes try out in late February. By late March, 27 remained at Yokosuka Naval Base. While Okinawa's teams ran eight meets, only three were held in the Kanto Plain.
"Things were out of our control this year. Things happen for a reason," coach Al Garrido said. "The mainland teams are going to get a shock when they get to Far East. Okinawa is the powerhouse. We're going there in the spirit of competition and to show we haven't given up."
But in no way does that mean the Okinawa favorites are licking their chops waiting for fresh meat to arrive.
Kubasaki, the reigning Far East baseball champion, takes a staggering eight freshmen and just two seniors to Daegu, far less experience than last year's squad. Kubasaki went 7-3 this season against island rival Kadena.
"You never know what's going to happen with a young group," coach Randy Toor said of a team featuring senior ace Andrew Estes – and two freshmen, Angelo Bourdony and Tommy Warren – on the mound.
Coach Jesse Costa, whose Kadena softball team went 8-0 against Kubasaki, isn't taking anything for granted, either. She has reigning MVP Desirae Seals and fellow pitchers Lauren Youngs and Kelly Kaneshiro at her disposal, but her Panthers lost eight seniors from last year's squad.
All Costa has to do is remind her charges that as prohibitive favorites a year ago, they lost a pool-play game to a surprising freshmen-laden Zama American team. "You have to bring your 'A' game every game," Costa said. "You have to maintain your focus and not walk into a game thinking it's a given."
Costa's in her swan-song season, as is Kubasaki track coach Charles Burns, who enters Far East without his Pacific record-setting sprinter A.J. Watson, who transferred to the States on Saturday.
"It's going to be interesting, especially without A.J. to entertain everybody," Burns said. "You still have to get on the track and do it. You never know. That's why we do the meets and enjoy them so much."
---
---
---