Home Team
Athletes at far-flung schools are Road Warriors
---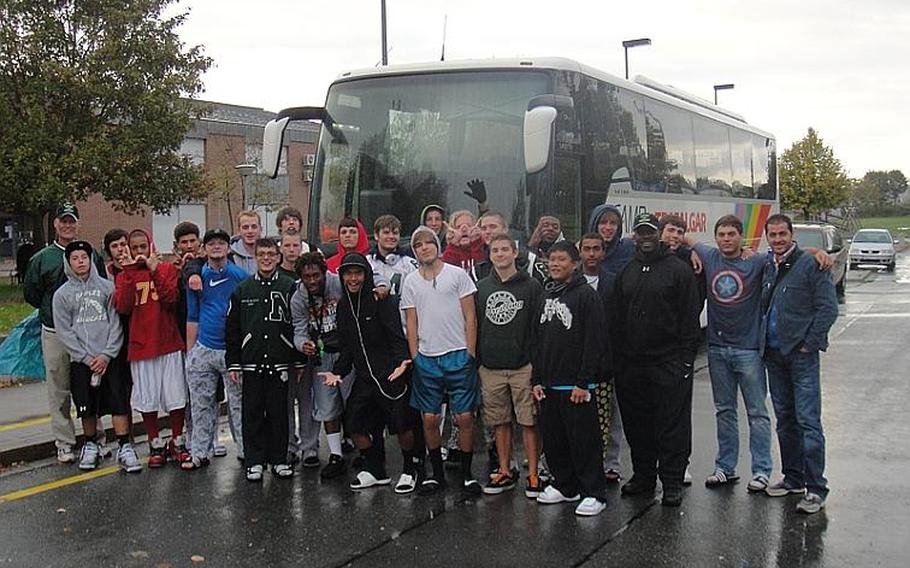 Being the home team is always desirable, but in Europe, where an opponent can be located a continent apart, not being the home team often means you're the far-far-from-home team.
That's what happened to the Naples Wildcats, who rode the bus for some 42 hours last weekend to play the International School of Brussels in a European Division II quarterfinal game. That's nearly a 2,100-mile round-trip – a little farther than Dallas-to-Chicago and back. In the States, that would be an intersectional game for colleges, and no high school would schedule such a bus trip. But for many DODDS-Europe athletes, travel on that scale isn't even unusual.
"When I was coaching at Naples in 2007," current Vilseck coach Jim Hall said by telephone on Monday, "we opened the season at Mannheim and went back to Germany for another game the next week."
This week, it's time for another Italy-based D-II school, Aviano, to make the Long March. The Saints expect to be on the bus 14 hours each way to get to their D-II semifinal Saturday at Bitburg, according to Aviano coach Rick Dahlstrom.
"We will leave at 10 p.m. Thursday night and arrive around noon," Dahlstrom emailed about his team's plans. "Basically, we lose a practice day when we travel and really do not get adequate sleep.
"Meals," he added about rest-stop breakfasts consumed by bleary-eyed teen athletes, "are also not ideal."
In short, the far-far-from home bunch arrives for a game trying to digest junk food, sleepless and road-lagged. Small wonder Dahlstrom concluded, "I do believe the home field advantage is huge for such long trips. We get out of our rhythm."
The situation was even worse than that last weekend for Naples, present coach Dirk Lambertson reported after returning from the trek to Belgium, where the Wildcats suffered a 34-16 loss. They arrived at 1 p.m. Friday, only to have to wait six hours before they could unpack their gear and even try to work out the kinks. It was Naples' third trip, at an average of 19 hours each way, up the Italian peninsula and over the Alps this season.
For teams such as Alconbury, which flew to southern Spain on Oct. 15 for a D-III semi at Rota, the bus would be an improvement.
"Instead of dealing with all the things you have to at the airport and getting all the equipment through," said Alconbury coach and athletic director Duke Eidt, "we'd much prefer to take a bus if it were possible."
For all the headaches and hassles, however, the DODDS odesseys have upsides, too, coaches said. They cite team cohesion, broadening experiences and, startlingly, improved grades.
"You've got to keep the kids engaged," Hall said of his strategy for managing long trips. "We would have our regular afternoon practice, shower, board the bus and have a two-hour homework session. Then we'd have position meetings and watch film, then another two-hour homework session. If a teacher needed to administer a test or quiz to a student, they'd put it in a sealed envelope and the coaches would monitor it."
Hall said further homework two-hour sessions marked the entire trip.
"Our kids had better grades when we were on the road," he said, "than they did when we were at home."
And they bond, Lambertson said.
"Our guys became brothers," he reported. "When you take three bus trips to Germany, the guys become close and the team stronger, like us against the world."
The key to deriving benefit from the travel, Ansbach coach Marcus George said by telephone on Tuesday, is to draw up a game-plan for the trip as detailed, if not more so, than the one for the game itself.
"It has to be very scripted, a minute-by-minute plan," he said. "And for some places, like Naples, you have to plan for a change of climate, to be sure of hydration and electrolytes. We have planned breaks for water and Gatorade."
Seeing the world's part of the benefit, too.
While playoff games are too short-fused to combine the trips with study tours, Eidt's Alconbury Dragons, when they bus to Brussels, travel through the battlefields of World War I, and hear about what happened there.
Lambertson's Wildcats, barred from the ISB campus all Friday afternoon, spent the time sightseeing in Brussels, and Baumholder coach Carter Hollenbeck, whose Bucs traveled to Aviano this past weekend, often use their regular-season trips over the Alps to tour Venice.
"As a history teacher," he said, "I like to expose them to St. Mark's Square and the Doge's Palace. When we get back to base, the guys write essays about what they saw, and that becomes their homework for English."
Like the other coaches, Hollenbeck said the duration of travel was far in excess of what he experienced as a prep player in Iowa and Nebraska.
"Our longest trip was three, four hours," he said, "but that's life in DODDS. I'd much rather travel a long way to be able to play schools our own size."
And if you work it right, with a tight game-plan, the hours breeze by.
"We took a trip to Bitburg once," Hall recalled about his Naples days. "It took 22 hours, but it didn't seem that long."
Hall compared that to his current team, which is facing a cross-Germany bus trip to Ramstein on Saturday for a Division I semifinal game.
"They're complaining about a four-hour ride," he chuckled. "They don't even know…"
---
---
---
---