European boys soccer roundup
At least two new teams will wear crowns
---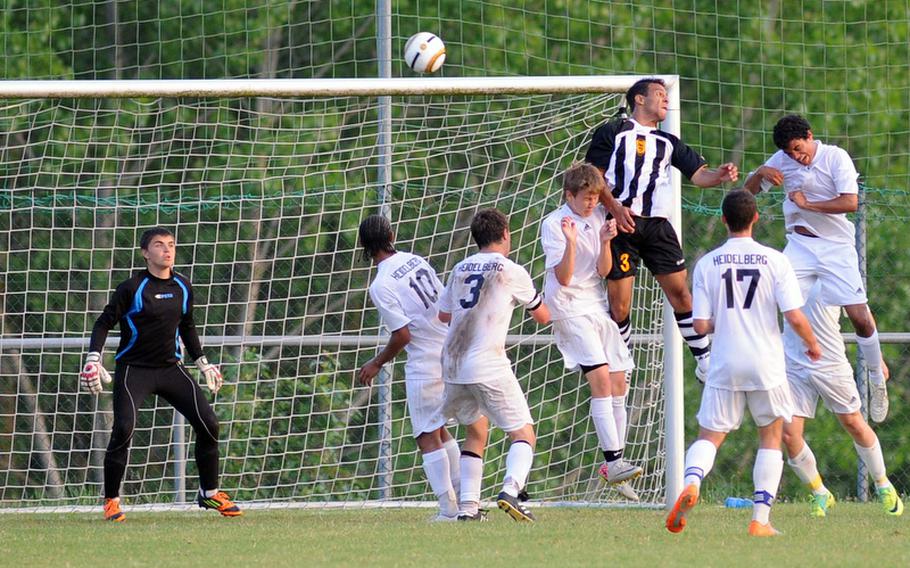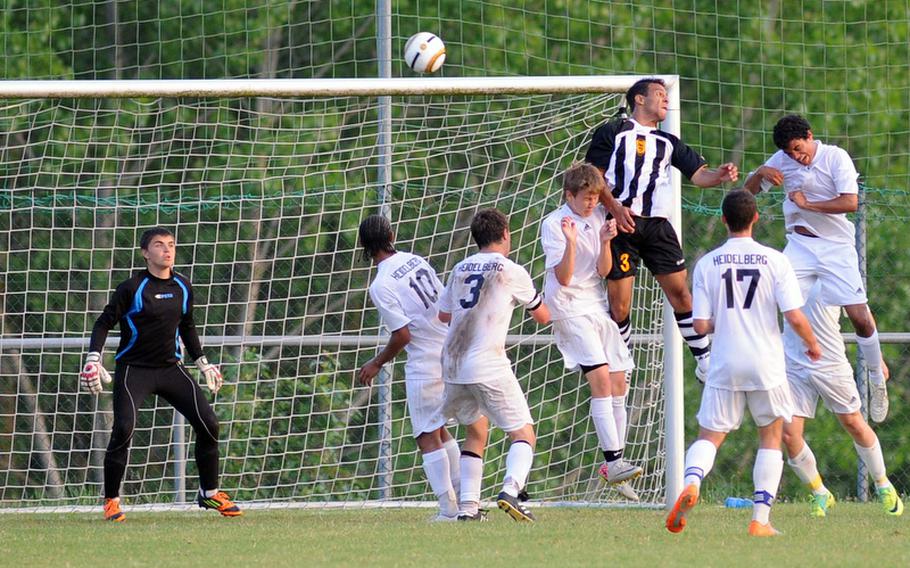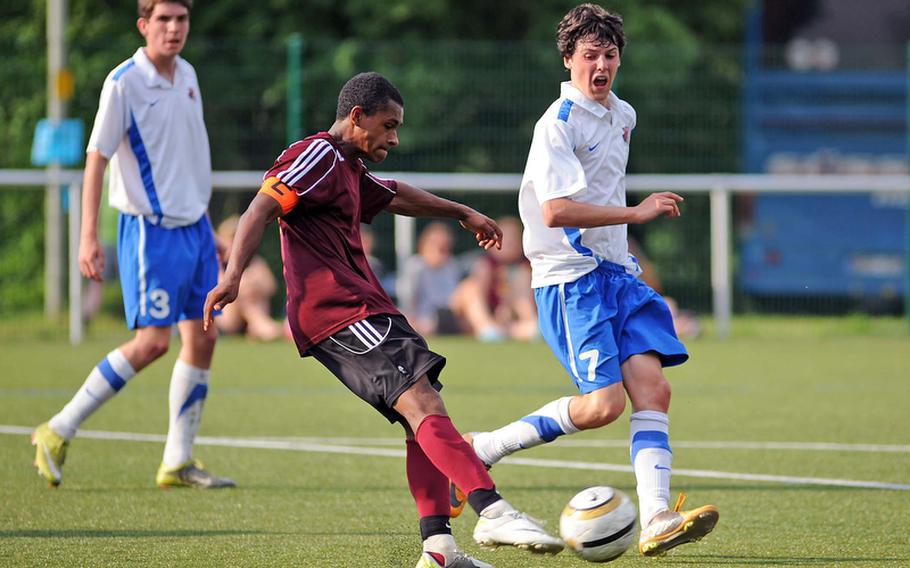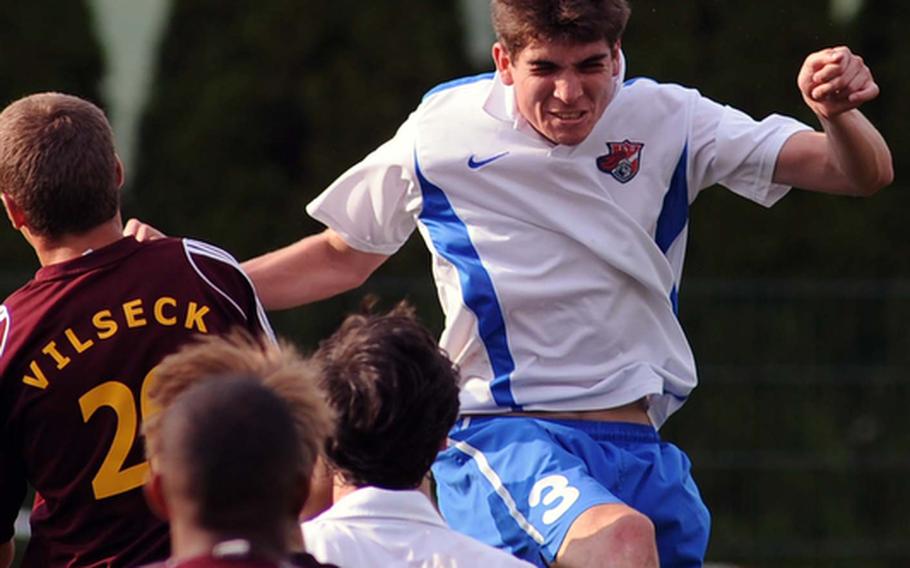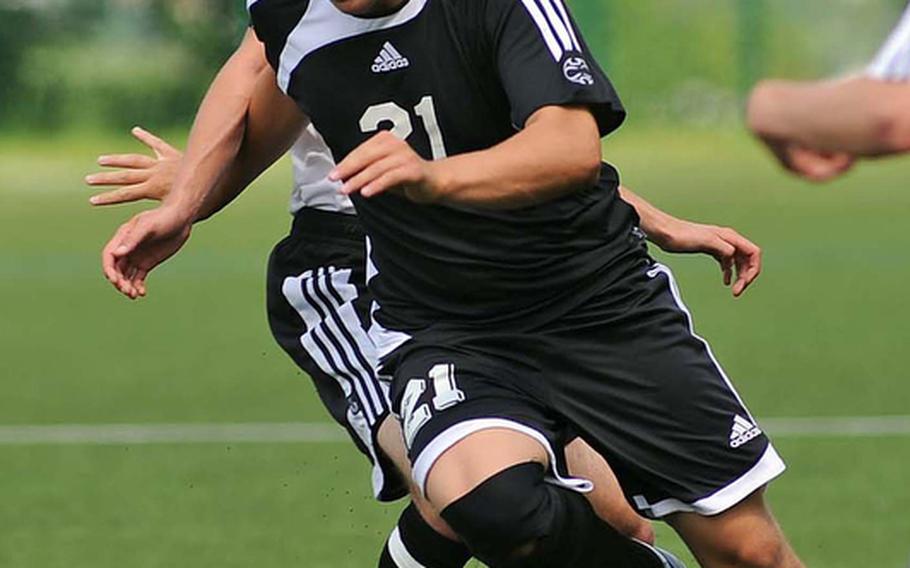 Two new soccer champions will be crowned Thursday when the boys' Divisions I, II and II championship games unfold at Ramstein High School.
Marymount International School of Rome will get a chance to defend its D-II crown at 3 p.m. Thursday after turning back crosstown rival American Overseas School of Rome 3-2 in overtime in a Wednesday semifinal.
But Ramstein's boys, the 2011 D-I kings, fell out of the 2012 race Wednesday after a 1-1 tie against top-seeded International School of Brussels. The outcome left the Royals 1-1-1 in pool-play and short of the numbers needed to edge Heidelberg for second place in the pool and a berth in Wednesday's semifinals.
And defending D-III champ Sigonella was eliminated from the title race on Day 3 of this four-day event in a 2-0 semifinal loss to Rota.
Rota and surprising International School of Florence, which battered Brussels 6-0 in the other boys' semi, will meet at 11:45 a.m. to settle the small schools title.
Awaiting Marymount, seeded second to Hohenfels this year, in the D-II title game scheduled to begin at 3 p.m. will be sixth-seeded Black Forest Academy, the only D-II team from outside of Italy to make the Final Four.
BFA downed Vicenza, 4-2 in a semifinal that saw the Falcons rally from an early 1-0 hole dug by a stunning Taylor Curry strike inside the far post off a free kick awarded in the game's second minute.
BFA equalized, however, just two minutes later when Michael Peters headed in Charles Kieffer's corner kick, and took the lead for good with three straight scores by Kieffer, Garrett Prewitt and Austin Troxell, with Kieffer assisting Prewitt and Troxell.
"We're coming together," said BFA coach Chris Greathouse, whose Falcons blanked eventual D-II semifinalist AOSR 3-0 in pool play on Monday and eliminated fourth-seeded American School of Milan 4-0 in Wednesday's quarterfinals.
Renaldo Reyter added the second goal for Vicenza at game's end. The two Vicenza strikes were the only goals BFA, which went 3-2-2 during the season, has surrendered so far in this event.
Late Division I semifinalsXavier Thomas headed home a cross from Christian Rauschenplat with under five minutes to play Wednesday night to lift the Patch Panthers to a 2-1 European Division I semifinal victory over the Heidelberg Lions.
The victory advanced the sixth-seeded Panthers into Thursday's D-I championship game at Ramstein High School, but it required some last-moments heroics from Patch keeper Zach Runnels to preserve it. Runnels made headlong point-blank consecutive diving saves against two onrushing Heidelberg attackers to ice the game.
Rauschenplat scored a first-half goal for Patch, which will playing its first D-I title game in school history, according to coach Bill Ratcliff. The Panthers will take on top-seeded and unbeaten International School of Brussels at 6:45 p.m. Thursday. ISB blanked Vilseck4-0 in Wednesday's other semifinal.
Preston Harrison gave Heidelberg an early 1-0 lead in the contest.
---
---
---
---