At 5-feet, Tajalle twins a big lift for Kubasaki volleyball team
by
Dave Ornauer
October 12, 2006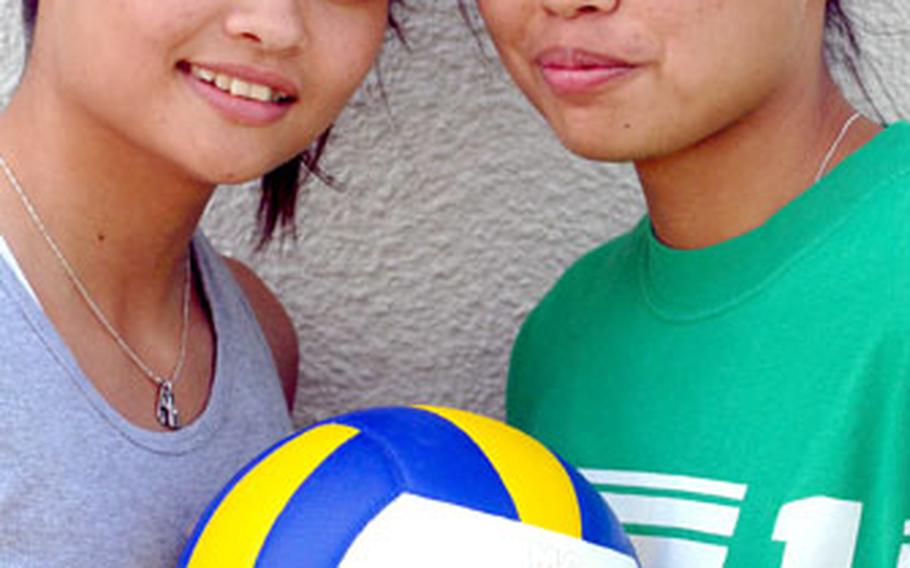 CAMP FOSTER, Okinawa — Transfers and graduations are a way of life for Department of Defense Dependents Schools-Pacific student-athletes, coaches and sports teams. Still, losing do-everything senior middle blocker Alex Fernandez, with nobody to step into her shoes, had to have left Kubasaki's girls volleyball team feeling as if it had been piano-wired.
How odd, then, that a pair of 5-foot junior twins, setter Raelene Tajalle and outside hitter Raeanne Tajalle, have been key cogs in keeping the Dragons on a winning keel in a game in which height usually rules.
"They may be short in stature, but they're big in skill, attitude and desire," said first-year coach Chris Kelly of the Tajalles. "They bring a lot to the table."
Raelene has averaged 33 set assists, while Raeanne has racked up an average of 9.5 spike kills. Between them, and new middle blockers Sarah Brubaker and Chloe Freeman, the Dragons are unbeaten in four Okinawa Activities Council matches and have run their regular-season winning streak against arch-rival Kadena to 10 straight matches since 2004.
It's a markedly different squad, Kelly says, than the one that took the court a year ago with Fernandez, at 5-foot-9, averaging 13 kills and seven blocks to pace the Dragons to their third Far East Class AA tournament Final Four finish in school history.
"This year, our strength is we're a tight-knit team. Communication goes a long way in covering the court, and it makes up for not having the kind of power play and blocking up at the net," Kelly said.
It's not that Kubasaki has had no strong play at the net; Brubaker and Freeman have ably handled their duties, combining for an average of 15 kills and 5 blocks per match.
"We've had some girls who have stepped up at the net," Kelly said. "We've had some good passing and people have stepped up on the back row to get the ball to Raelene and let her do her stuff."
That "stuff" has mainly meant a feather-light touch on the ball in setting Brubaker, Freeman and Raeanne.
"She may be the second-shortest on the team," Kelly said of Raeanne, "but she's played like a much taller player. And Raelene may be one of the most athletic girls on the team. She covers the court better than anyone I've seen in a long time."
Kadena coach Hoa Nguyen said he was impressed with the chemistry that the Tajalle twins bring to the table.
"Raelene knows where her hitters will be when she sets the ball," Nguyen said. "Raeanne [has] jumping ability, she really gets up there for her height, and she can beat a block."
So how do two 5-footers play so much taller than they are?
For one, they each insist, height is not an issue.
"It feels good, to represent people who are short, and not view it as a hindrance," Raelene said. "Height really doesn't matter."
The Tajalles were born in Dededo village on Guam, where volleyball is something of a culture. Guam's middle- and high-school leagues are highly competitive — teams there have won 13 Class AA tournament titles and two Class A crowns.
The twins cut their teeth playing at Vicente Benavente Middle School in Hagatna in the sixth and seventh grade, before moving to San Marcos, Calif., then to Kubasaki as freshmen.
"It benefited us a lot," Raelene said of playing for Benavente. "If we didn't play middle school, we wouldn't be as good as we are."
Also helping in their development was good coaching, the twins said. They learned much of their craft from learned coaching presences on Guam such as Al Garrido, a two-time Far East coaching champion now an assistant at Nile C. Kinnick in Japan.
Garrido and another longtime Guam coach, Alvin Dizon, "built our skills. They're very experienced," Raelene said. "They influenced us."
Coaches such as Kelly, and Terry Chumley before him, have only furthered their development. And despite being in something of a building phase, the Tajalles feel a return to the top eight, maybe higher, at Class AA is well within reach.
"Our team has hard workers," Raelene said. "We have drive and determination. We work well as a team. We have good chemistry. We can do some good things in Korea."
As is always the case, Kubasaki will enter Class AA, Nov. 6-11 at Seoul American, "a bit blind," Kelly said of not knowing what the competition will bring.
"You go in preparing as best you possibly can and try to improve and try to go in hitting on all cylinders," Kelly said. "Be as good as you were or better than last time without a player like Alex."