Boys basketball athlete of year
Ashley's play helped Kubasaki repeat
---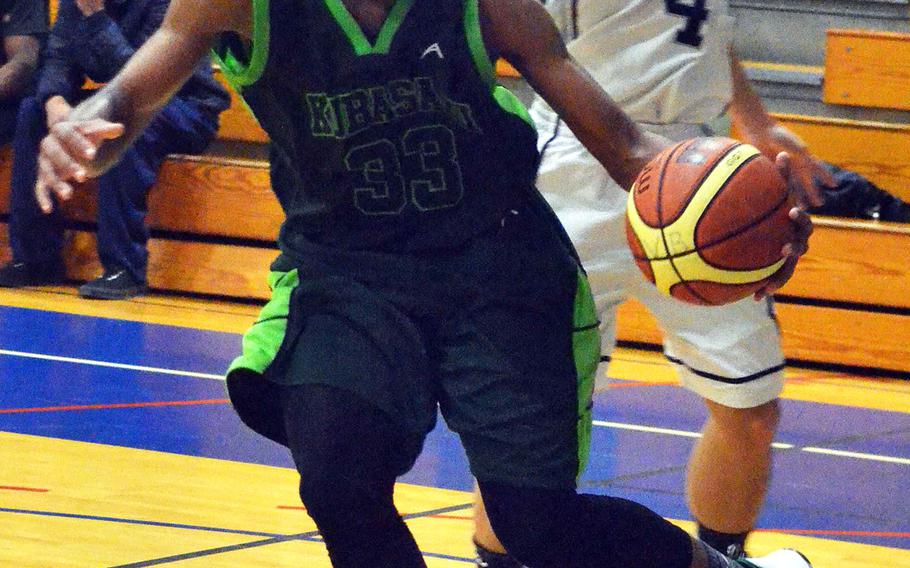 It wasn't a game victory or a tournament title that served as a watershed moment for the Kubasaki boys basketball team during its just-completed season.
It was the Dragons' lone defeat, 76-68 on Jan. 29 at American School In Japan in Kubasaki's second off-island road trip in three weeks. But rather than be defeated by a game in which their 27-game winning streak was snapped, the Dragons used it as a motivator for what was to come, said Kubasaki's Matt Ashley.
"It was a wakeup call," said Ashley, the Dragons' senior forward. "It made us focus more, to push us to be ready for Far East and take every game as being very important."
With that as their guide, the Dragons did not lose the rest of the way, closing the season with a 10-game winning streak to finish 27-1 and capture their second straight Far East Division I Tournament title, beating Kadena in the final for the second straight year, 59-32.
Along the way, Ashley, who averaged 22.9 points and 9.8 rebounds per game, earned D-I tournament Most Valuable Player honors – following on the heels of his older brother Nick, who won the honor last year.
For all that, the younger Ashley has been named Stars and Stripes boys basketball Athlete of the Year for 2015-16.
"He's certainly the best big man I've ever had," coach Jon Fick said of Ashley, noting that he can just as easily step back and shoot three-pointers and make pin-point passes as well as take the ball strongly to the basket. Ashley never fouled out this season, Fick said.
"He's the best big passer if not the best passer I've ever had," Fick said. "He was a weapon as ripping apart zone defenses. He can play inside and outside. He has grown as a leader. He's had a great career in the classroom and on the court. We're fortunate he came to Okinawa."
After his older brother had moved on, Matt Ashley said he'd heard doubts among people who thought Kubasaki couldn't win back-to-back D-I titles without the team's leading scorer and 2015 D-I MVP.
"I wanted to show them we could do it again," Ashley said, crediting his teammates, particularly fellow senior leaders Skylor Stevens and Jacob Green. "Everybody played a part in it."
Now that his high school career is over, Ashley next looks toward the future, which includes a preferred-walk-on spot with California State University at Monterey Bay, an NCAA Division II school.
And Fick and the Dragons look to a future that features no players named Key (Kubasaki alums Kentrell and Kareem) or Ashley for the first time in nine years.
Fick, Ashley said, pushed him hard all four years he was on the team, and in turn, Ashley said he hoped he set enough of an example for the underclassmen on the team "that they would come back and continue to play Kubasaki basketball."
Twitter: @ornauer_stripes
Stripes Pacific All-Far East boys basketball teams
Division I Matt Ashley, Jacob Green, Kubasaki; Justin Wilson, Kadena; Avi Schafer, St. Mary's; Jezreel Harper, Seoul American.
Division II Hunter Cort, Shota Sprunger, Yokota; Nate Hellams, Bashr Edmonds, Humphreys; Shawn Robinson-Ortiz, Robert D. Edgren.
---
---
---
---