Army women regain All-Armed Forces hoops title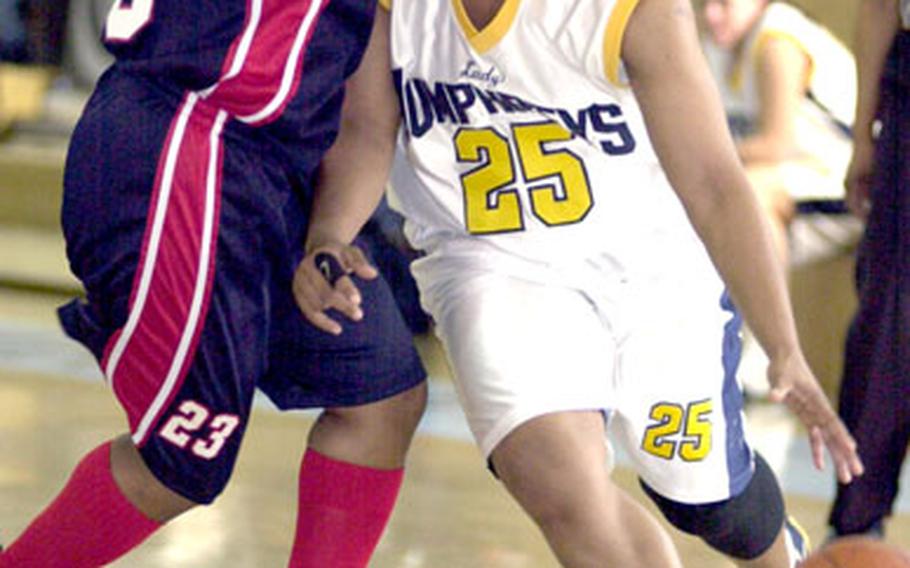 With a little help from three Pacific-based soldiers, the All-Army women's basketball team recaptured the All-Armed Forces tournament title Thursday.
All-Armed Forces guard Evevetta Crawford of Okinawa's Torii Station scored 21 points and grabbed 10 rebounds while point guard Laurie Aaron of Suwon Air Base, South Korea, added 10 points as Army sank Navy 68-57. That clinched the title in the double round-robin event.
Army improved to 5-0, three games ahead of dethroned two-time champion Air Force (2-3) and Navy (2-3) with one game each left to play. The All-Army team regained the title it held for 12 straight years, from 1992-2003, before Air Force won the last two.
On Wednesday, Army clinched at least a tie for the title by edging Air Force 50-45 in a game in which the airmen held Crawford to six points. But Emily Crowder of Yongsan Garrison, South Korea, came off the bench to shoot 6-for-11 from three-point range and score 20 points.
The All-Tournament and All-Armed Forces teams were to be announced after Friday's games, which pitted Army against the Marine Corps and Air Force vs. Navy.