Army tops Navy in annual showdown in Korea
by
Alfredo Jimenez
December 3, 2011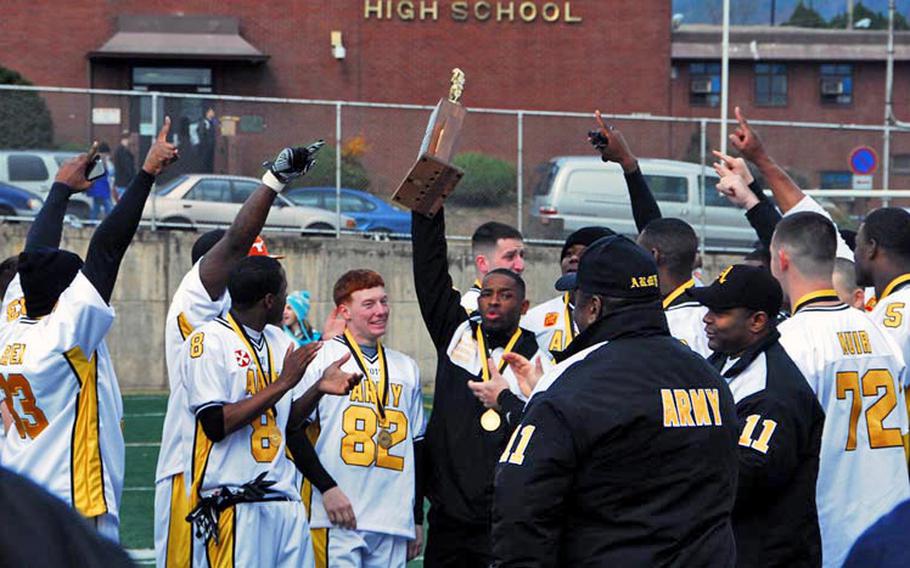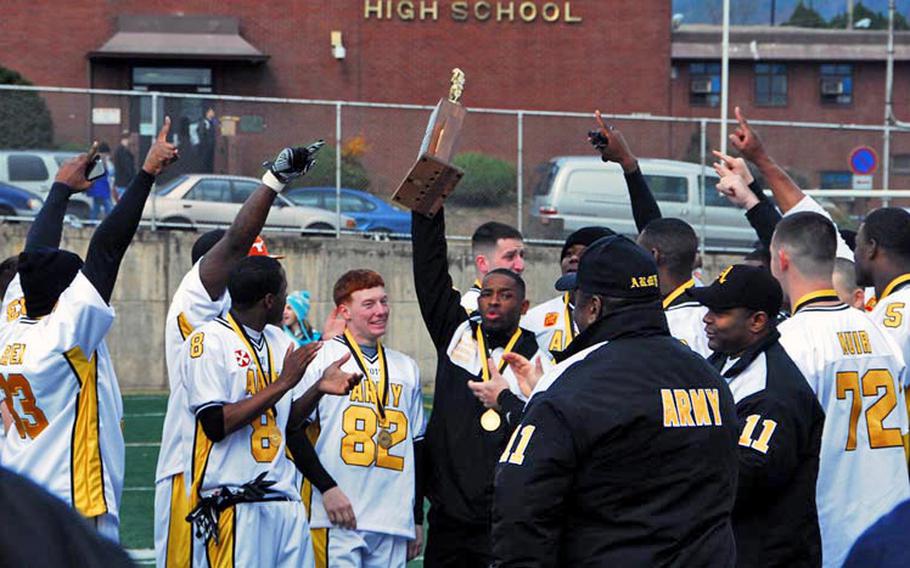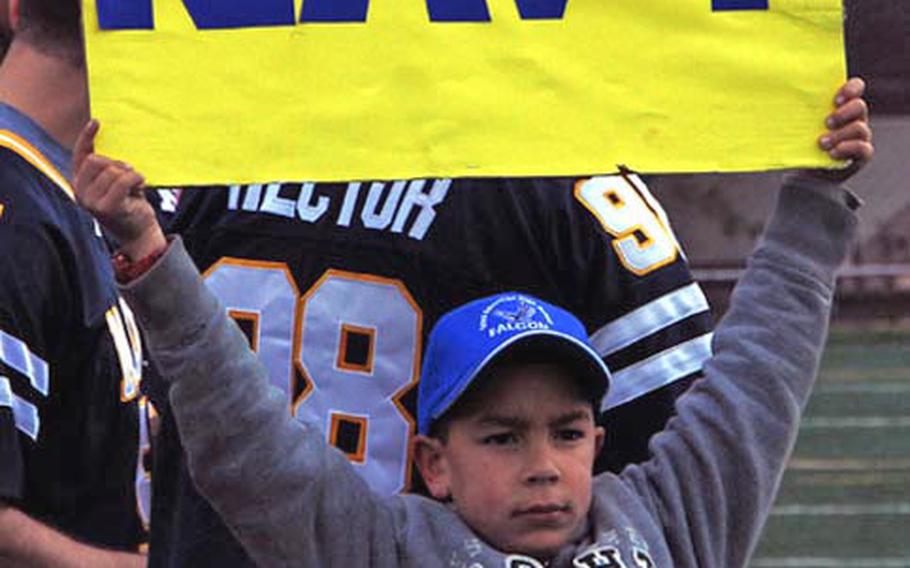 YONGSAN GARRISON, South Korea – With the clock ticking down and his team ahead by 30 points, Dennis Brown Jr. tried to stay humble and continue to work his team towards another touchdown.
But for the four-year coach of Korea's Army flag football team, this game was just too big to stay modest.
Brown's play-calling and quarterback Jeremy Finney running and passing powered the soldiers to their fourth straight win in the Peninsula Trophy Army-Navy flag football series. Army romped 30-0 over Navy before a capacity crowd and frigid weather at Seoul American High School's Sims Field.
"It's hard to believe it was this close," said Brown jokingly. He will soon leave the peninsula after his four-year coaching run. "I tried to assemble the best 24 athletes for this game because it means so much to us."
Finney didn't disappoint Brown, putting Army on the board in the opening minutes with a 45-yard touchdown run to make it 6-0.
"We started the game with a running option to see how they would respond to it," Finney said. "And they tried to stop us, but we got them each time."
And when the sailors finally stalled Army's running attack, Brown had Finney do the job through the air.
Darren Merriss hauled in a 40-yard pass from Finney to extend the Army lead to 14-0 with 2:30 left in the first half. Finney next found Derrick Davenport for an 80-yard bomb to take a 22-0 lead at the half.
"They were just the better team" said Navy wideout Jose Vazquez. "We gave it all we had, but Finney played outstanding."
"We needed more time to practice," said Navy quarterback Phillip Lamb. "We would have jelled better if we'd had more time."
Timing was never a problem for the soldiers, who clamped down on defense to keep the sailors out of the end zone. Finney tossed his third touchdown pass of the game to Patrick Muir to cap the air assault and the scoring.
"This is my first year involved in this game," said Army assistant coach James Key. "It is honor to be part of something that will be a cherished lifetime memory."
After the game, the players were presented with their respective trophy and medals by the command staff and other high-ranking officials. Each was praised for their determined effort and sportsmanship.
"We had the pleasure of seeing great athletes throughout the peninsula," said Army Col. William P. Huber, U.S. Army Garrison-Yongsan commander. "And this event was an opportunity to once again show our tremendous community support and kinship spirit."
It was Army's 13th win in the 16-year history of the Peninsula Trophy series.