Army teams across Pacific sweep Navy in flag football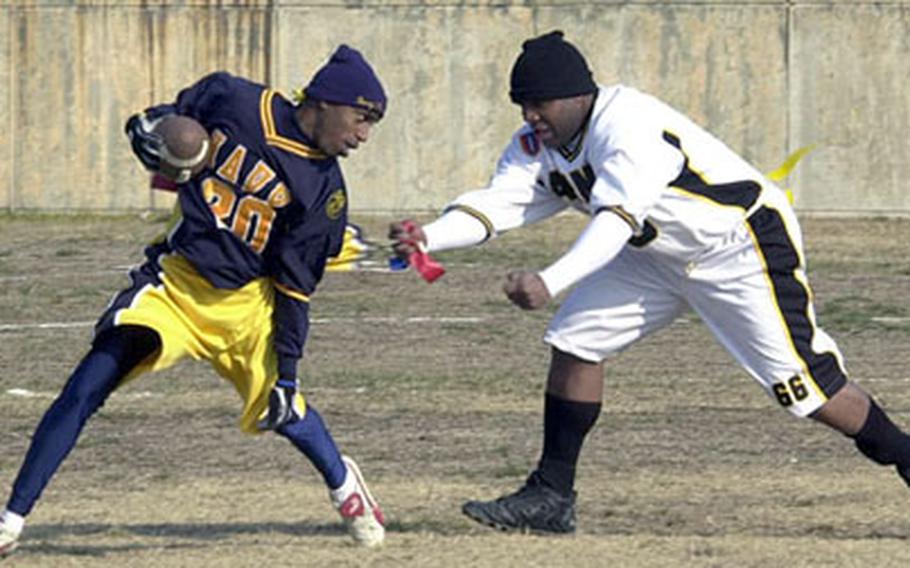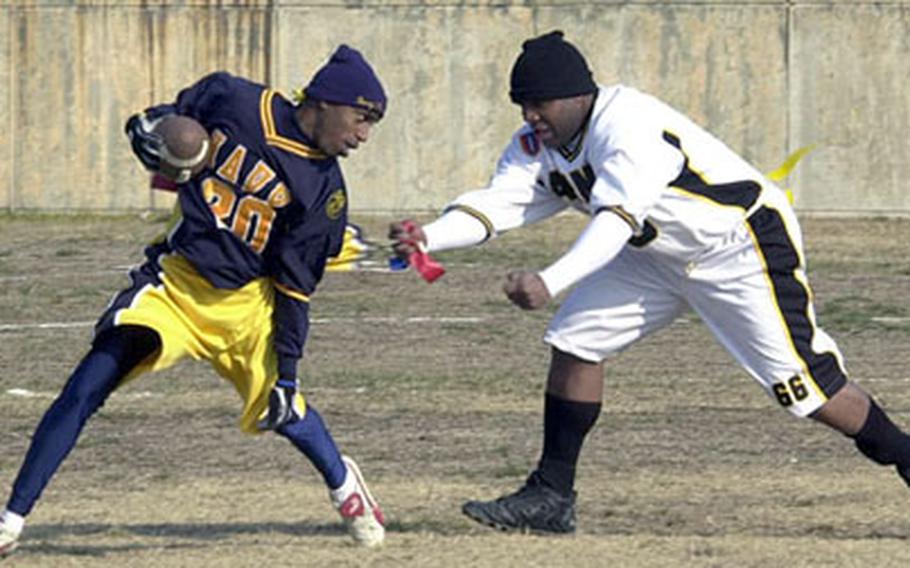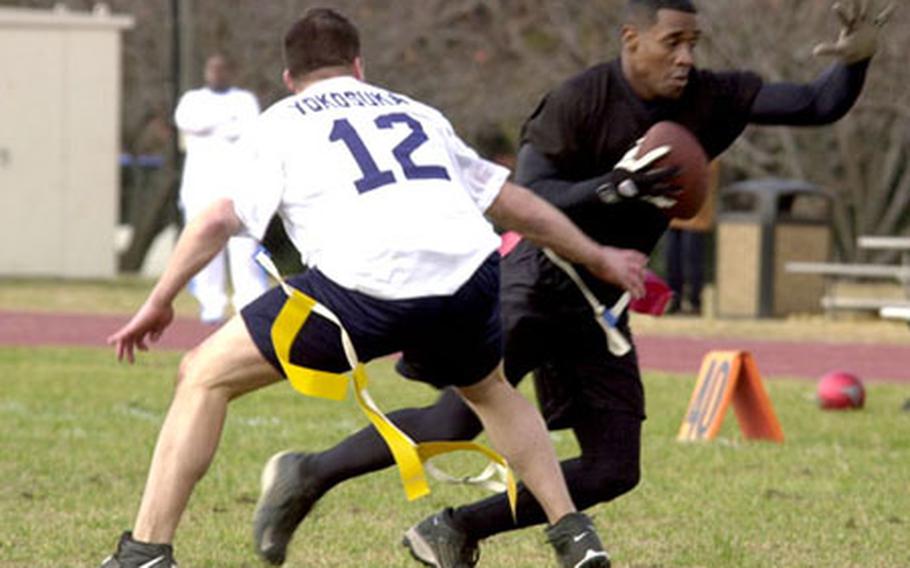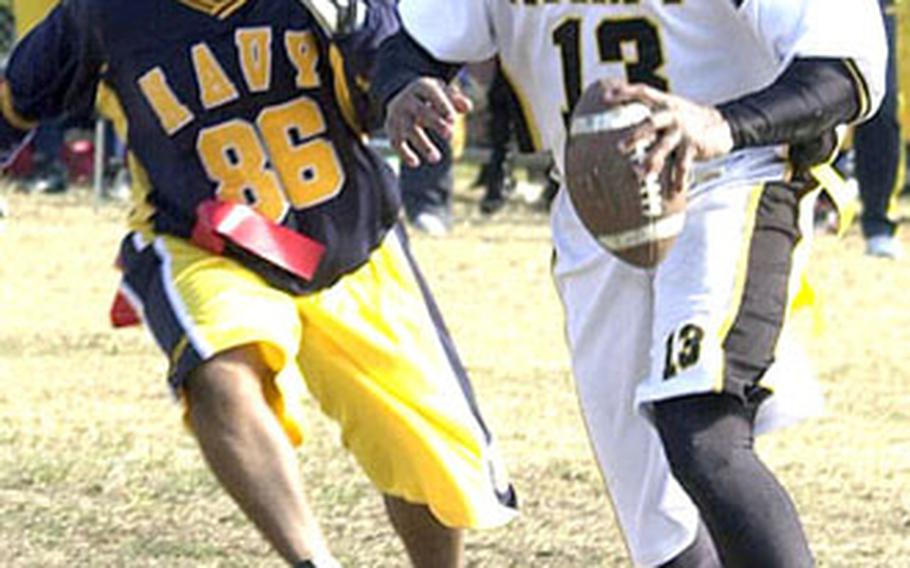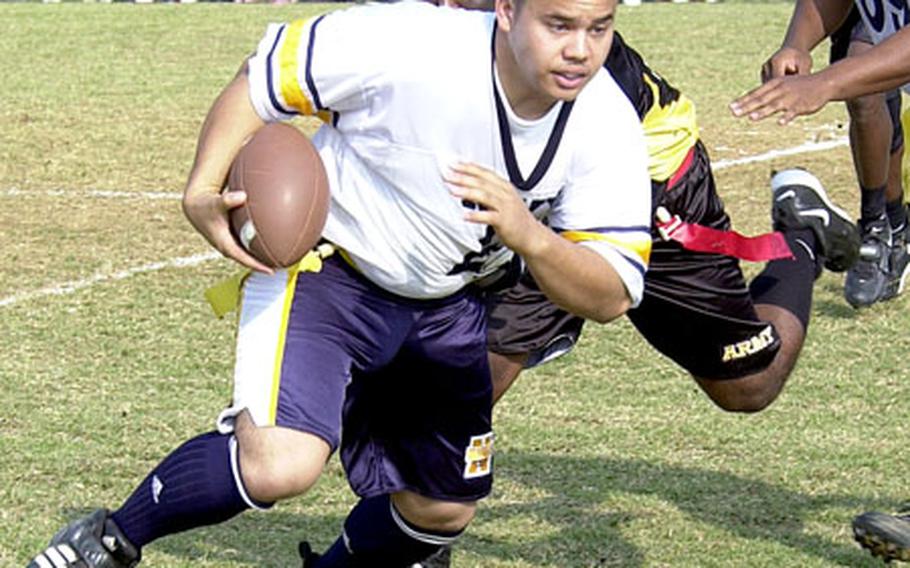 (Click here for an Army-Navy game photo gallery.)
The first week of Army Staff Sgt. A.J. Hickman's holiday season was memorable. And for Army flag football teams in the Pacific, Saturday was excellent.
On Nov. 26, the 32-year-old helped his Kadena Dragons win their second straight Okinawa Football League title. A week later, he caught two touchdown passes to lift Army over Navy 27-3 in the 16th annual Army-Navy flag football classic.
"Our team is strong," he said of a squad that led virtually from start to finish.
"We worked hard for this, since September."
The squad enjoyed the most lopsided outcome of the three Army-Navy games on a day of pigskin and pageantry at Torii Station, Japan's Camp Zama and Yongsan Garrison in South Korea. Army won the Zama contest 13-12 in overtime and the Yongsan contest 12-6.
The flag games are becoming major events in each community, held yearly to mirror the service-academy rivalry between Army and Navy, who kicked off their annual classic in Philadelphia some 13½ hours after the Pacific games concluded.
The Zama game played to a crowd of about 30. Some 500 braved Yongsan's chilly weather, and more than 1,200 jammed Torii Field for the Okinawa clash.
A punt-pass-and-kick awards ceremony highlighted Okinawa's halftime. Cheerleaders and Army and Navy bands performed.
Helping with pre-game coin tosses were commanding officers and others including U.S. Forces Korea commander Gen. Leon LaPorte, Zama's Col. Garland Williams, Torii Station's 10th Area Support Group commander Col. Tony Williams and Fleet Activities Okinawa commander Robert Wilson, who called the games "a great tradition" fostering "friendship between the services."
Under partly cloudy skies and in crisp late-autumn chill, Camp Zama soldiers needed overtime to edge past Yokosuka Naval Base sailors. Army scored early in the second half, but Navy tied it with six minutes left. That set up the extra session, when each team got four downs at opponents' 20-yard lines.
Army scored on the third play of its overtime possession and added the extra point to take a 13-6 lead. Navy reached the end zone on an option play, but on the extra-point try the receiver couldn't hang onto a pass thrown into heavy coverage.
In mid-30 degree weather at Seoul American High School's Falcon Field on Yongsan South Post, Army saved its scoring for each half's late stages. Navy went ahead 6-0 before Army tied it in the first half's closing seconds. Then, with two minutes remaining, it tacked on the game-winning touchdown.
Hickman, who had a 2003 free-agent tryout with the NFL's Seattle Seahawks, played a reserve role in the Kadena Dragons' 45-7 OFL title victory Nov. 26 but basked in Army's scoring spotlight on Saturday.
"No way I could have a game like that with Kadena," Hickman said of a Dragons team with receivers such as Jermaine Baker, Tarreck Jackson and Eric Lazenby.
He credited quarterback Alan Grinter, who threw for three total touchdowns, saying, "He read that defense very well. On a beautiful day like this, he was throwing great passes."
Army teams in the Pacific have won seven of nine games of this series since 2003. Army won last year's Okinawa game 30-27 and the Korea game 22-6, while Navy won at Yokosuka 19-18.