Army's boxing program in S. Korea expands to Camp Carroll
by
Franklin Fisher
May 23, 2003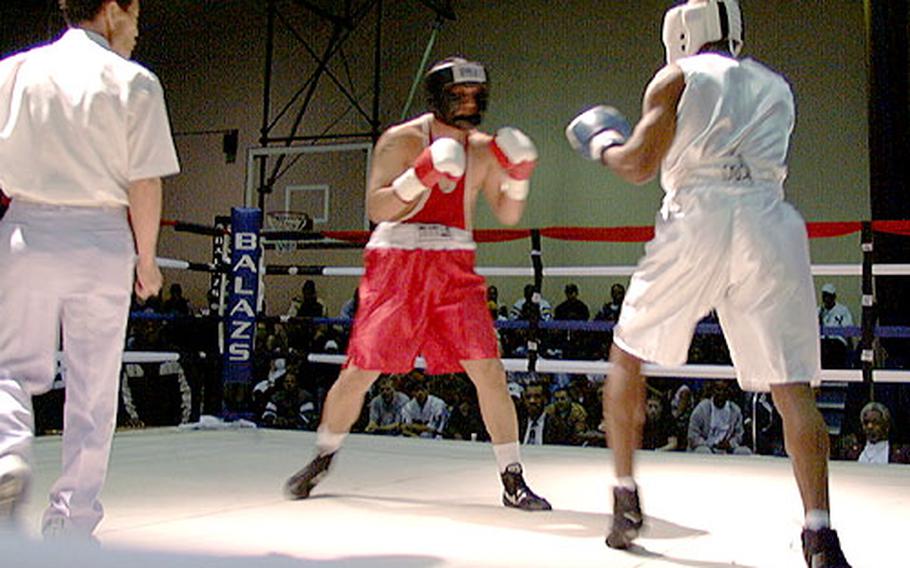 TAEGU, South Korea — The Army's boxing program for troops in lower South Korea is already expanding.
Last fall, the Army started the program in Taegu, senior headquarters for Area IV Army units. But if troops at other installations wanted to train, they had to trek all the way over to Camp Henry.
Not anymore, said Camp Carroll athletic director Emily Balanon.
"They don't have to commute, it's right here."
Camp Carroll, the sprawling logistics base in Waegwan, now has a coach, a boxer training room, fight gear and big plans for the future.
And the installation's new boxing coach, Army Staff Sgt. Johnny Dockery, has a little greeting for the entire U.S. military in South Korea: We got your fight right here.
"The Camp Carroll boxing team, we're gonna be ready," said Dockery. "So, Have Gloves, Will Travel. We're challenging anybody ... Have Gloves, Will Travel."
And having their own boxing team boosts the morale of troops there, added Balanon.
"It's a Camp Carroll deal, it's bragging rights, it's ownership of being up here," she said. "We truly identify with Camp Carroll, even though we're part of Area IV. You know, bragging rights — 'Camp Carroll.' That's important, that's important to soldiers ... Pride, I think a lot of it's pride."
Dockery, a motor sergeant in the 168th Medical Battalion, is coaching four fighters, who train three times a week. A new gym is slated to open on Camp Carroll in October, and one of its rooms will include boxing equipment.
Dockery's primary role is to provide "the best training our fighters can get, to represent us proudly at whatever tournaments he takes them to," said Balanon. "And he's been doing a great job."
A typical training session runs from 6 p.m. to 8 p.m. Monday, Wednesday and Friday, and includes stretches, shadow boxing for three rounds and instruction in the various types of punches — such as combinations and counterpunching. There's work on the speed and heavy bags, some weight training, neck exercises and jumping rope, added Dockery.
He wants to ensure the fighters know the fundamentals before they enter formal competition.
"I don't want to put 'em in there and they just get in there and just brawl and not worry about the techniques, the art of boxing. I want them to understand how and why and when to throw your power punches, how to set up your punches, when to counterpunch, how to use head movements, when to block, things of that nature," Dockery said.
Sgt. Marlon Anthony, also a motor sergeant in Dockery's battalion, saw a flier for the program recently and started training about three weeks ago.
"I'm glad that we have our own boxing program now because you don't have to travel nowhere, and you got something to represent Camp Carroll," he said. "I plan on being a regular, staying in shape, and maybe getting around and boxing a few people."
Those seeking further information on the program can phone Dockery at DSN 765-8490 or 011-9688-0141.