Girls cross country AOY
Armijo followed her passion; everyone else followed her
by
Dave Ornauer
November 25, 2018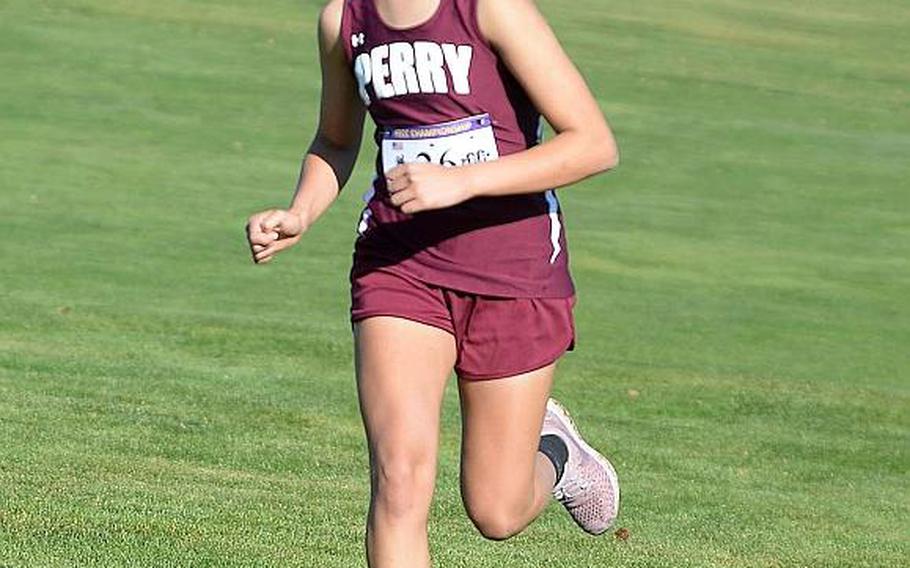 A year earlier, Angelique Armijo was serving, setting and diving for digs on the volleyball courts at Matthew C. Perry.
But her passion – running – gave way to a change in sports this fall – and led to very unexpected success for her, at least as she tells it.
The diminutive junior went unbeaten during the DODEA-Japan regular season, knocking several seconds off her times almost every time out.
She posted a DODEA-Pacific-best time of 19 minutes, 44 seconds in winning the DODEA-Japan finals on Oct. 20 at Yokota, then took the Division II title and second overall in the Far East meet on Nov. 5 at Misawa Air Base, Japan. As a team, Perry took second in Far East D-II.
For those accolades, Armijo has been named Stars and Stripes Pacific's girls cross country Athlete of the Year. And she had a tight field to beat out, including Kanto Plain champion Annabel Stafford of Nile C. Kinnick and Guam island champion Mikaela Domingo of St. Paul Christian.
"It's pretty surreal," Armijo said. "Going into the season and making the switch from volleyball, I never really expected to be good."
Armijo had played volleyball from her freshman year after her family moved to Marine Corps Air Station Iwakuni to Yuma, Ariz., "and it was a big switch" to cross country, Armijo said. She had already earned a spot on the volleyball team in September before switching to running.
"I feel badly that it had to be right after I made the volleyball team, but I was more passionate about running," Armijo said.
It was a mixed bag of feelings, she said. "I felt like I was disappointing someone," Armijo said of switching. "I had friends on the volleyball team I'd been close with. … People asked me why I was doing it, but … my friends, my parents, they're supportive of everything I do. Like me, they didn't know something so great would come out of it."
Her mother has been running marathons for years, and Armijo said she felt it was something that the two of them could enjoy together. Thus, Armijo started running "almost every day for months," she said.
"It was a stress reliever, something I didn't think I would do competitively," Armijo said.
But her days at Iwakuni are pretty much numbered; she and her family are due to transfer back to Yuma, Ariz., the place of her birth, following the school year. "So, I wanted to give it a shot," she said.
She went from running a 22:41 in the first meet on Sept. 8 in Sasebo to trimming 1:45 off her time a week later at Iwakuni, then clocking 20:44 on Sept. 29 back at Sasebo, then slicing off another minute with that DODEA-Pacific-best time on Oct. 13 at Iwakuni.
"Something good came out of it and that's what's so unbelievable," Armijo said. "I didn't expect all of it. No one could have predicted it."
Armijo said she couldn't have done it without the support of her teammates, who encouraged her when she went up against Stafford in the DODEA-Japan finals on Oct. 20 at Yokota. "She was a really fast runner," Armijo said. "People kept saying to look out for her."
But she overcame that and everything else, and along with it came a "cool of the evening" feeling that was also unexpected.
"I'm grateful to have had a part in something so great," Armijo said. "I'm going to miss it a lot."
ornauer.dave@stripes.com