Area I women set sights on first All-Army camp
---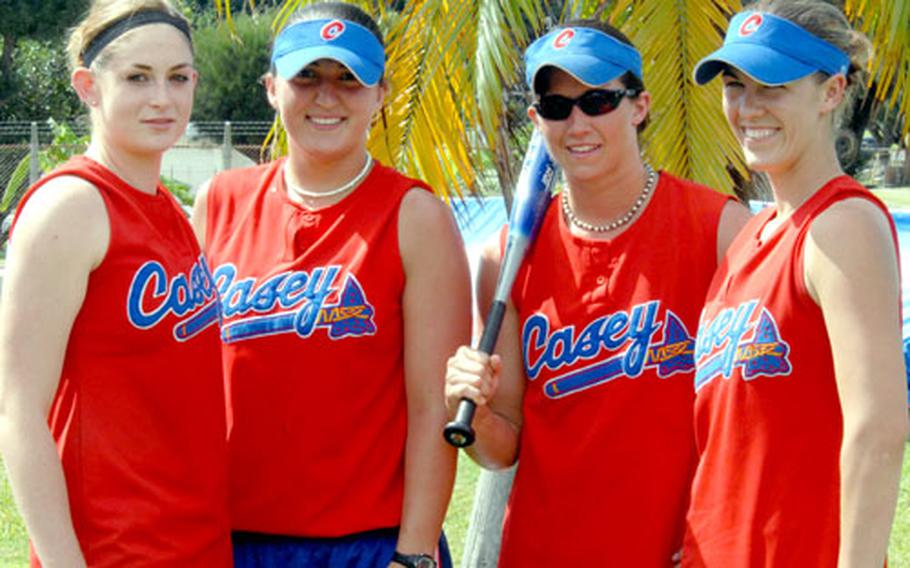 CAMP FOSTER, Okinawa — One might expect Lauren Shaw these days to play softball while frequently checking for text messages and e-mails.
One message in particular, she says, would make her one of the happiest captains in the U.S. Army — an invitation to the All-Army women's tryout camp next month at Fort Indiantown Gap, Pa.
"That would be the most incredible feeling ever," said Shaw, for four years an outfielder with the U.S. Military Academy team at West Point.
Until playing for Camp Casey's Area I team in South Korea, it had been four years since Shaw touched a softball; she'd been deployed the last two summers and attended technical training in 2005.
Now a regular for the Warriors, Shaw has put in her résumé for the All-Army camp and a shot at playing in the All-Armed Forces tournament Sept. 14-19 at Naval Air Station Pensacola, Fla.
"Ever since I was in school, I've looked forward to playing All-Army ball," Shaw said. "It would be like it was back in college. There's no better feeling than that. I take a lot of pride in that. I can't imagine being on the All-Army team would be any different."
Shaw is one of more than 30 players in this weekend's 10th Firecracker Shootout Interservice Tournament who've applied for their respective services' tryout camps. Most play for teams based in Korea.
Shaw and three others from Area I comprise the most first-time applicants from one team for the tryout camp. To get a berth on their respective All-Service teams, one must travel a tough road:
n Army, Navy and Air Force applicants send a résumé, which goes through their duty section to their fitness center, then to their major command and finally to be reviewed by their respective service branch and softball coach.
Shaw's application is "still in process." Shaw is a captain assigned as an operations officer for Camp Casey's provost marshal's office. "The paperwork has been approved; being released is another question."
n Then comes camp, three weeks of three-a-day practices and games in stifling summer heat at locales as diverse as Fort Indiantown Gap to Tyndall Air Force Base, Fla. Anywhere from 30 to 40 players end up vying for spots on their teams.
"I wouldn't want anybody but the best to go out there," said Kathleen Hedges, a staff sergeant assigned to Korea's Camp Hovey. "If I'm not one, so be it. As long as we keep our focus and make a contribution, we can represent the Army well at Pensacola."
n Make the team and it's on to the All-Armed Forces tournament, and beyond that the Amateur Softball Association national Class A tournaments in Oklahoma City.
What can make a first-timer's road through tryout camp easier?
"Listen to the veterans," said former Air Force assistant coach Danny Acosta. He heads Osan's women's team in South Korea; it has five 2007 All-Air Force players and two potential camp newbies on the roster.
"They've been there. It's a long, grueling camp. You have to learn to play team ball. That will get you to the gold."
---
---
---
---