AOSR boys flex muscle in 3-0 victory vs. Aviano
---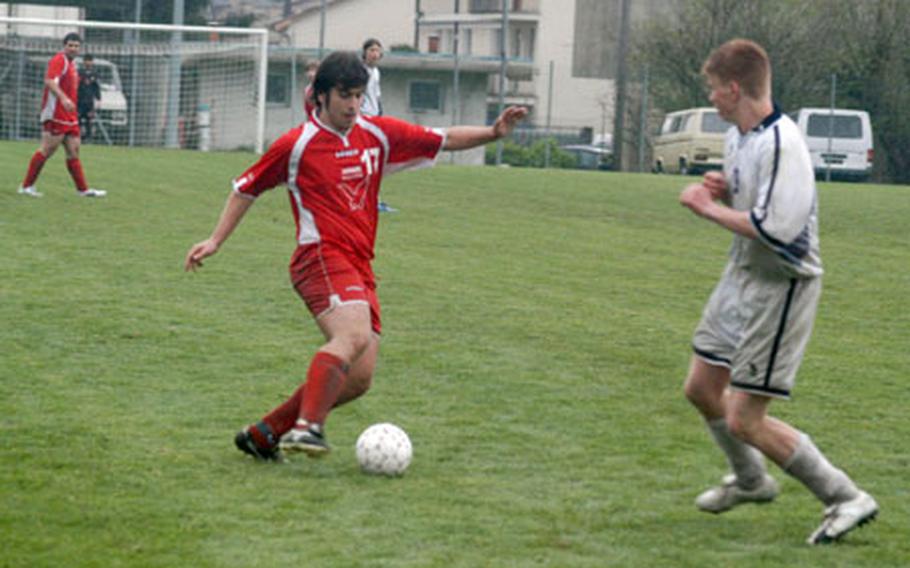 AVIANO, Italy — The American Overseas School of Rome boys soccer team has lost only eight times in the last eight years.
On Saturday, Aviano found out why.
AOSR, which lost in the final of the European Division III tournament last year, took advantage of an early opportunity, kept the Saints from the net and finished with a flurry for a 3-0 victory.
David Ananiades scored early to give his team the only goal it needed. He advanced rapidly from the right side after Aviano goalie Justin Bowen was lured from the box, leaving Ananiades an empty net.
Aviano (1-2) threatened to tie the game several times in the half and early in the second, but couldn't get the ball past goalkeeper Alessio Daswani. Corey Potter had one of the best chances, but his shot from in front of the goal hit the crossbar and bounced over the net.
Todd Kopf's corner kick wasn't touched by anybody and curled into the net for a 2-0 lead. Fabrizio Menghini collided with an Aviano defender while making a run toward the goal a few minutes later, but returned to his feet, found a loose ball and kicked home the final goal for AOSR (2-0).
"I think the score didn't reflect the level of play," Aviano coach Lou Lucidi said.
"We had chances. They capitalized on theirs. If it was a boxing match, it would have been up to the judges."
AOSR had a 10-3 advantage in shots on goal in the second half after just an 8-6 edge at halftime.
AOSR coach Andrea Desideri lost five starters from last year's team and says it is too early to tell about his team's chances of returning to the finals.
But it's working hard on another goal.
"We hope we don't lose again [this season], so we can get that record to less than [one loss] a year," he said with a smile.
---
---
---
---