D-II boys soccer semifinals
AOSR, Aviano to battle it out in all-Italy affair
by
Gregory Broome
May 22, 2019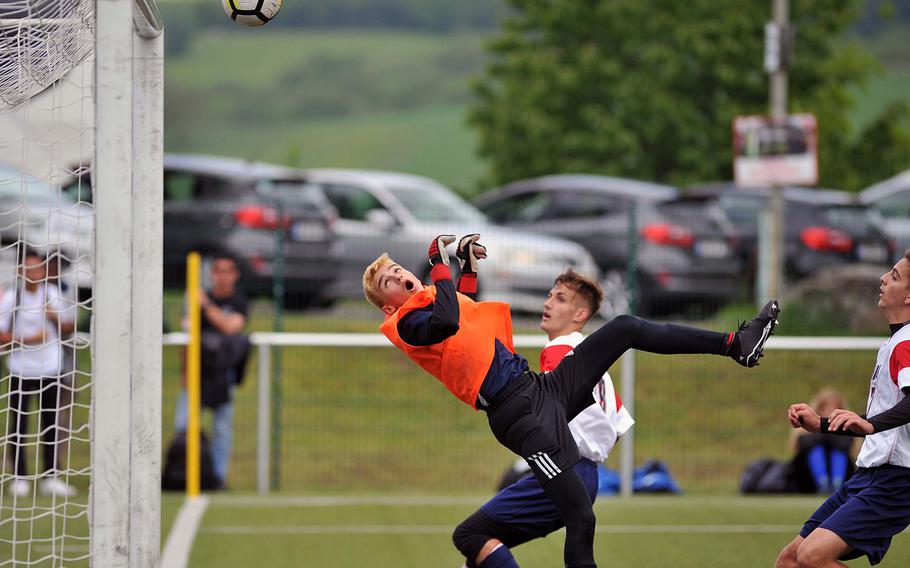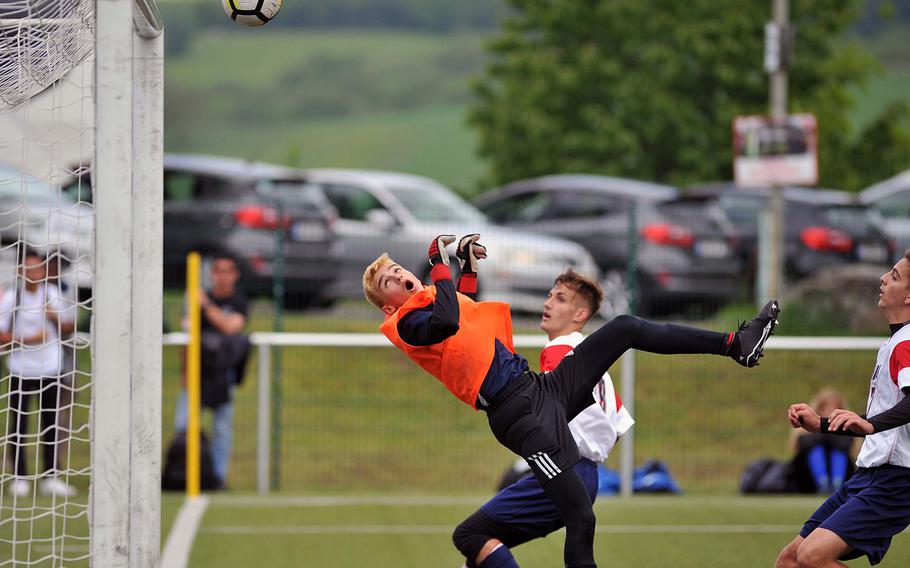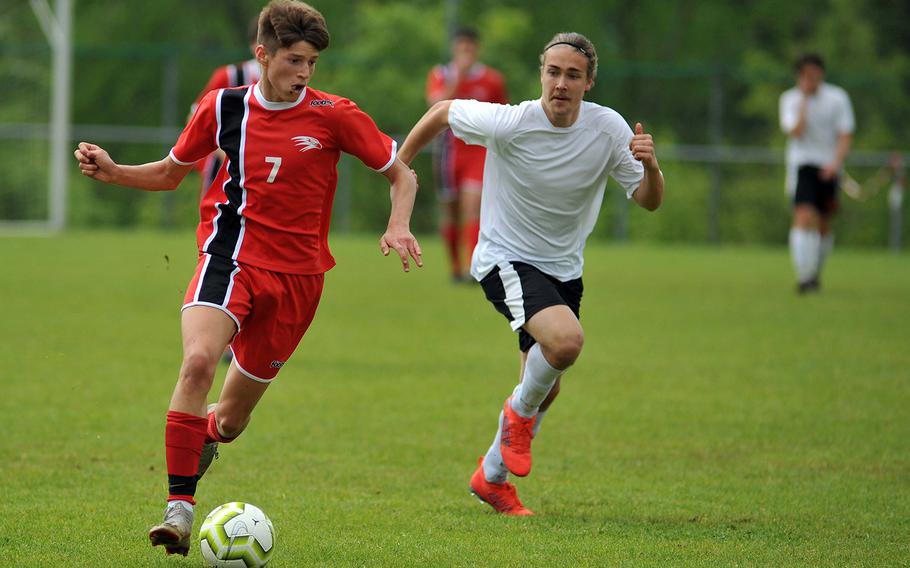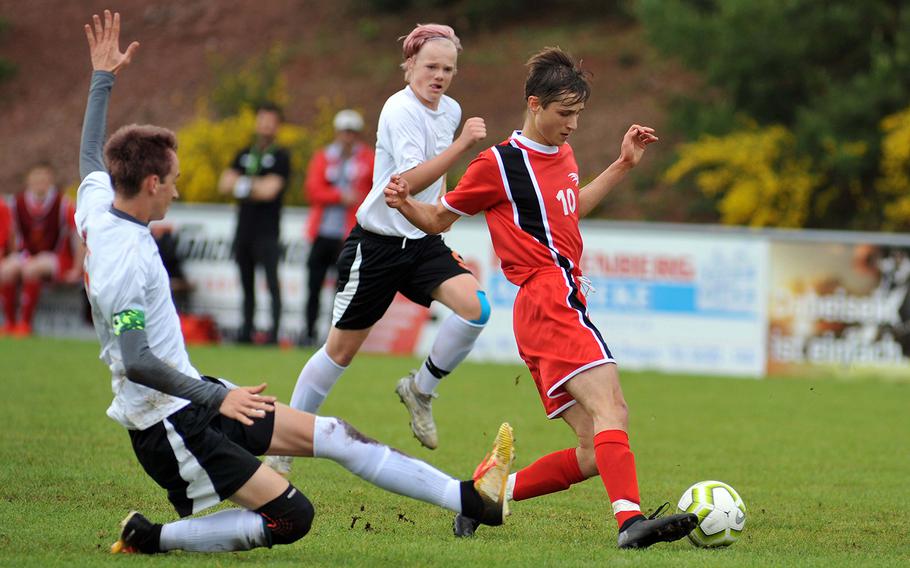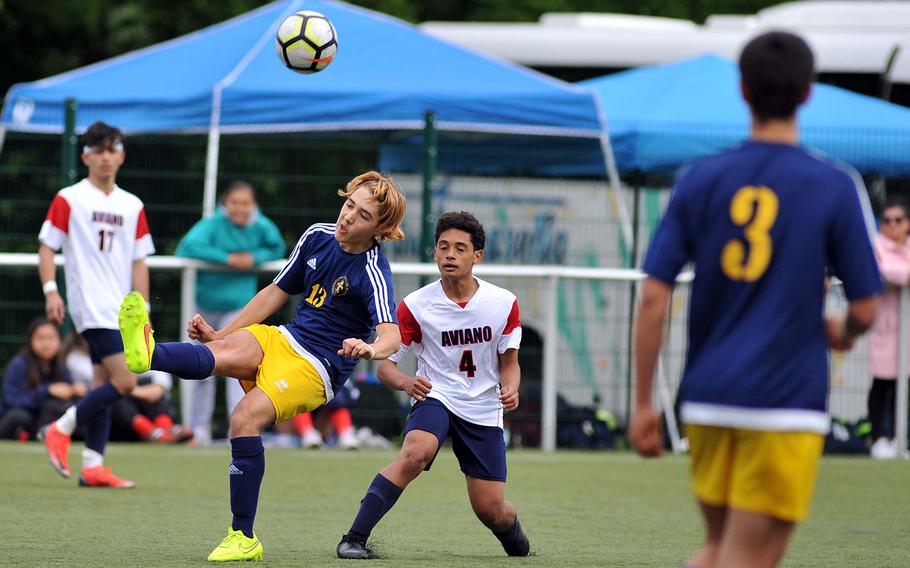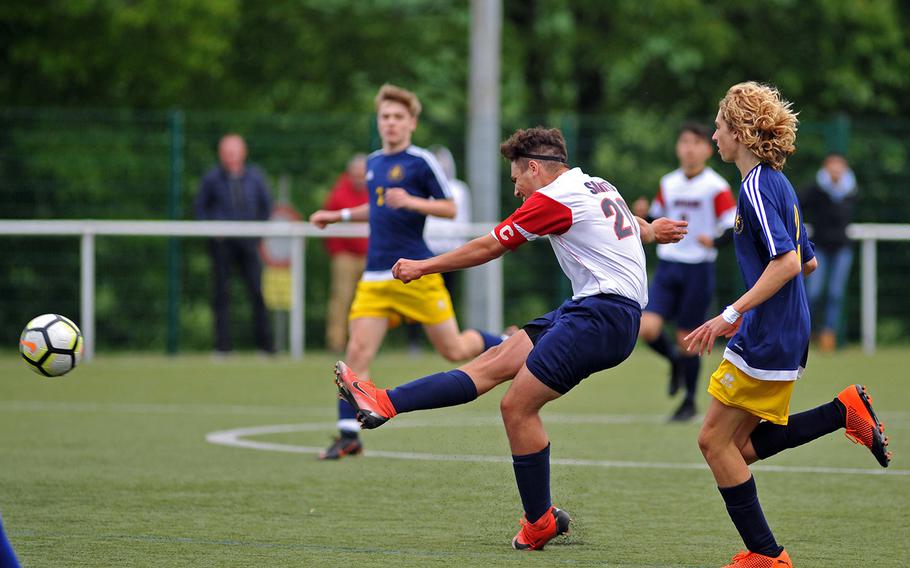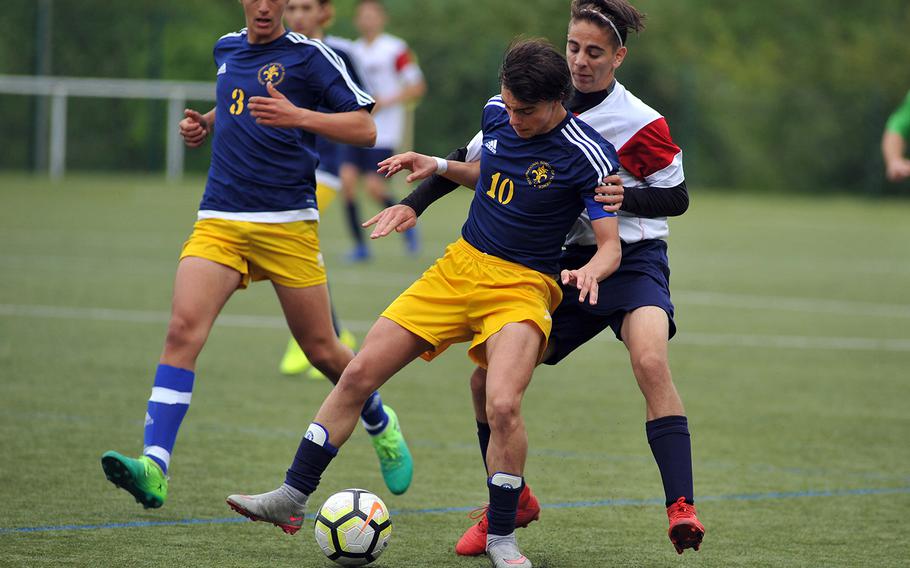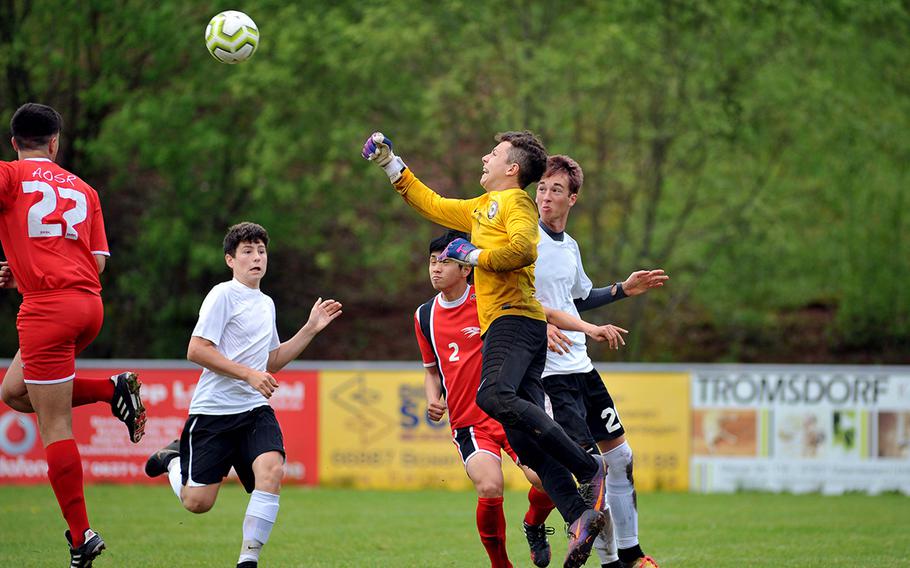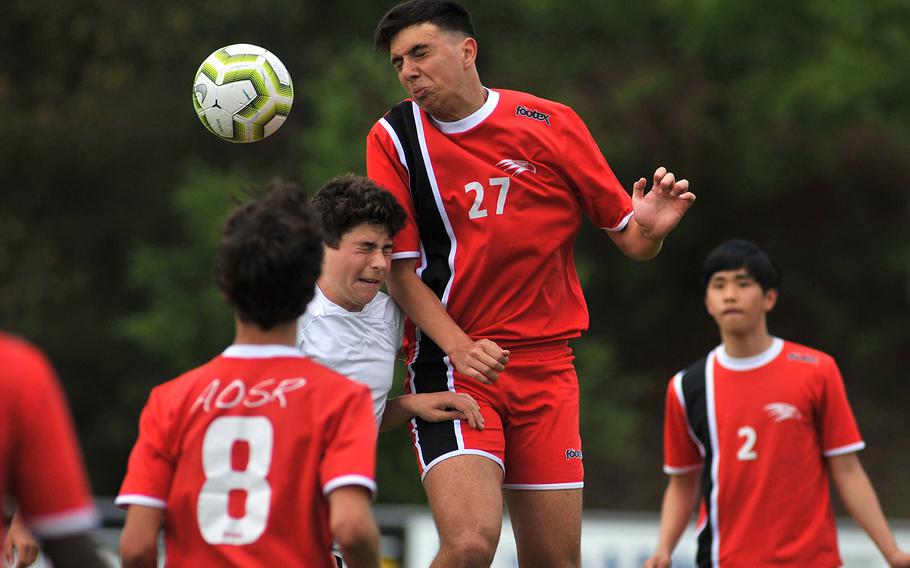 REICHENBACH-STEEGEN, Germany — A pair of gritty, low-scoring DODEA-Europe Division II boys soccer semifinals Wednesday set up what figures to be a similar matchup for the championship.
Top-seeded American Overseas School of Rome outlasted defending champion AFNORTH 1-0 and will take on fourth-seeded Aviano, which beat upstart Florence by the same 1-0 margin.
AOSR and Aviano played to a 1-1 draw in their pool-play meeting on Monday, suggesting an evenly matched title game to come Thursday at Kaiserslautern High School. AOSR beat Aviano 4-0 in their regular-season meeting on March 22, though the Saints were without several key players for that early-season match.
The Falcons lived up to their No. 1 billing by ousting the defending champion Lions.
Aldo Di Biase scored a first-half goal that remarkably held up. A number of other Falcons opportunities sailed off-target or were batted away by Lions keeper Paul Kohl, preserving AFNORTH hopes for a late equalizer. But AOSR's hyper-focused defense on AFNORTH star James Barata kept the Lions off the board for the duration.
"They did a great job of keying him and neutralizing him," AFNORTH coach Mike Miano said of Barata. "They played great defense against a really talented offensive player."
Di Biase, while lamenting his team's missed chances, was thrilled to deliver the one goal it needed to advance.
"It had to come sooner or later," Di Biase said. "We should have scored 10 goals, but it is what it is.
"We played well as a team, that's all that matters."
AFNORTH, with seven players back from last year's championship group, had its eyes on a repeat title. But the Lions struggled to gear up again after a month-long gap in their regular-season schedule, Miano said, and they weren't able to develop enough complementary offensive playmakers to take advantage of AOSR's preoccupation with Barata.
"I'm disappointed for them, but we'll rebuild next year and hopefully have a stronger showing," Miano said.
AOSR, meanwhile, is headed back to the title game for the second time in three seasons. The Falcons came up just short in a 2017 overtime loss to Roman archrival Marymount; they plan to make things right Thursday.
"This is our year," Di Biase said.
The fourth-seeded Saints withstood a flurry of late free kicks, corner kicks and other Florence threats to advance.
"I was nervous, especially at the end," Aviano goalkeeper Giacomo Fabbro said. "But I had faith in my teammates, I just had to grab the ball and kick it up at the end."
That successful late stand by Fabbro and his defense converted the team's first-half goal into a game-winner. That score was on a free kick 15 minutes into the match provided by Logan Hinchcliff, who has scored all three of Aviano's goals this tournament.
"They set up their wall, I saw the open space," Hinchcliff said. "It was a simple bend to the back of the net."
The Saints have made a habit of high drama in this postseason. They played AOSR and fifth-seed Bahrain to 1-1 ties in preliminary play, surviving the three-team pool even without an outright win. But Aviano picked a great time for its first victory of this postseason.
Senior leaders Hinchcliff and Fabbro had high hopes for this year's group, sensing potential the team has now made good on, with an even greater achievement still a possibility.
"We are incredibly excited. We said this is going to be our year," Hinchcliff said. "We lived up to the hype. We're so proud of the boys."
broome.gregory@stripes.com Twitter: @broomestripes