Ansbach wins men's USFE boxing title
by
Rusty Bryan
May 10, 2004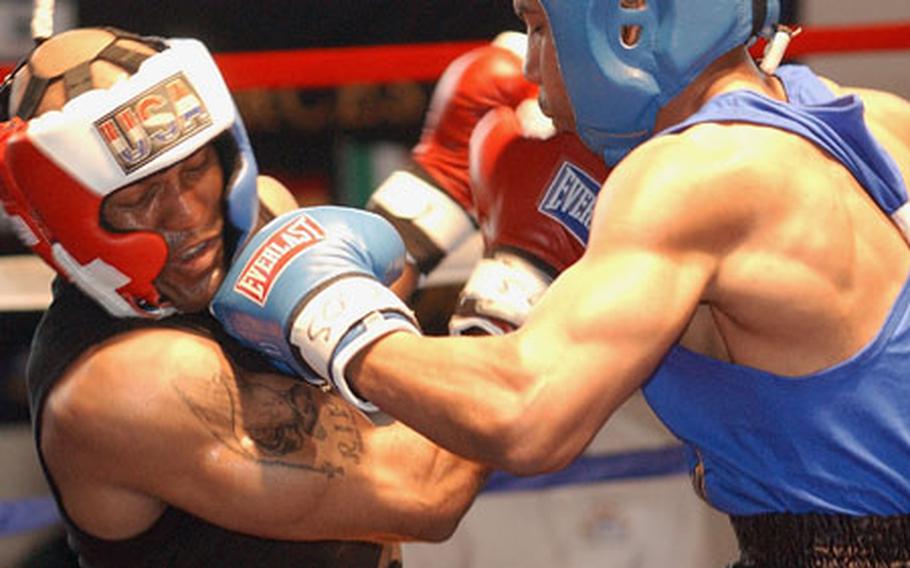 KAISERSLAUTERN, Germany — Ansbach walked off with the men's team trophy after Sunday's eight title bouts at the 2004 U.S. Forces Europe boxing championships. And 201-pound novice champion Victor Aruwah, one of three Ansbach champions crowned Sunday, knows why.
"We have the best coach in Europe," the Lagos, Nigeria, native said of his teacher and fellow boxer Ruben Almonte. "He trained me hard for this fight."
Hard, and quickly, too, Aruwah added.
"I've been doing this for exactly three weeks," Aruwah said, giving the full definition to the word "novice."
"I owe it all to my coach."
Aruwah won his title with a 3-2 verdict over his more experienced opponent, Benjamin Bradley of Hohenfels. He accomplished the feat despite a KO-defying low-hands style that invited Bradley to attack.
"I let them do their own style," Almonte said. "I teach them the basics, but I can't develop their style for them. That's up to them."
Almonte's tactics worked for Ansbach's uncontested novice 186-pound champion, Alein Lopez, and novice 165-pound king Kenneth Torregano, a 3-2 winner over John Brogdon despite injuring his right arm during the bout. Torregano, however, used a big left jab to come back in the final three rounds.
Almonte might have provided a fourth Ansbach champion, but he dropped a 4-1 verdict to Raymond Myers of Hanau in a 165-pound open title bout that added the element of revenge to Sunday's card.
"He's the only guy who ever beat me," Myers said after a spirited bout that ended with both boxers mounting flurries in the fourth and final round. "He beat me last year for the USAREUR championship."
Myers, who thanked Almonte after the bout for requiring him to reach back for as much as he had, said he was pleased to have another shot at his old foe.
"I knew it was going to be a good fight," he said. "A chess match. It's the best feeling in the world."
Heidelberg's women romped to their team title, 18-4 over Spangdahlem, the only other women's team in the event. Heidelberg's Kristin Campbell and Wilantha Silva claimed their crowns without opposition, while Lady General Candace Young outpointed Spang's Alma Ramirez, 5-0 for the 132-pound title, despite mouthpiece problems that resulted in two warnings for failing to keep it in place and losing it once onto the canvas.
"I'm going to practice holding onto my mouthpiece," Young said after an impressive display of jabbing and movement that belied her brief two-month career. "It's the most uncomfortable thing in the world."
Heidelberg's men crowned a once-and-present champion, 125-pound novice Daniel Rodriquez. Rodriquez, who won an Army-Europe crown in 2002 before spending 2003 in Iraq, downed Hao Pham of Hohenfels 5-0 with an impressive display of counterpunching.
"That's my style," he said.
Friedberg's men placed second overall, led by novice 178-pound champion Alector Tavares. Tavares swarmed a taller David Rawlerson of Kitzingen to claim a 5-0 decision.
The amateur equivalent of the technical knockout ended two of Sunday's bouts. Adam Klakowicz of Hanau, by way of Philadelphia, decked Heidelberg's Jose Rivera with a short right cross that ended their novice 125-pound match at 17 seconds of the fourth round, and James Heath of Ramstein stopped Benjamin Rivera of Kaiserslautern 40 seconds into Round 4 of a furious, crowd-pleasing fight for the 178-pound open title.
"I come from a boxing family," said Klakowicz, who sports a "Lucky Lefty" tattoo on the appropriate arm and another of the Liberty Bell on the side of his right calf. The unlucky lefty on Sunday was his opponent, Heidelberg's Rivera, but not before Rivera gave Klakowicz a taste of his own medicine. Rivera is a lefty, too.
"I don't get to train against left-handers," Klakowicz said, echoing the complaint of all right-handed boxers who ever stepped into the ring against a southpaw. "It was awkward at first."
Like Torregano, Heath won with one hand. His right arm had to be reinserted into its socket in the first round of his bout.
"I had to do what I had to do," Heath said, right arm hanging limply at his side, after pinning K-town's Rivera to the ropes and landing a series of left hooks and right crosses to the head that bloodied Rivera's nose and ended the final bout of the day. "If you fight with one hand, you'll lose. I had to let the pain go."
The bout was Heath's first in the open division, required for those who have boxed 10 times.
"I wanted to step up," he said. "In novice, you fight guys who've had one or two fights and never train for fights like this."
According to Aruwah, Heath stepped up in more than experience.
"He's a warrior," Aruwah said as he stepped up to congratulate Heath, "a [real] warrior."
---
---
---