Ansbach wins fourth D-III football crown in five years
---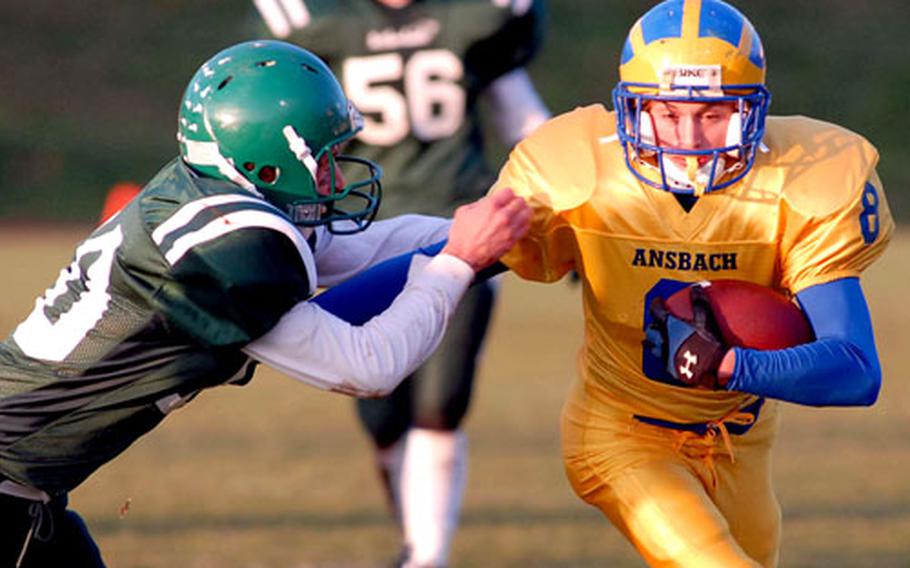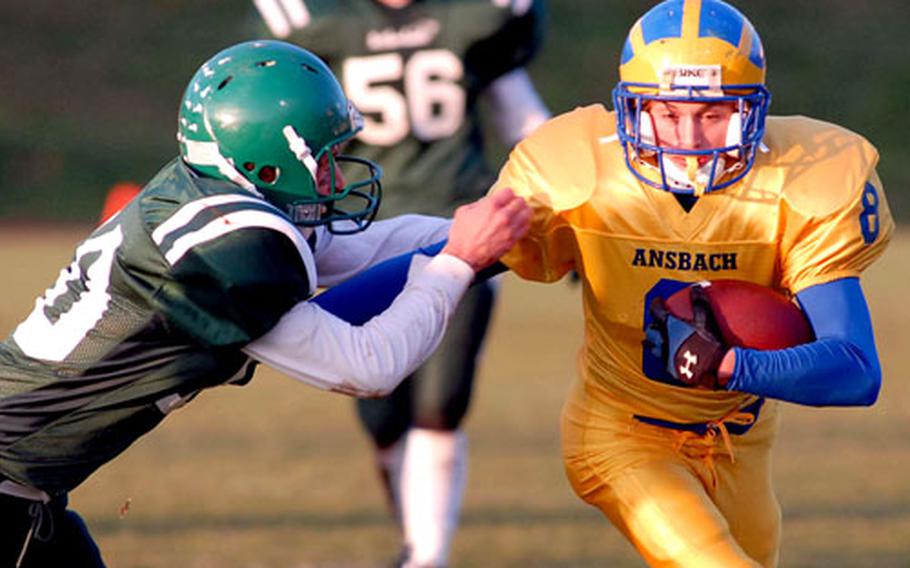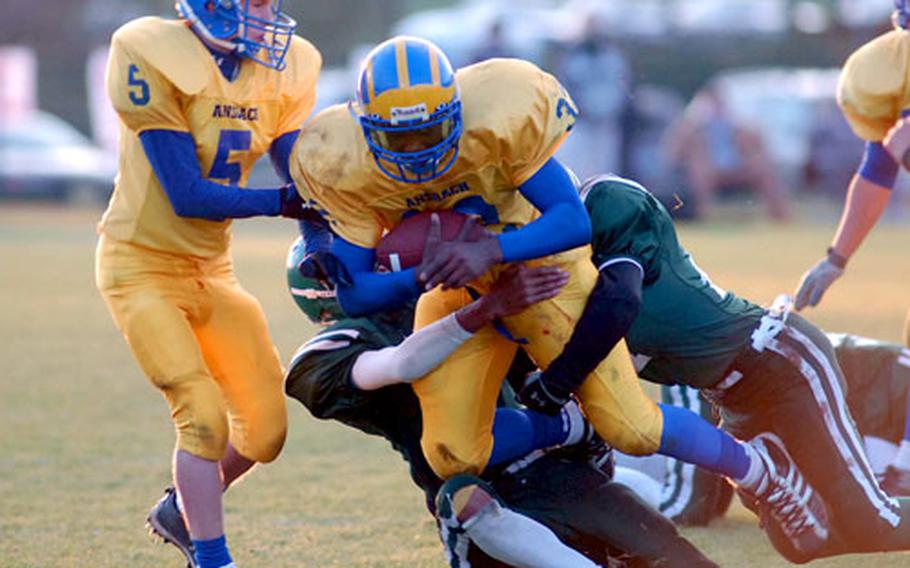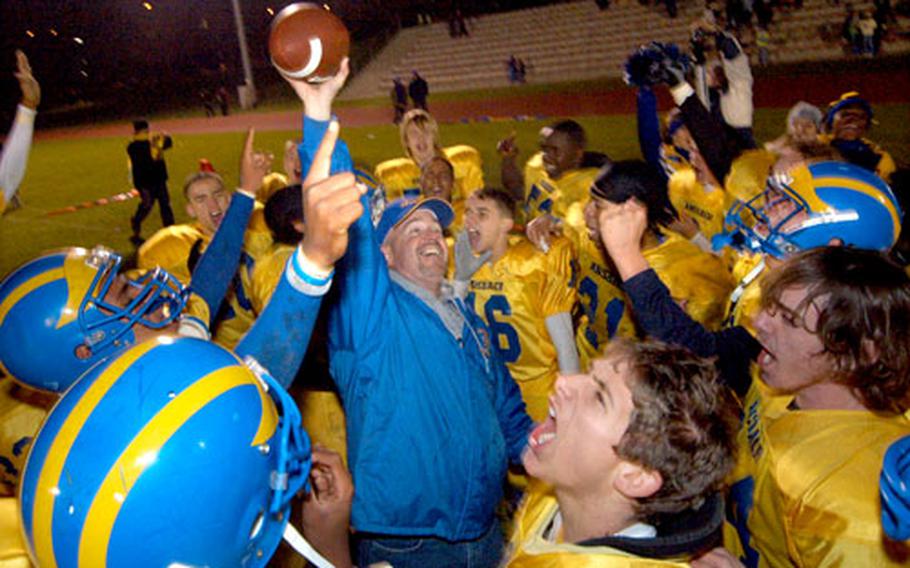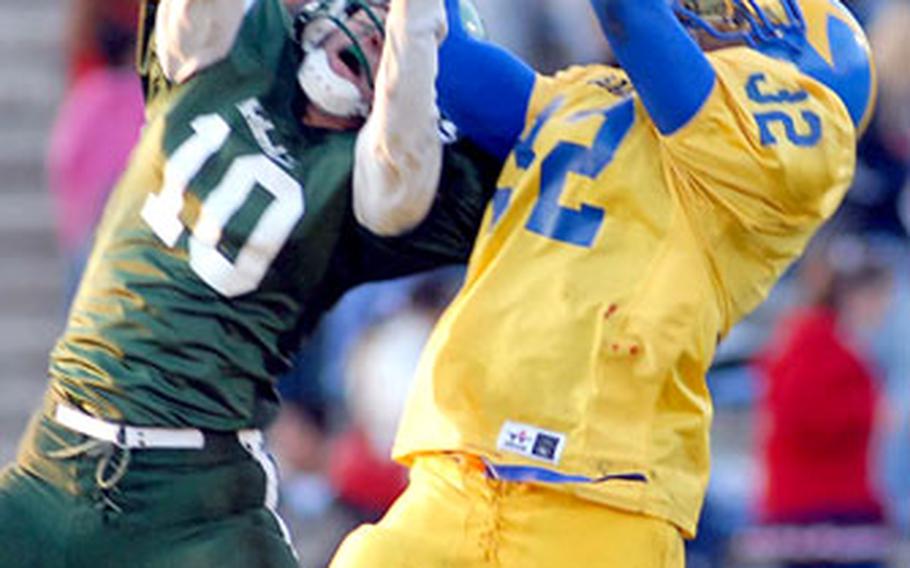 BAUMHOLDER, Germany — Ansbach football coach Marcus George initially considered this season a rebuilding year.
Consider the Cougars built.
Ansbach won its fourth DODDS-Europe Division III championship in five years, beating AFNORTH 34-6 on Saturday.
The victory capped another undefeated season for Ansbach (8-0). The Cougars had four straight undefeated seasons between 2002 and 2005, winning a DODDS-Europe record 28 games until Hohenfels beat the Cougars twice last year — once in the regular season and once in a rematch in the D-III championship game.
Now, Ansbach has started a new streak.
"When you've got a record going for four years undefeated it's really dramatically tragic when you lose," George said. "So, this game was kind of unexpected. This was a rebuilding year for us. We just started out really slow."
Ansbach started the season with five players who had never played organized football.
It didn't show on Saturday. Junior quarterback John Willis completed six of eight passes for 203 yards. He also ran for 77 yards on 11 attempts.
Willis' longest pass capped off his big day. It was a 96-yard TD connection with senior wide receiver Adrion Shack.
With 5:22 left in the game and Ansbach pinned on its 4-yard line, Willis lofted the ball to Shack, who snatched it from the defender and raced down the right side for the score.
Ansbach started the game in a hole after AFNORTH quarterback Brandon Wilson threw a perfect 30-yard pass to senior wide receiver Chris Eden to put the Lions up 6-0 in the first quarter.
Ansbach started its comeback when a high snap by AFNORTH sailed over the punter's head and out of the end zone for a safety.
The Cougars then took the lead for good in the second quarter on a 1-yard TD run by Willis. Running back Xavier Sheppard, who ran for 92 yards on 17 carries, put the Cougars up 10-6 with a two-point conversion run.
AFNORTH head coach Greg Blankenship said the turning point in the game came in the third quarter with AFNORTH down by four and driving. Wilson called an audible on third-and-four, changing the play from a run to a pass and was sacked.
"That was the big ouch," Blankenship said as the team boarded the bus after the game.
The Cougars also managed to contain AFNORTH running back Sascha Miller, who Blankenship said was less than 100 percent after carrying the ball 32 times the week before in a semifinal win over Hanau. Miller had been injured earlier in the season.
Ansbach added a touchdown in the third quarter on an 11-yard run by sophomore Shane Williams, and another in the fourth quarter when Sheppard scored on a seven-yard run with 8:34 left in the game.
The victory was sweet for Ansbach, considering last year's final loss, George said.
"Last year, we were going for four in a row," he said. "This is for the guys who didn't get it last year."
---
---
---
---