Ansbach throws Wiesbaden for loss
by
Rusty Bryan
November 2, 2008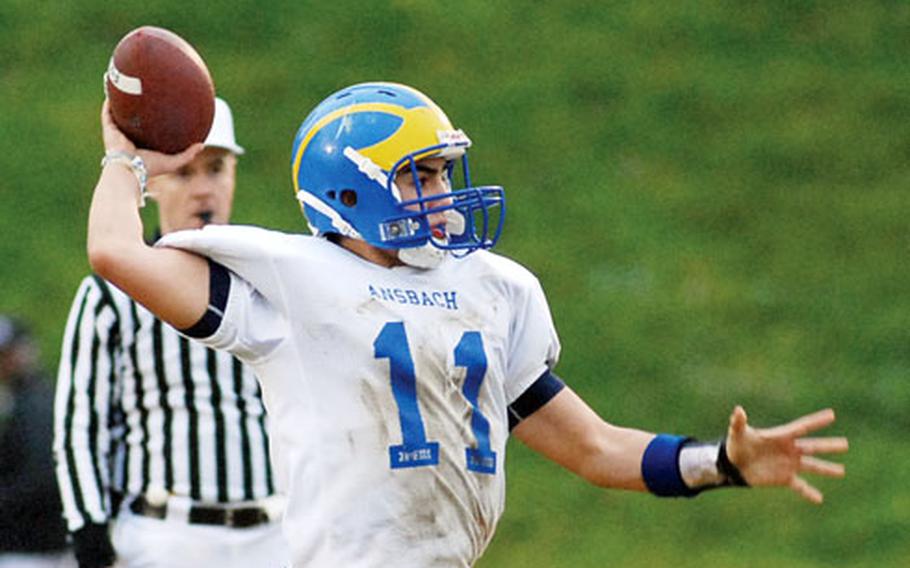 BAUMHOLDER, Germany — The difference between a one-dimensional football team and one that can run and pass is 37 points, the Ansbach Cougars demonstrated in their 50-13 DODDS-Europe Division II championship victory Saturday over Wiesbaden.
"I'd hate to try to defend us," Ansbach coach Marcus George said after senior quarterback Dominic Barrale completed three of four passes for 96 yards and three touchdowns and the Cougars ran for 372 yards and four TDs in reaching the 50-point plateau for the second straight playoff game. The Cougars (8-0) defeated Bitburg 50-14 the previous Saturday.
Wiesbaden was unable to counter through the air when the Ansbach defense contained Wiesbaden's "Thunder and Lightning" tandem of 210-pound sophomore hammer Jeremiah Simms and junior speed runner Marcus Williams. Simms carried 30 times for 133 yards and a touchdown, but Williams managed just 15 yards on 10 rushes against the swarming, eight-in-the-box Ansbach defense.
Wiesbaden sophomore quarterback Ryan Reagin was 2-for-2 and 22 yards passing, including a 12-yard TD completion to Derek Rivera, in the first 12 minutes, but the Warriors all but abandoned the pass thereafter. Reagin finished 3-for-6 for 28 yards as Wiesbaden (7-1) lost for the first time this season.
Things might have gone differently had the Warriors been able to spring Simms for just one more yard. Ansbach stuffed Simms for no gain on fourth-and-goal from the 1 near the start of the second quarter, then launched a six-play, 99-yard drive that overcame two penalties. One of the flags was a holding call that negated a 72-yard TD sprint by the game's offensive MVP, Jordon Shack. But junior Shaun Francis, who rushed six times for 102 yards and a TD, got most of that back on the next snap, bolting up the middle for 74 yards to set up a 15-yard TD burst by Shack.
Shack, a third-team tailback a year ago, rushed for more than 200 yards in each of his last two games, the team's 23rd and 24th straight victories. On Saturday, he scored on runs of 1, 15 and 80 yards and added three two-point conversions while gaining 246 yards on 15 rushes.
After the 99-yard march, Barrale unlimbered his arm, connecting less than four minutes later with a 30-yard TD pass to wide-open Carter Gunn.
"The run was working," said Gunn, "but the pass was open, too. I had great blocking all around."
When the Cougars again took over on downs with less than two minutes left in the half, Barrale capped a 41-yard march with a deft 18-yard TD pass over the middle to sophomore Alex Moya. Barrale saved his best for last, a perfect 48-yard toss toward the left flag that Francis ran under for the score that capped Ansbach's only possession of the third quarter.
"We've been running that pass all year," Barrale said.
"I had all day to throw — Kevin Stadler threw a great block on their end."
Stadler, voted defensive MVP, and All-Europe lineman T.J. Dignan also anchored the Ansbach defense, which controlled the muscular Simms as much as the Ansbach coaches could possibly have hoped.
"He's very hard to tackle," Dignan said of Simms. "We just tried to put him on the ground."
The title was Ansbach's third-straight championship, having won Division III in 2006 and D-II last year after being moved up a division.
"That was our goal," Barrale said about his school's seventh European championship.
"I'm completely content."