Ansbach takes two from defending champ Baumholder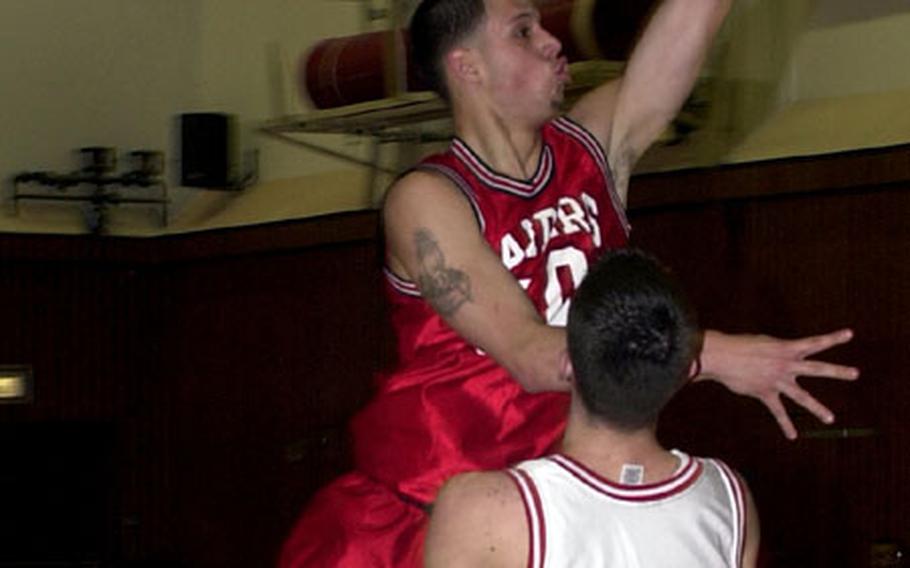 ANSBACH, Germany — Ansbach swept Baumholder this weekend to set up a home-and-home showdown against defending European Division III champion Bamberg.
The Cougars — following 53-39 and 81-59 triumphs — will take a 7-1 overall mark and 4-0 record in Division-III-South into this week's games against unbeaten Bamberg.
Ansbach was led by Miles Sheppard, Russell Bailey, Shawn Bachtel and Jon Austin.
Sheppard totaled 34 points and 14 steals, while Bailey had 31 points and 21 rebounds. Bachtel 31 points in the two games, and snatched 11 steals on Friday. Austin scored 28 points and snared 18 rebounds.
Bamberg, led by Tim Gamble's 26 points, routed Hohenfels 87-52 on the road Friday night to improve to 8-0 and 4-0.
K-town tops Lakenheath
KAISERSLAUTERN, Germany — Kaiserslautern turned up the defensive heat on Lakenheath Friday night in a 51-43 victory that snapped a three-game skid.
Trailing 41-40 going into the final quarter, the Red Raiders held their guests to a single field goal the rest of the way.
"Coach [Clinton Robinson] has been emphasizing boxing out," said K-town guard Clifford Middleton, who played more than 30 minutes and scored 11 points. "We've been working on holding the other team to one shot."
The work paid off.
Lakenheath managed just two offensive rebounds in the final period, both of them negated by Middleton steals. Their only score of the final period, a jumper in the lane by Nathan Kupko, came in the first minute of the period.
"We played great team ball," said Middleton, who single-handedly burned 61 seconds off the clock by dribbling the ball without drawing a foul in the game's closing minutes.
John Hunt had 12 points for Kaiserslautern, which got back into the Division I race at 2-3. Jose De Jesus added eight points for K-town, including a pair of runners in the lane in the final minute.
On Saturday, Hunt scored 16 points as the Red Raiders got back to .500 with a 51-38 victory. Middleton added 16 points, 11 assists 10 steals and eight rebounds.
John Rogers scores 11 points on Friday and 22 points on Saturday for Lakenheath (3-5).
Mannheim thumps Vilseck
MANNHEIM, Germany — James Meeks burned Vilseck for 58 points, and teammate Andre Nelson scored 50 as the defending European Division II champions scorched Vilseck 87-44 on Friday and 88-68 on Saturday to improve to 5-0.
Nelson, who scored 27 points on Friday and 23 on Saturday, also pulled down 24 rebounds, eight steals and six assists in the Bison's sweep.
Meeks, whose had 34 points on Friday and 24 on Saturday, was 17-for-21 from the free throw line. He also made 13 assists.
The victories kept Mannheim two games ahead of SHAPE, which downed Hanau twice, in the Division II standings.
The Bison, who are trying to supplant Patch as the Division II conference champions, play at Patch on Tuesday night and at Hanau on Friday.
AFNORTH rolls into showdown
BRUNSSUM, Netherlands — Center Alex Boettger has 43 points, 29 rebounds and nine blocked shots as AFNORTH downed defending Division II conference champion Patch, 58-49 and 56-38, Friday and Saturday to take a 5-1 record into home showdowns against fellow title contenders SHAPE and Mannheim.
The Lions will host SHAPE (4-2) on Tuesday and Friday before welcoming Mannheim to Holland on Feb. 7-8.