D-III boys final
Ansbach speeds past Sigonella to snap finals jinx
---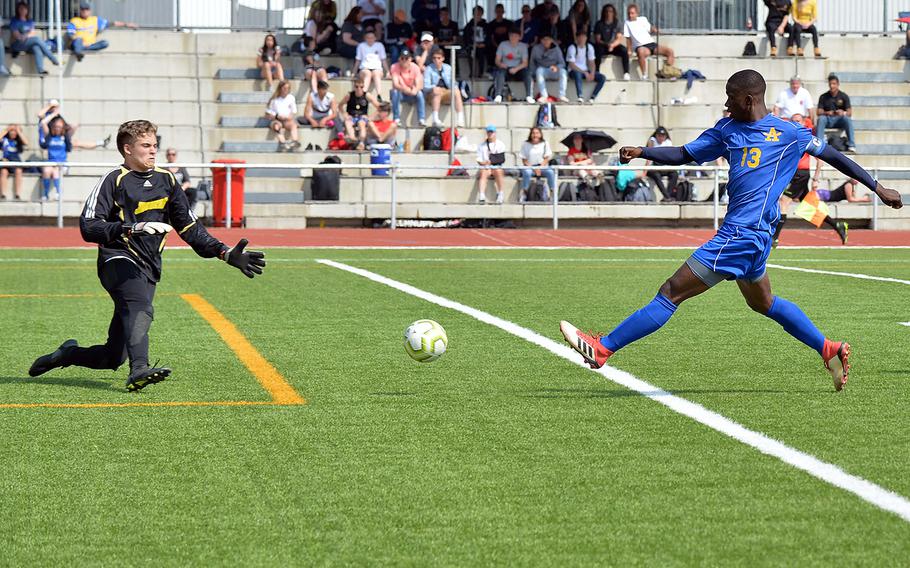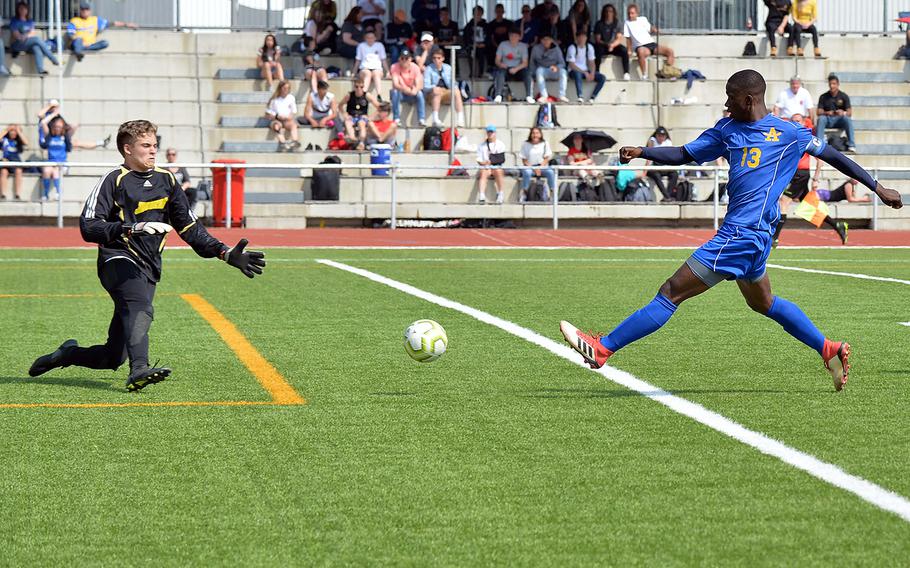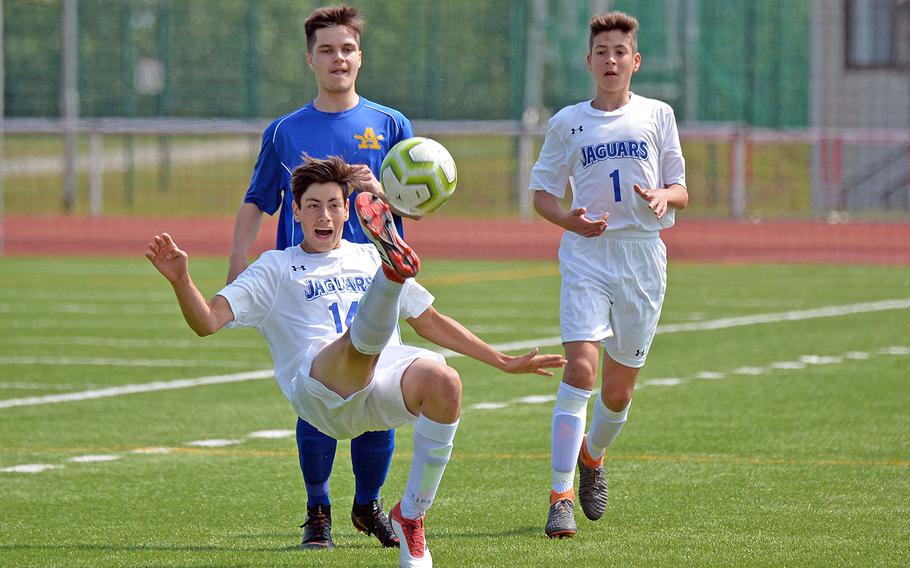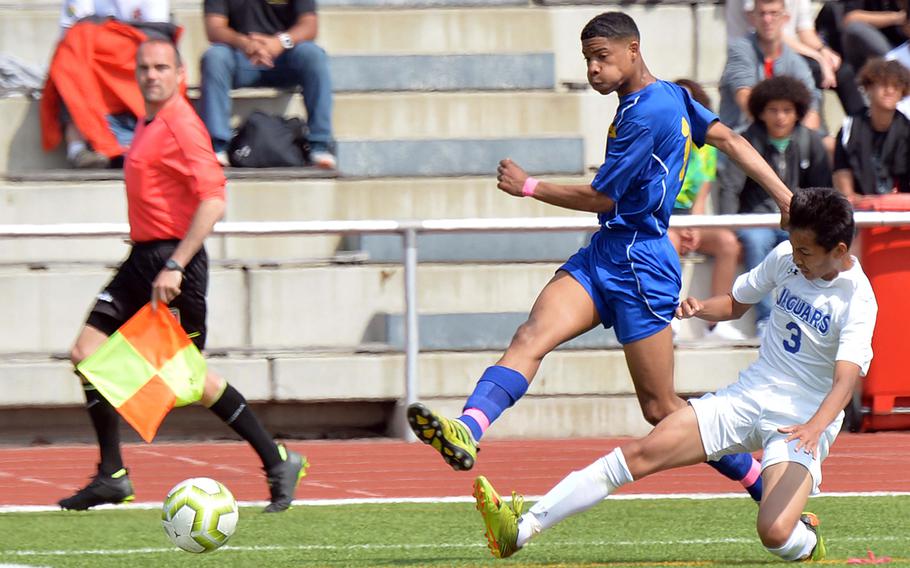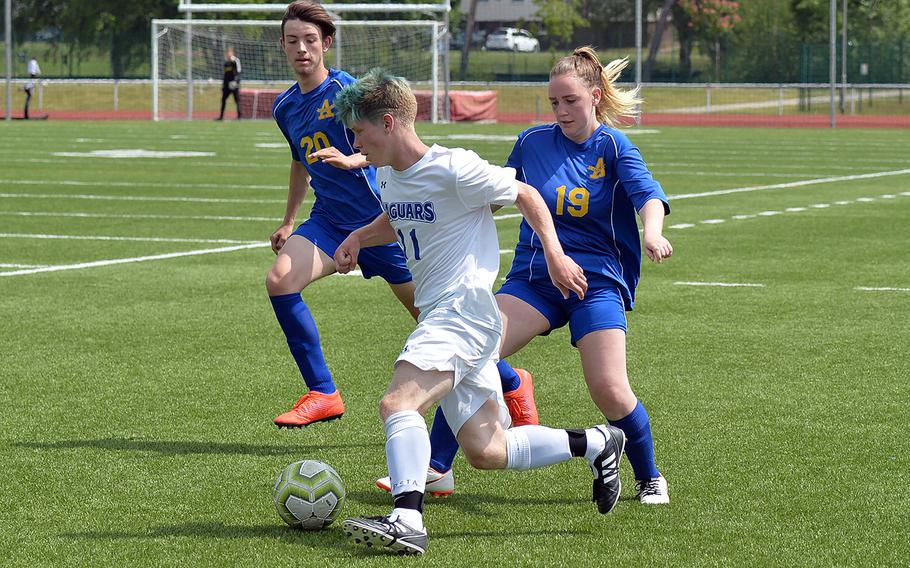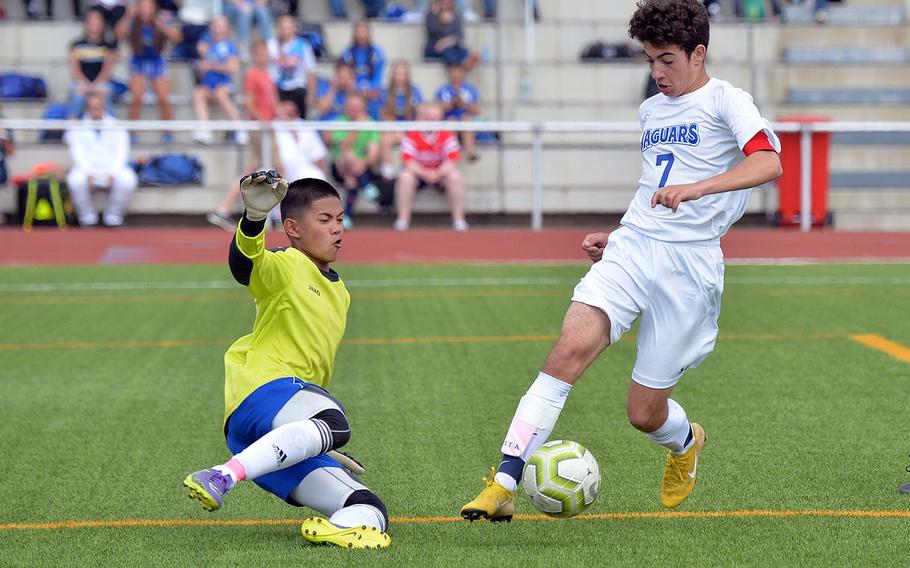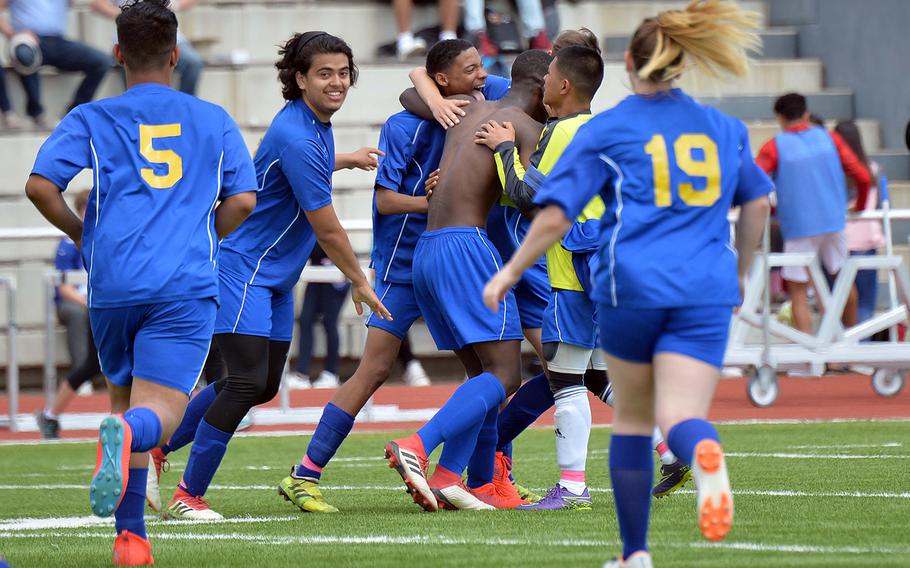 KAISERSLAUTERN, Germany -- The Ansbach Cougars are runners-up no longer. But they're definitely still runners.
A speedy Cougar squad outraced and outpaced the Sigonella Jaguars on Thursday at Kaiserslautern High School, earning a 2-1 victory in the 2019 DODEA-Europe Division III boys soccer championship game and breaking a two-year streak of second-place finishes.
"This is one of the best moments of my life. I've been fighting for this for so long," said Ansbach senior Kevin Kamara, who scored both Cougar goals. "I just love this team."
Kamara aligned with Nick Benson and Shane Nesbitt on a fast and talented front line that consistently ran past and around a Jaguar defense that couldn't come close to matching its velocity. That's been the recipe for Ansbach success throughout the spring leading up to the final, and head coach Bruce Collins saw no reason to change the strategy Thursday.
"We decided to stay with the same thing all the way through," Collins said.
That approach yielded both Cougar goals. Kamara set the tone with a goal in the game's opening minutes, and Benson drew a foul on a second-half runout to tee up a penalty kick that Kamara confidently converted. Sigonella's Naike Schauring halved the deficit on a penalty kick with 10 minutes to play, but Ansbach settled in defensively to turn away Jaguar attempts at an equalizer.
While Ansbach's three standout offensive players provided the bulk of the game's highlights, Kamara credited Collins' game plan and the all-around efforts of the entire Cougar roster as essential elements of the championship formula. Ansbach, one of two co-ed teams in the division from schools without the requisite numbers to field a separate girls team, is a close-knit group whose chemistry is manifest on the field.
"It's honestly not just us three. It's the whole team," Kamara said. "We stand up for each other, we have fun with each other, we just do everything with each other. Everybody loves each other here."
Sigonella, isolated from its divisional peers on the Italian island of Sicily, played zero Division III games ahead of this week's tournament, instead taking its lumps against larger Division I and II opponents in the country. But the Jaguars made up for it in Germany, beating five of six divisional foes over three days of round-robin play to earn a spot in the final.
That preliminary run included a 3-1 defeat of Ansbach, an outcome that did nothing to discourage the eventual champions.
"We made some mistakes, and they capitalized on our mistakes," Collins said. "I wasn't worried at all about that. We were just going to play hard, play the Ansbach way."
Ansbach lost to Brussels in the 2017 and 2018 title matches. They settled that old score in round-robin play with a 5-0 rout of the Brigands, then avenged their only defeat in this tournament by handling Sigonella on Thursday, earning full vindication for a senior-heavy core down to its last opportunity at championship glory.
"It had to be this year for them," Collins said.
broome.gregory@stripes.com Twitter: @broomestripes
---
---
---
---