DII football quarterfinals
Ansbach shines on both sides of ball in rout of SHAPE
---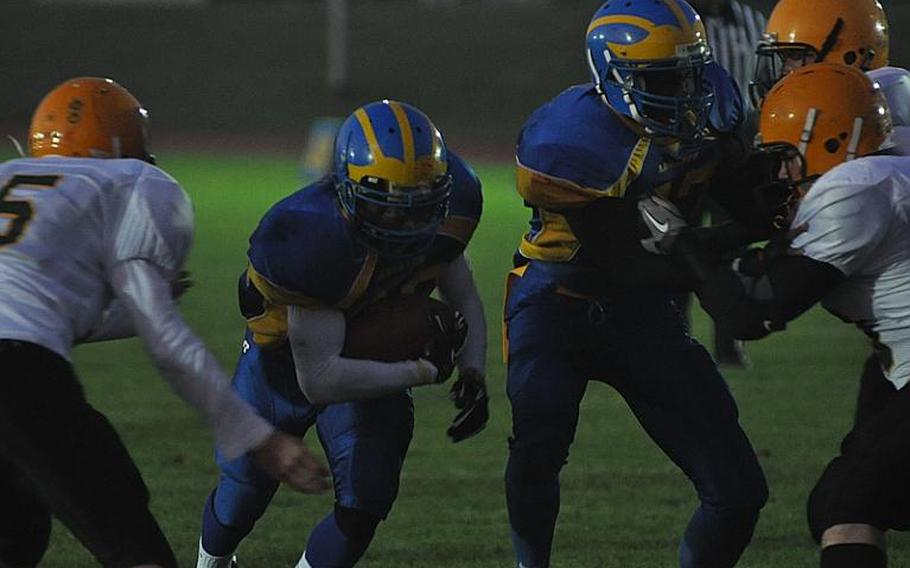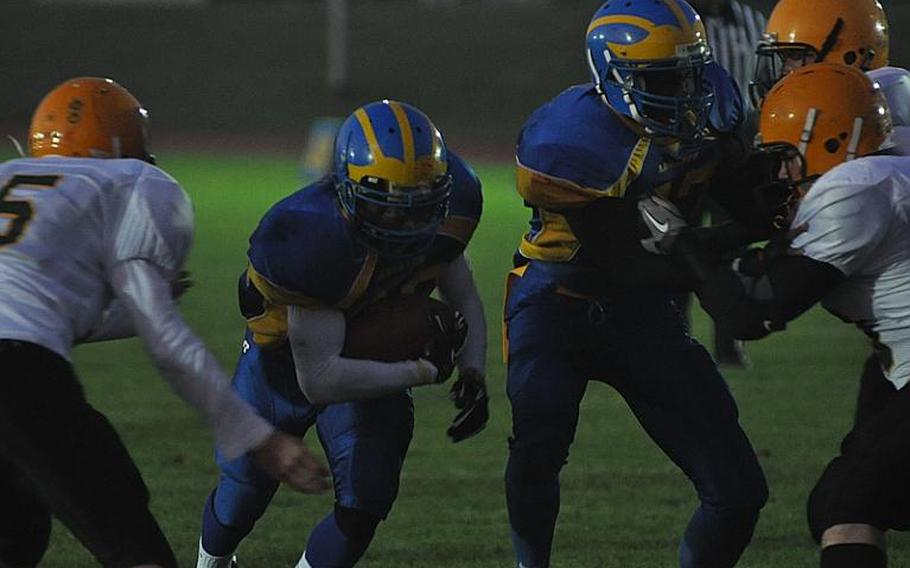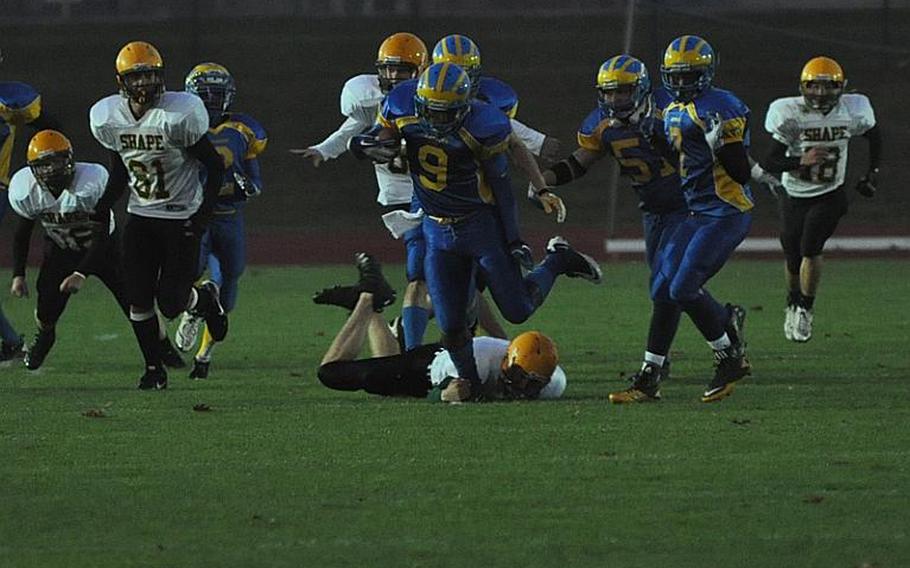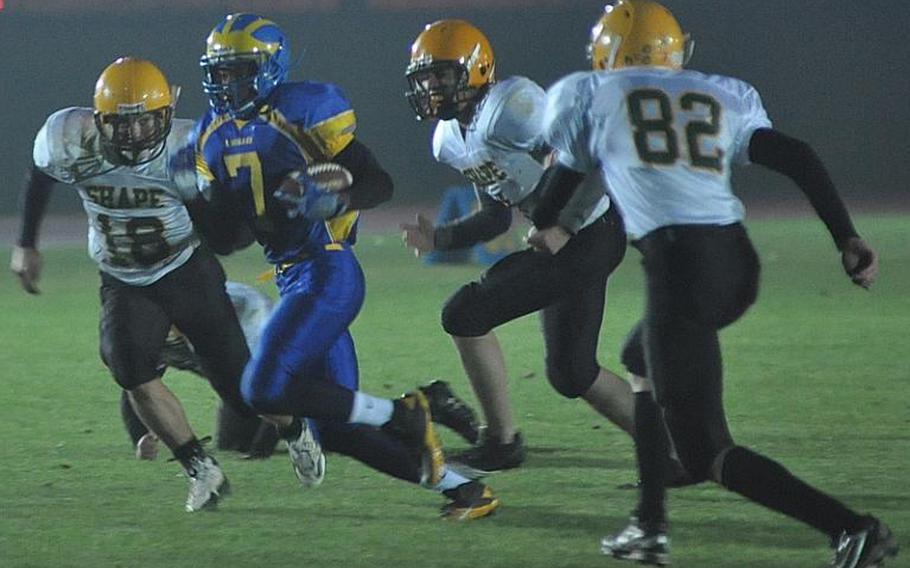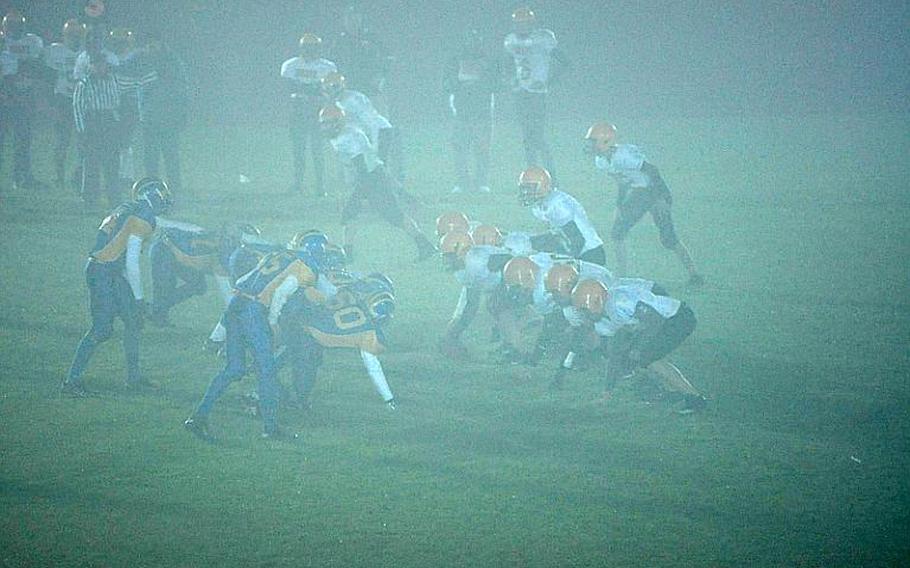 ANSBACH, Germany – For the first time in his last four games, Ansbach running back Xavier Jones failed to rush for 300 yards.
Instead, he settled for 259 on just nine carries Friday night —four of them for touchdowns – as the Ansbach Cougars rolled into the European Division II semifinals with a 66-13 victory over the SHAPE Spartans.
"I don't even run him that much," Ansbach coach Marcus George said about Jones prior to the kickoff, and events after the kickoff provided the reason why.
Ansbach, behind the devastating blocking of guards Raheem Beatty and All-European T.J. Propp, broke Jones for TD runs of 14, 96, 14 and 58 yards. The Cougars also sprang DeMar Flake for TDs which covered 3 and 30 yards and L.J. Finley for a 50 yard burst to the end zone in a game which saw the Cougars go to third down only once in their first eight possessions.
"We just have to get a piece of a guy," said Propp, a 5-8, 197-pound senior, "and our backs are gone. All our backs are quick, fast and strong."
None, however, are any quicker, faster and stronger that Jones, a 5-foot-10-inch, 205-pound senior who's more than willing to reverse his field if the hole seems to be closing. With one touchdown already under his belt in the opening period, Jones ran to his left through a gap opened by Propp, cut back to his right and headed up field in the direction of Beatty, the right guard who had already had walled off the backside pursuit. Accepting Beatty's help again some 20-25 yards upfield, Jones cut left as Beatty leveled the safety to clear the way to the end zone.
For those of us who think downfield blocking is the job of wide receivers, it was something special to see.
To George, it was business as usual.
"That's what he's supposed to do," the Cougars' boss said of Beatty's hustle.
To Beatty, it was simply a delight.
"It's fun," he said when asked about the satisfaction of seeing Jones make the most of the efforts of the Cougars' interference.
Ansbach as a team made the most of everyone's efforts on Friday.
In those first eight possessions which saw the down marker go to "3" just once and which answered SHAPE's six-play 70-yard drive to open the game, Ansbach faced second down only twice, scored on their first play on two other possessions and made it 52-7 at halftime on a 50-yard interception return by Matt Phipps.
The dominating start, Beatty said, "showed how bad we wanted it."
It was Phipps' second pick of the half, and he was on his way to a 70-yard TD with the first one before a shoestring tackle brought him down on the SHAPE 44-yard line. Trailing 22-7 at the time, the Spartans had begun the play with third-and-11 on the Ansbach 14-yard line.
That was the second scoring chance the Spartans let slip away when the game wasn't yet out of reach. In the first period, SHAPE was bidding to regain the lead with first-and-goal on the Ansbach 1-yard line. A holding penalty, however, pushed the ball back to the 11, and two plays later the Spartans fumbled the ball to Ansbach on the 4. Jones took it from there with a 96-yard TD that made the score 16-7.
Connor Manning went in from a yard out on SHAPE's first possession of the game to cap a drive fueled by a 51-yard option pass from Manning to Amari Wilson that carried to the Ansbach 4. The Spartans' second TD didn't come until the third period, against the Cougar reserves. Quarterback Nick Westrick plunged in to cap a two-play drive fueled by James Workman's 35-yard run to the Ansbach 1.
Past that, there wasn't anywhere for the Spartans to go against an Ansbach defense which had been torched for three TDs in the final six minutes of a 41-40 loss to visiting Naples on Oct. 8 and which had allowed 42 points the previous Friday in a 70-42 victory at Aviano.
Xavier Cage led the way with seven solo tackles, two of them for losses. Cage assisted on 10 other stops. Beatty made three tackles for losses.
"We knew we had to step up," said Beatty, a 5-9, 260-pound junior.
SHAPE ended its season 2-4 overall.
Next up for the Cougars (5-1) is the winner of Saturday's quarterfinal between the International School of Brussels, which eliminated Ansbach in last year's quarterfinals, and Naples, which downed the Cougars two weeks previously with the miracle finish.
Friday, neither Beatty nor Propp cared which one it would be.
"Both of them beat us the last time we played," Propp said. "I just hope we keep getting to play people who beat us."
Scoring summaryAnsbach 66, SHAPE 13Friday at AnsbachSHAPE 7 0 6 0—13Ansbach 22 30 14 0—66SHAPE — Connor Manning 1 run (Martin Kirketerp kick)Ansbach — Xavier Jones 14 run (DeMar Flake run)Ansbach — Jones 96 run (Jake Voohees pass to Matt Phipps)Ansbach — DeMar Flake 3 run (run failed)Ansbach — Jones 14 run (DeMar Flake run)Ansbach — Jones 58 run (Voorhees pass to Derrick Flake)Ansbach — L.J. Finley 50 run (pass failed)Ansbach — Phipps 50 interception returnAnsbach — Voorhees 29 pass to Derrick Flake (run failed)SHAPE — Nick Westrick 1 run (kick blocked)Ansbach — DeMar Flake 30 run (DeMar Flake run)
---
---
---
---