Ansbach's Marcus George is DODDS-Europe football coach of the year
---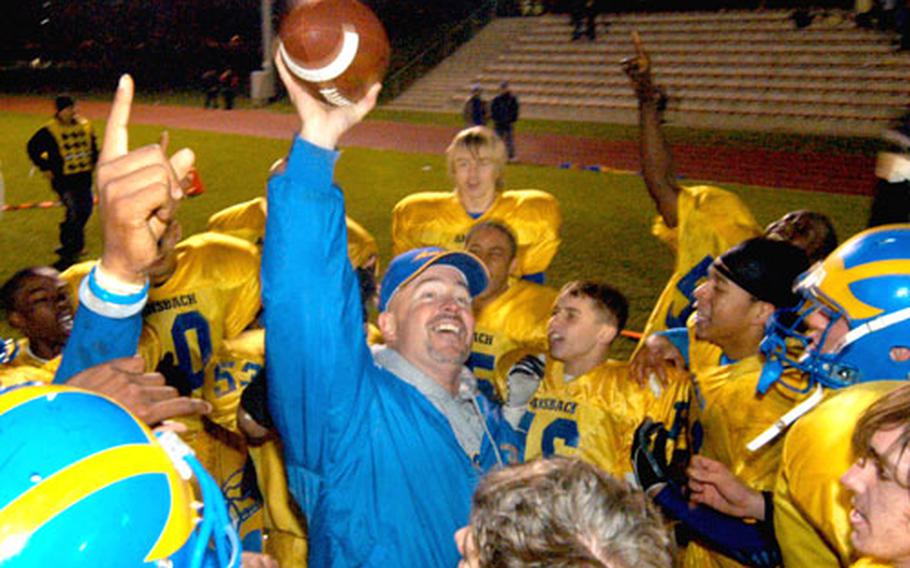 For taking an undersized team to the school's fourth European Division III title in five years, Ansbach's Marcus George was selected 2006 coach of the year by the European American Football Coaches Association.
"We got a lot of sympathy at [the annual preseason football] camp when people saw how small we were," George said by telephone Wednesday. "We had four or five athletes we could build around, but we told our team that to win a European title would require the maximum commitment. We'd have to outwork everybody else."
The Cougars responded by downing 2005 European Division II champion Hanau 8-6 in the season opener and powering from there to their fourth unbeaten season since George took over in 2001.
"When we lined up on the sidelines against teams like Hanau and Hohenfels, we looked like kids who were about to play adults," George said. "Beating Hanau told us we could play with anybody."
The Cougars capped their season with a 34-6 title-game victory over previously unbeaten AFNORTH that produced George's record eighth European title. He won three at Fulda before that school closed; another at Hohenfels, where he started the program when the school opened in 1995; and four at Ansbach, where he has a 40-4 record.
Between his stints at Fulda and Hohenfels, George guided Frankfurt to the Division I championship game in that school's final two seasons.
"This kind of record doesn't happen by accident," James Lloyd of Giessen said. "He's a great all-around guy on and off the field."
George reacted to his award with typical modesty.
"Any time you have a program in place like we have in Ansbach with a great staff and great faculty and community support, you feel that you might not be as deserving as someone who's built something out of nothing," he said. "With the quality of coaches we have in Europe, it's humbling to be nominated, let alone win."
George considers Ansbach's program more important than its championships.
"The true wins and losses begin after high school," he said. "We teach our players to represent the values we want on and off the field. You know your program's in place when you hear someone in the hall tell another person, 'We don't do that at Ansbach.'"
Jim Hall of Naples, whose Wildcats dropped a last-minute 27-24 verdict to Bitburg in the European D-II title game, was runner-up for coach of the year.
---
---
---
---