Ansbach's Heard leads strong girls field
by
Rusty Bryan
April 2, 2010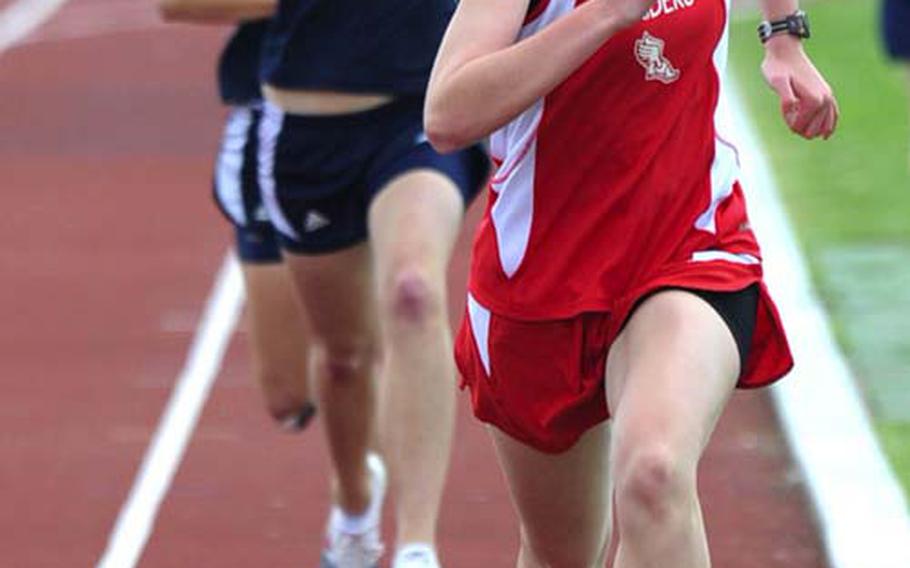 As the 2010 high school track season goes to the blocks for the first time Saturday, the overriding topic of conversation is what Ansbach senior Tiffany Heard can possibly do for an encore.
In the DODDS-Europe track and field meet last May, she won three individual gold medals and in the process set a school-system record in the 100-meter intermediate hurdles of 15.08 seconds, and nearly matched the 1989 record of 45.40 seconds in the 300 lows with a time of 45.90.
Time for Heard to rest on her laurels?
Not likely.
"She is really focused this year," Ansbach coach Mike Jimerson said in an e-mail. "She is really hitting the weights. Last week, she power-cleaned 150 [pounds] and squatted 135."
Heard, who also won last year's 200 meters in 26.38 seconds, is right to be pumping iron. The girls field in this year's European championships figures to be packed with talented, experienced, returning winners.
Kaiserslautern junior Rio Harris, the reigning 400- and 800-meter champion, leads a powerful Lady Raiders squad that also includes junior distance medalist Colleen Davis, who took silver in the 3,000 behind graduated champion Shelby Yoakum of Aviano. In addition to their probable successes, add the points expected from seniors Marche' Bobbs and Shaun Pri Davis and freshman Ashley Santos on the track, and from Tatjana Gainey and Alexandria Gagnon in jumping events, and the Lady Raiders, who ran away with last year's championships, 132-62 over runner-up Ansbach, appear poised to do it again.
Summarized the coach of Division I rival Wiesbaden, Dave Eidem, "… the K-town girls are loaded."
Multiple medalists Heard and Harris, however, aren't the only female champions who'll be making another run this year.
High-jump champ Kristen Willeford of Bitburg returns, although she is currently battling an injury. Triple-jump champ Sara Sawyer of AFNORTH, a sophomore, has the potential to improve on her 2009 silver medal in the long jump, and senior shot put champ Latrisha Jones is back for Ansbach.
Unlike the girls field, just two boys 2009 champs return for their senior seasons.
Michael Wallace, already All-Europe in football and basketball for European champion Ramstein teams, will defend his title in the triple jump. The 300-meter hurdles king, James Campbell of Sigonella, is expanding his horizons this season and will also be competing in the 200 and 400, according to his coach, Gene Rinaldi.
Most of last season's male podium finishers, however, have departed the theater, leaving the road to gold wide open this year.
Patch senior Julius Johnson-Rich, who took silver in the 400, is the highest-finishing performer other than Wallace and Campbell to return.
That should leave the team race, won by Ramstein last year, open to all comers. However, Eidem says the perennially powerful Royals are again the team to beat behind Wallace and 800-meter contender Gus Meyners.
"Ramstein should be good," Eidem said. But he might well have been speaking of the 2010 Europeans. They, too, should be good as the boys and girls fields sort themselves and find who will be the champs.
The process begins with opening-day meets on Saturday at Aviano, Heidelberg, Ramstein and Wiesbaden. The European championships are set for Russelsheim, Germany, on May 28-29.
DODDS-Europe track and field records(Event distances in meters; field-event distances in feet and inches)