Ansbach's Britton repeats as top female athlete
---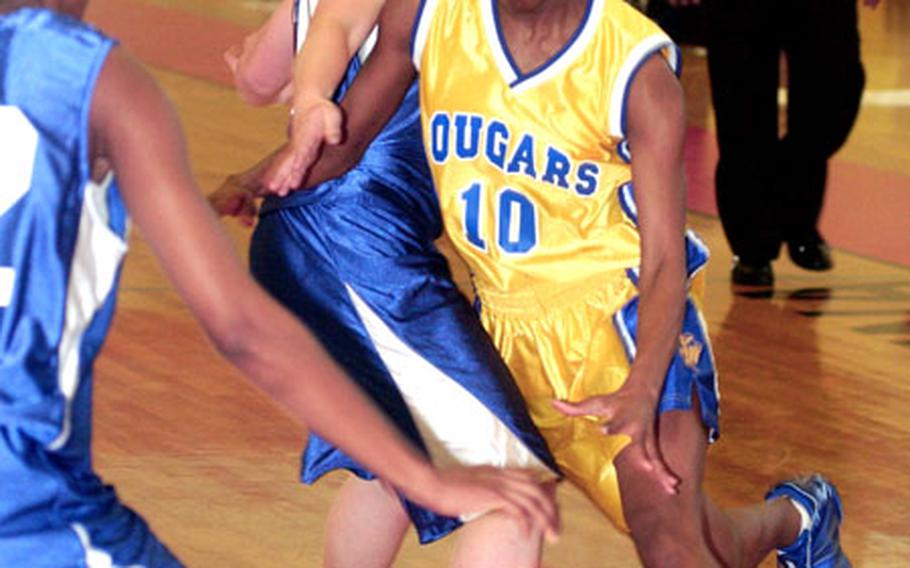 For most high schoolers, being chosen as athlete of the year is just a dream.
For Ansbach's three-sport star, Brittney Britton, it was a prod.
"It was a goal for me," said Britton, a senior who's bound for Texas-San Antonio this fall.
"I worked harder this year."
It paid off handsomely.
Last week, Britton was voted the 2005 DODDS-Europe athlete of the year by a panel of coaches and administrators,
Britton made the All-Europe first team in volleyball (41 kills, 15 blocks, 22 service aces) and basketball (15.9 points, 6.8 rebounds, 4.3 assists per game) and placed in three of the four events for which she qualified in the European track and field championships in May.
Not bad for someone who originally wasn't even supposed to be in Europe last school year.
"We would have left in the middle of my junior year," Britton said. "I asked my dad to extend."
Asking to stay was a vintage Britton move. Staying in Europe probably cost her a chance to immediately vie for a place on the UT-San Antonio volleyball team, but it allowed her to do something she valued more — being a part of something special with her teammates at Ansbach.
"The competition level would have been better in the States," Britton said, "but I wanted to graduate here. My teammates are my friends, too. We hang out together. It worked out better."
Better for Ansbach, for sure.
Britton was the "leader and strongest player" on the European Division III championship volleyball team, coach Rich Peters said. "She can be counted on to correct the errors made by the other players. Her upbeat attitude is contagious."
In basketball, in which Britton starred for coach Mick Plummer for three years, "Brittney was our top player."
With Britton leading the way, Ansbach compiled a 15-1 mark last season, losing only to Rota in the European Division III title game. It was the first loss in 34 games for the Lady Cougars, who won the European title in 2004 and placed third in 2003.
"Brittney is an excellent ballhandler who sees the court very well and passes as well as she shoots," Plummer said.
"She can shoot three-pointers as well as drive to the basket and score over much taller players. Defensively, she has very quick hands and feet and can run forever without slowing down."
According to Gary Feletar, coach of the European Division III champion Ansbach track team, Britton was unbeaten in the 800 meters and 100 hurdles until the European finals.
"She has a strong work ethic," Feletar said, "and is an extremely talented athlete."
Athletically, Britton has been told she'll be on the sidelines, at least at first, in San Antonio.
"They're a Division I program," said Britton, who would like to play basketball in college as well.
"I talked to the volleyball coach about walking on, but he said his roster is full for the next two years."
Even if the athletic department at UT-San Antonio doesn't give her a tryout, Britton believes all the work she put in to become Europe's athlete of the year was worth it.
"Every second, every minute, every hour," she said.
Other DODDS-Europe female athlete of the year nominees
Michelle Aguila, sr., NaplesCarly Bascom, so., AlconburyKyri Bye-Nagel, jr., HanauCatherine De la Rosa, so., VilseckKrissy Grosselin, sr., RamsteinNatasha Holan, jr., HeidelbergKasy'e Lalau, so., PatchSarah Malone, sr., VicenzaAmanda Mastrian, sr., WürzburgJessica Mayfield, sr., BambergAshley Mead, sr., AvianoAshley Spencer, jr., Wiesbaden
---
---
---
---