Ansbach, Rota achieve excellence despite size, location
---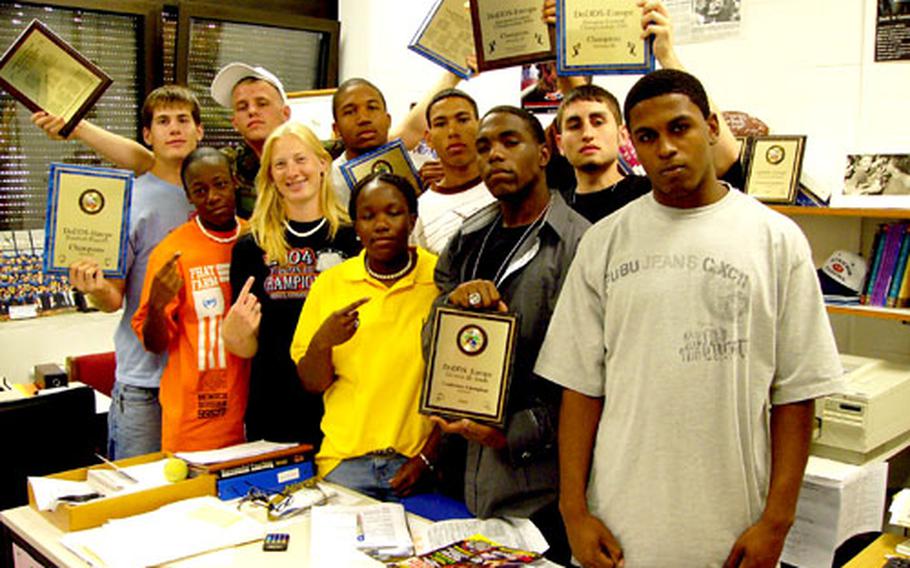 Size didn't matter for two DODDS schools whose sports teams had big years despite their small size and, in the case of one school, remoteness.
Brittney Britton's selection as DODDS-Europe's 2005 female athlete of the year caps a remarkable run for the senior class at Ansbach, which produced 10 European Division III championship teams — five this year — and two European athletes of the year over the past three years.
Rota, which in some sports plays no regular season because it is alone in southern Spain, nevertheless claimed European titles in boys and girls basketball, golf and softball during the past school year.
Leading the way for Ansbach was its football team, with three European Division III crowns and a 24-game winning streak. The Ansbach stars, All-Europeans Russell Bailey, James Esters Mike Ewing, Adam Golden and Dameon Outley — along with all-conference performer Tauren Moore — also formed the nucleus of the three-time European Division III champion boys track team.
And there is more. Ewing, DODDS-Europe's 2004 male athlete of the year, and Golden also led the Cougars to the European division wrestling title in February, while the Lady Cougars' volleyball team, led by All-Europeans Britton and Alison Hazen and all-conference performer Krysta Rangel, won it all in October.
In addition, Britton, All-European Keke Johnson and Hazen claimed a European Division III basketball title in 2004 and placed second this season to Rota. Hazen and Johnson pushed Ansbach to two European runner-up finishes in soccer the past two seasons, and Britton, with silver in the 800 meters and fourth-place finishes in the 100 hurdles and discus, spearheaded the girls track team to the 2005 crown.
"It was a fortunate time for us," said Bailey, All-European in basketball and the 2005 discus champ. "In football and track, we proved we can take anybody."
Asked to explain Ansbach's success, Bailey, who's bound for Howard University in Washington, D.C., cited hard work in the weight room, talented athletes, good coaching and, surprisingly, the community's small size.
"In a small community, there's not that much to do," he said. "You can get a job or go to the gym and play sports."
Smallness also encourages bonding that pays off on the playing field.
"We all hang out together all year," Britten said. "We're all good friends."
Smallness — and isolation — also fed Rota's success.
Jessica Brewer, named to the 2005 All-Europe softball team as a shortstop, says the school's size gives all students a chance to develop their talents.
"Being at such a small school, you have a chance to play varsity sports," she said. "It's important to the school that everybody participates."
She added that motivation during the European championships is simple when you have just one chance to prove yourself against your peers. "Everyone thinks we're too small, too far away," she said. "It gives us extra drive."
All it takes to overcome the isolation, said athletic director Greg Jacobs, who coached the golf and girls basketball teams, is "good kids, good athletes and good coaching."
It starts, he said, with those "good kids."
"We have always emphasized the student-athlete," Jacobs said. "During the winter season, we had 80 percent on the honor roll."
Senior Jason Allard, runner-up for the European golf title and a member of the championship basketball team and runner-up soccer squad, cited community backing as another key to success.
"It does seem like we get a lot of support," said Allard. "I've been here since eighth grade, and the boosters are always having fund-raisers for us."
All-Europe basketball guard Sam Crowder probably would have earned a scholarship had she stayed in Washington, D.C., after 10th grade. Instead, she's going to be a walk-on at tryouts for her college team this fall.
But she said she's not sorry she went to Rota. "I learned a lot over here," she said, "in terms of education and finding myself."
And making a contribution to Rota's growing athletic legacy.
"I couldn't imagine Rota without athletics," she said.
---
---
---
---