Annual Petty track meet is an ideal place for records to fall
by
Dave Ornauer
April 3, 2008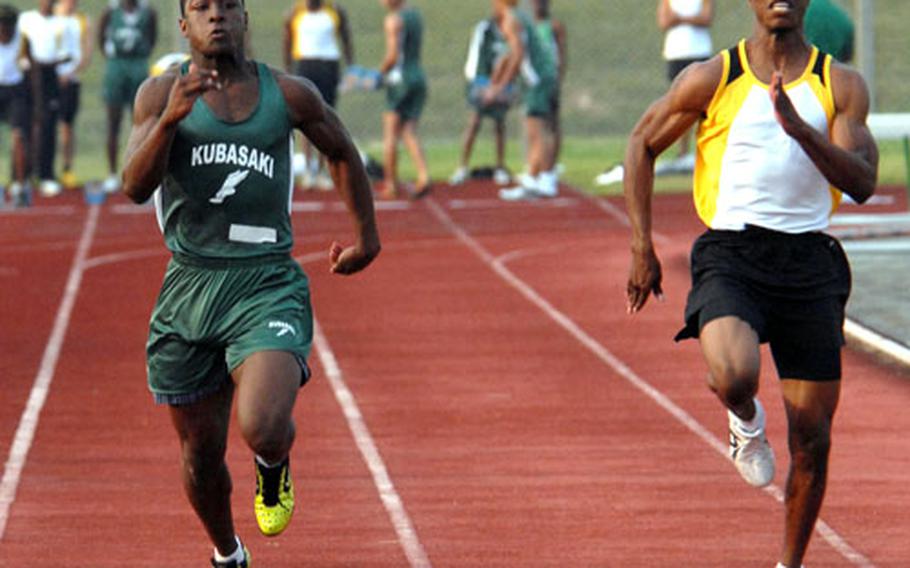 CAMP FOSTER, Okinawa — What began in 2003 as a five-team invitational has mushroomed into a two-day mega-event known to most simply as "Petty."
But don't let that name fool you — the Alva W. "Mike" Petty Memorial Track and Field Meet has evolved into a breeding ground for breaking records.
Starting at 3 p.m. Friday, some 300 athletes on 14 teams representing 19 schools from Japan, South Korea, Okinawa, Guam, Taiwan and the Philippines will embark on the latest assault on the record books.
"It's something about competition. Going up against the best makes you perform at your best," said the meet's founder, Kubasaki coach Charles Burns.
The meet has seen an average of 10 records fall per year.
"It raises our wanting to win more because we don't know what [opponents] are capable of," said Kadena sprinter and long jumper Ernest Carr.
Burns' Dragons will hit the track hoping to make it three girls team championships in a row. They'll bring to the table current Petty discus record holder LaKesa McClain (115 feet, 7 inches), a sprint group headlined by Natasha Copeland and distance specialist Quirina Cohn.
Kadena's boys, with their sprint and relay component of seniors Carr, Roosevelt Payne and Shun Bowens and junior Brandon Harris, hope to do Kubasaki's girls one better, chasing a fourth straight title.
Kadena distance specialist Steven Heath will face a challenge from Zama American Far East cross-country champion Andrew Quallio and his teammate Kevin Blackburn. Zama enters the meet for the first time, with six athletes in tow.
The other DOD component is the Seoul Track Club, led by Army Col. Kevin Madden. It's comprised of athletes from Seoul, Osan and Daegu American, mainly middle- and long-distance runners such as John Lohr, Kiersten Pak-Blyzniuk and Hannah Boeman, and thrower Mark Lieberg.
The run-up to Petty, coaches say, has inspired a bit of time comparison between regions, which can be both a blessing and a curse: While a movitator, it can also serve as a worry and distraction for athletes.
"That's the beauty of track and field. Somebody is always going to shatter records," Burns said. "And you say, 'Oh, that kid did that? Guess what? I can do it, too.'"
Some athletes will gun for each other, while others will take aim at the record book, coaches and athletes say.
A big target may be the boys 3,200. Quallio has run a 10:05 and Heath a 10:07 this season. The meet record, set four years ago, is just 10:20.
Zama coach Mitch Moellendick said as many as eight runners could beat 10:30, including Sam Krauth of American School In Japan and the Langley brothers, Joey and Mickey, of St. Mary's International.
Another record in line to fall may be the mile; the Petty mark of 4:46.8 was set two years ago. Quallio has already run a 4:43 this year. Blake Bannister of Christian Academy In Japan ran the 800 in 1:58.9 in last May's Kanto Plain invitation; the Petty record is a mere 2:06.9.
"The 800 should be competitive," Burns said, adding that his own Dominic Webb could shine in his first major inter-area meet. "He's a competitor, one of those never-say-die guys."
Cohn, meanwhile, picks up the torch from last year's freshman middle- and long-distance flash, Julie Monti. "She's fun to watch perform," Burns said of Cohn.
Last Friday, in just the third meet of Okinawa's regular season, Bowens, Carr, Harris and Shanon Lautenschlager clocked the 400 relay in 45.43; the Petty record is 45.28.
"I think we can break 44 seconds," Carr said.
"I think it's possible," said Kadena coach Beth Pulaski.
And the 100 could see some especially heated competition. In last Friday's Okinawa Activities Council meet, the top 10 in the boys 100 were separated by 0.82 seconds and the girls top six by 0.63 seconds. Bowens clocked the 100 in 11.15; the meet record set in 2006 is 11.18.
"It could come down to one-one hundredth of a second," Burns said.
Determining ahead of time which school might win the team title may be the toughest thing to forecast, he said.
"The points will be so widely distributed" between schools, Burns said. "Everything is going to be spread out. Whoever is the most consistent, the most firsts and seconds, that's who will win it."