Anderson best of the bunch
by
Rusty Bryan
January 9, 2003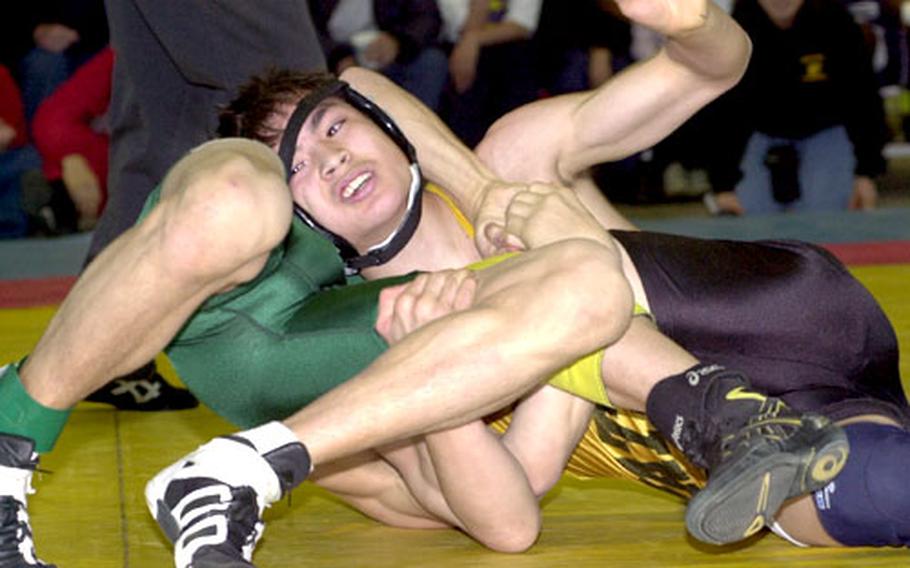 Here's how to build a better wrestler: Toss him in with plenty of big brothers.
"With four older brothers, it seems like I've wrestled my entire life," said two-time European champion Josh Anderson, a junior at Patch High School in Stuttgart, Germany. "But this is my fifth official year."
Thanks in part to the hard-knock lessons those four brothers — Carl, 24, Robert, 23, Mike, 21, and Ken, 19 — provided, Anderson's five years are the stuff of daydreams to most wrestlers.
As a seventh-grader at Osan, Korea, the 85-pound Anderson wrestled 101-pounders in exhibitions, losing three times. Since then he has not been beaten, posting a 10-0 exhibition mark as an eighth-grader in Osan and winning the European championship at 103 and 125 pounds at Patch.
His latest victory march was a waltz to the 130-pound title at last Saturday's Wolfpack Holiday Classic — winning with falls in 1 minute, 45 seconds, 2:46 and 2:45.
"My unofficial individual [high school] record is 56-0 with 50 pins," Anderson said matter-of-factly. "I've won the Wolfpack Tournament three times, with all eight matches decided by pins. I am 46-0 in official regulation matches with 40 pins."
There are reasons beyond brotherly combat for those off-the-chart marks. Anderson cites the coaching of volunteer Matt Koenigsfeld, a former sailor, and the motivating aspect of being a part of the special teams Koenigsfeld has molded at Patch the past two seasons.
"During my freshman year of high school, I had the things that make champions," he said, "a great coach and great teammates to motivate each other. As a team, we won the Division II crown for the first time ever, and had more European champions [four] than any other team in Europe."
Anderson, who also plays football and soccer at Patch, was the only freshman to claim European gold that season, impressive enough for anyone, much less for the new kid from Korea.
"In Korea, we wrestled the same two schools [Seoul and Taegu] every week — dual meets," said Anderson, who found multi-school tournaments waiting for him every week in Europe. "When I got over here, I was pretty intimidated."
It was the last time. These days, any intimidation that occurs comes from the prowess of the genial Anderson, who spends his time between matches chatting with teammates and opponents.
"He's very quick," Bitburg coach Jeffrey Watts said. "He's a great chain wrestler. If something's not working, he smoothly and quickly switches to something else and follows that with something else. It's a process that takes a lot of experience to master."
Nowhere were Anderson's strengths more evident than in Saturday's title match against Casey Clawson of Heidelberg. The ever-aggressive Anderson struck for a single-leg takedown in the first 20 seconds, then answered Clawson's nifty stand-up escape with a two-leg takedown just before the first period expired. Electing to start the second period on his feet, Anderson quickly took Clawson to the mat and locked in an arm-bar. When that didn't produce the fall, Anderson quickly switched to a half-nelson combination for the pin without the talented Clawson's having time to try to react to the move.
The only two-time defending champion in Europe, Anderson, who spent the summer at a camp at St. Leo's University in Florida run by 2002 Olympic champion Brandon Slay, has clear goals for his wrestling future.
"My goals are to win the next two European championships and finish my high school career undefeated," he said. "Then I'd like to wrestle in college."
If he does, he'll finally beat all those big brothers.
"They all came to wrestling late," Anderson said. "They started in high school. None of them wrestled in college."