Andersen men, Kunsan women are Osan hoop tourney champs
by
Dave Ornauer
December 26, 2004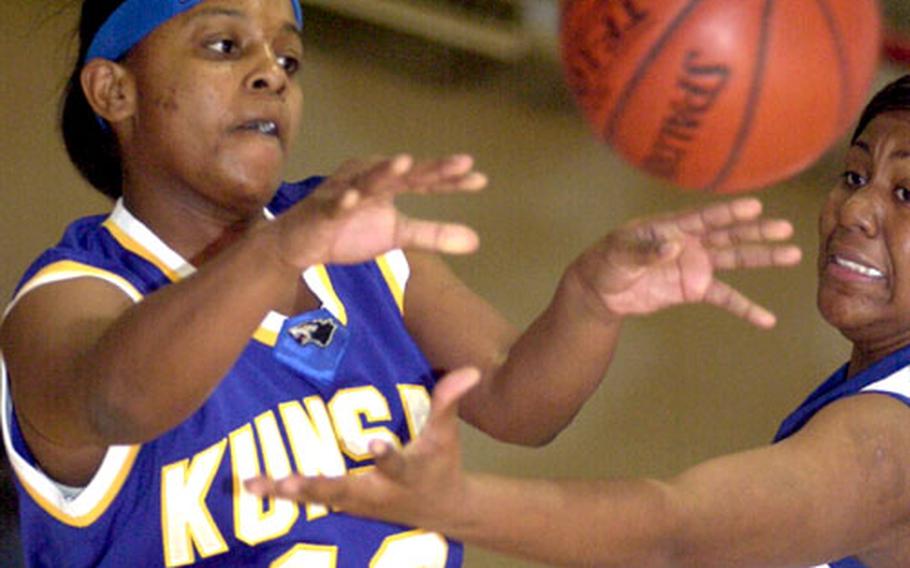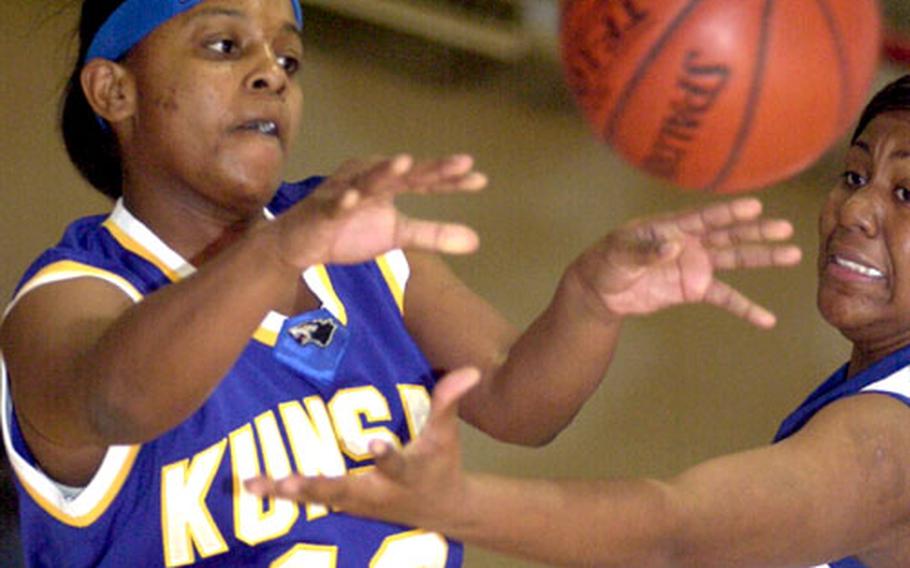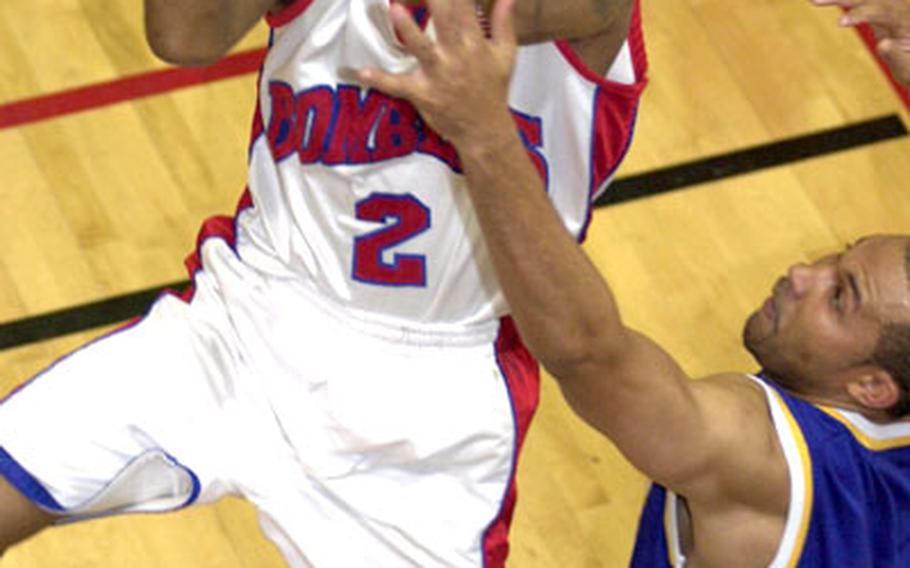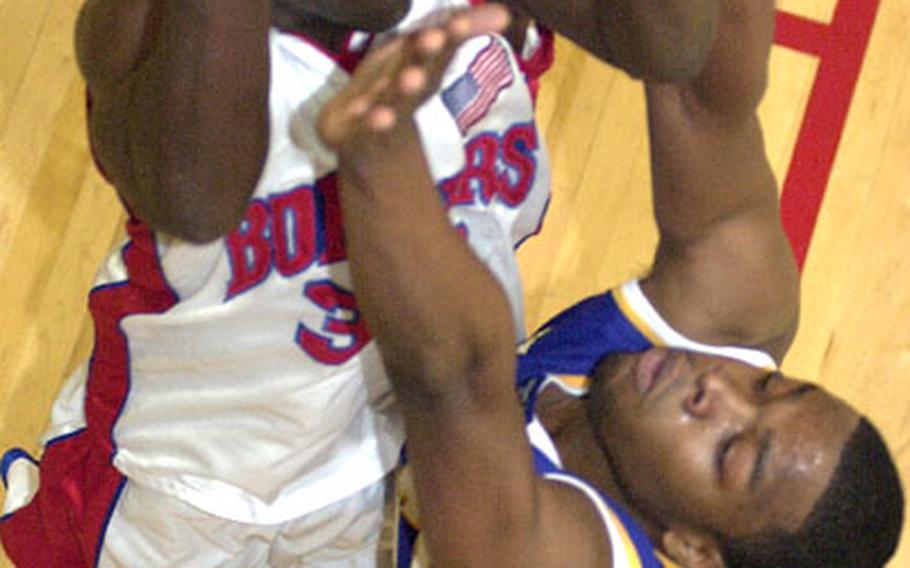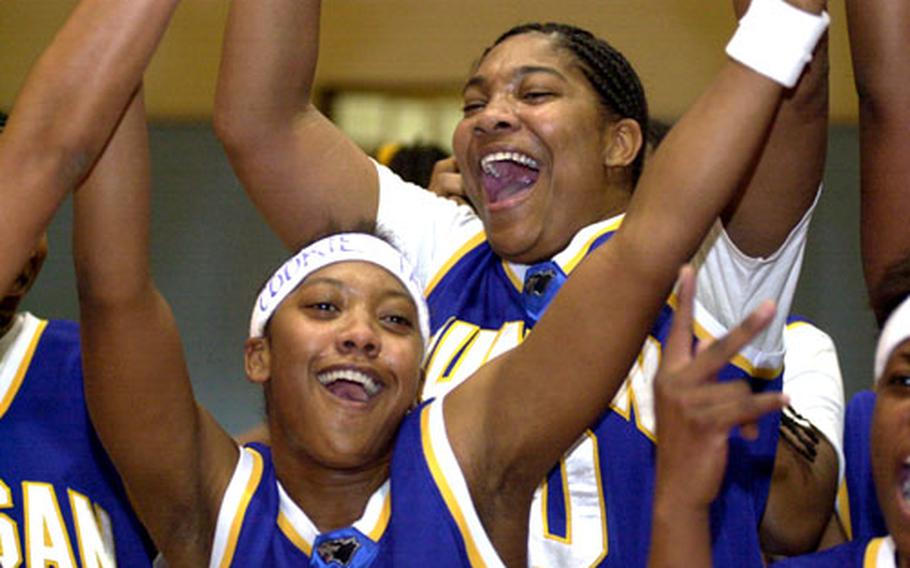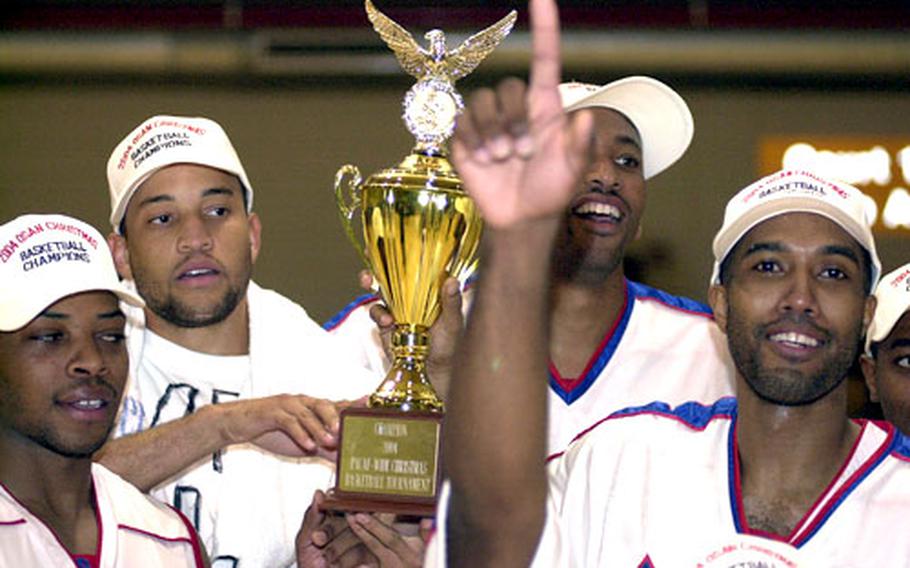 OSAN AIR BASE, South Korea — High-scoring guards shined on Thursday, and in so doing led their respective teams to comeback wins in the 2004 Osan Pacificwide Open Holiday Basketball Tournament's championship games.
Cliff Claybrooks hit five three-pointers and scored 34 points, including the go-ahead basket with 2:30 left, as Guam's Andersen Bombers rallied from an 11-point second half deficit and beat Korea's Kunsan Wolf Pack 86-82 in the men's final.
Meanwhile, speed outdueled size, as diminutive MVP Amoni Sutice poured in 26 points and the Wolf Pack women came from seven points down in the first half and outran Korea's Camp Humphreys Bulldogs to a 76-66 title triumph.
Andersen's championship came 15 years after Claybrooks' last appearance on a Pacific title stage — he played for the 1990 Far East High School Class AA Tournament champion Wagner Falcons of the Philippines.
"Not bad for an ex-Far East champion," he said with a smile.
Of his hot shooting, Claybrooks said, "We needed it. The first couple went in and I was on a roll after that. My teammates gave me the ball at the right time in the right place."
Claybrooks was joined by backcourt mate Michael Walters with 20 points, including four three-point goals.
None of it would have come about were it not for a variety of pressure defenses that coach Gerrard Barnes used in a successful effort to turn things around and weary a Kunsan squad that needed a 98-94 overtime win earlier Thursday over host Osan just to reach the final.
"I told the guys, 'Let's just weather the storm,' because [the Wolf Pack] were coming off an emotional high with their win earlier in the day," Barnes said.
"I said that if we could get them late in the game, we could use the press to force turnovers. We used a 2-1-2, 2-2-1 and a 1-2-1-1, so it would confuse them. The fatigue factor set in. They went one-on-one and made more mistakes than they should have."
There were 17 lead changes and seven ties.
After Claybrooks gave Andersen the lead for good, the Bombers still had to fight to hold the edge. Jacoby McLaurin, who led the Wolf Pack with 24 points, got Kunsan back within 83-82 with a three-point goal, then the Wolf Pack missed four close-in shots in the final seconds.
For the first 25 minutes of the women's final, the Bulldogs' size dictated play. Outsized on the boards, particularly by center Yolanda Jackson, who had 15 rebounds, the Bulldogs built a 31-24 lead 3:40 before halftime. Kunsan rallied briefly, but Humphreys ran it back up to 41-34 with 15 minutes left.
Then Kunsan's speed and quickness took over, and the Wolf Pack outscored the Bulldogs by 17 the rest of the way.
"Speed is always going to outscore height," Sutice said, adding that she had no doubt the Wolf Pack could come back. "I always have confidence in my team."
Coach Tre Fields shared that confidence, and credited the comeback to his team's conditioning.
"I never really thought we would lose," he said. "We always play better under pressure. In my mind, we weren't losing; we were behind."
Bulldogs coach Douglass Clarks said he had a feeling that a seven-point lead wasn't good enough.
"They [Wolf Pack] knew they were quicker than us," Clarks said. "Being big isn't the key to victory. It's a big advantage, but it's not always the the biggest advantage."
Kunsan's QiQi Dixon knotted it 46-46 with 12:05 left. Three lead changes later, Hill grabbed a rebound on the left baseline for a lay-in that made it 52-51 with 9:35 left, and the Wolf Pack led by 11 down the stretch.
Osan Pacificwide Open Holiday Tournament
At Osan Fitness and Sports Center, Osan Air Base, South Korea
Men's double-elimination playoffs
Thursday's games
Kunsan 98, Osan 94, OT
Halftime-Osan 51, Kunsan 43. Regulation-Osan 87, Kunsan 87. Leading scorers-Kunsan, Corie Fletcher 31, Jacoby McLaurin 22 (15 first half), Chris Williams 21 (all second half and overtime), Jeff Roach 14; Osan, Tyrone Bullocks 22, Ramon Moss 21, Quinton Smith 12, Johnny Smith 12, Ryan Vaught 10. Noteworthy-Roach's two foul shots with 24.3 seconds left put it out of reach as Wolf Pack rallied from 15-point deficit. There were nine lead changes and eight ties. Bullocks hit the rim with a three-point shot at the buzzer that could have won it in regulation time. Four Defenders fouled out.
Championship
Andersen 86, Kunsan 82
Halftime-Kunsan 40, Andersen 36. Leading scorers-Andersen, Clifford Claybrooks 34 (five three-point goals), Michael Walters 20 (four three-point goals), Deon Johnson 10, Marvin Harris 10; Kunsan, Jacoby McLaurin 24, Corie Fletcher 18, Jeff Roach 14 (three three-point goals), Chris Williams 13. Noteworthy-Claybrooks gave Bombers the lead for good with a driving layup, making it 81-79 with 2:30 left, and Melvin Haley made a clutch steal with 8.2 seconds left for Andersen. There were 17 lead changes and seven ties.
Women's double-elimination playoffs
Thursday's games
Camp Humphreys 48, Osan 46
Halftime-Osan 22, Camp Humphreys 21. Leading scorers-Camp Humphreys, Sandra Hernandez 15 (11 first half); Osan, Kazue "Jo-Jo" Dancer 16.
Championship
Kunsan 76, Camp Humphreys 66
Halftime-Camp Humphreys 36, Kunsan 34. Leading scorers-Kunsan, Amoni Sutice 26, April Hill 17, NayNay Walker 16, Melissa Valdez 14; Camp Humphreys, Nieasa Wingster 17 (13 first half), Sanna Lopez 15 (three three-point goals), Yolanda Jackson 10. Noteworthy-April Hill's rebound layup with 9:35 left was the last of eight lead changes and put Wolf Pack up 52-51; Kunsan led by as many as 11 down the stretch.
---
---
---
---