Amid title quest, Hanau's versatile Malcolm Lane eyes college career
by
Rusty Bryan
September 22, 2005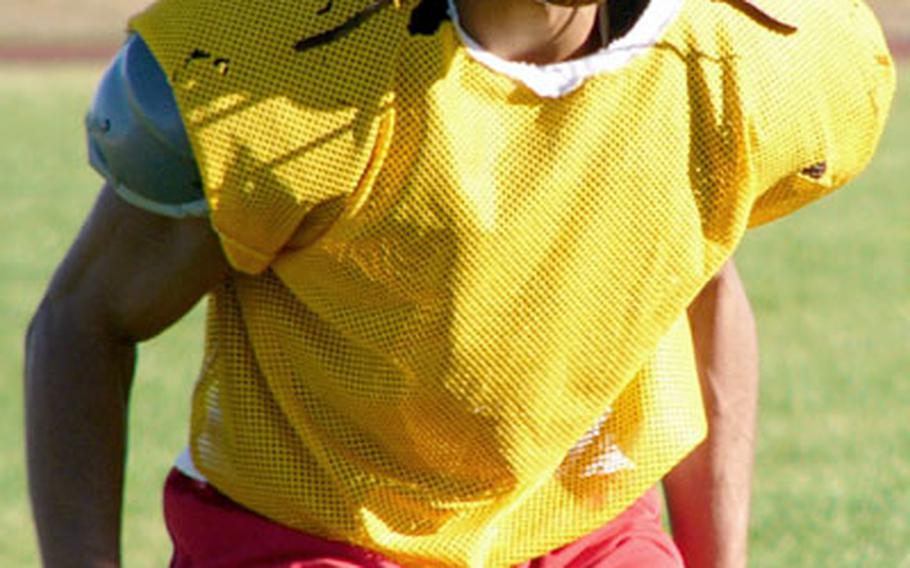 HANAU, Germany — Returning All-Europe running back Malcolm Lane knows exactly why he was able to open his senior season by rushing for 252 yards and catching passes for 124 in a 27-6 road victory over Kaiserslautern.
It's the 10 guys lined up around him, he said.
"I hate picking up the newspaper and seeing 'Hanau' and just my name," the 17-year-old said Monday. "That's not right. If people key on me, somebody else will beat them. We have a lot of good players."
Granted, quarterback Ivan James can play a bit, and Lane's brother, Corey, and Eric Krause anchor a solid offensive line. But Lane, a 6-foot-2, 175-pounder who also made All-Europe in basketball as a junior, packs a tool kit none of his teammates can match.
Start out with 4.47 speed in the 40-yard dash and a 33-inch vertical jump, both registered at a recent Miami Hurricanes summer camp. Add to those the "soft hands," Lane thinks will be his ticket to the next level, the field of vision all good runners possess and the versatility to play anywhere the Panthers need him. The result, according to Ansbach coach Marcus George, is "the best athlete" at last month's DODDS-Europe football camp.
"Athlete," as in do it all.
"He's versatile," Hanau coach Sam Cassou said.
"We play him mostly at running back, but we put him anywhere — receiver, whatever. He's our punter and placekicker. He runs back kicks. He's blessed with genetics."
Lane knows that success beyond high school requires more than good DNA. It takes commitment.
"I live in the gym," he said. "I love to train. When you start lifting and see a change, when you start to see improvement, you can't stop."
Lane also packs a football player's attitude.
"I love tackling," said Lane, who plays free safety on defense. "I love making big hits."
And big runs, especially on special teams.
"My favorite job is running back kicks," he said. "I love pumping up the crowd."
Lane's success — and future — aren't limited to the playing field.
"I'm really focusing on my grades," he said. "I'm not looking to play in the pros. I want to play college ball to pay for my education. I want to be a broadcaster for ESPN."
Cassou says Lane has the tools to do well in college.
"When he came here as a sophomore," Cassou said, "he was kind of rough around the edges. Since then, he's really grown. He's taking advanced courses and is very respectful, all attributes that will help him get to the next level."
Lane said the next level might involve playing for the University of Central Florida or the University of Houston, schools that contacted him at the Miami camp.
For now, he said his goal is to turn Hanau into a football champion, no easy task with powers such as two-time defending champion SHAPE, International School of Brussels, Patch and Naples among the potential obstacles to winning the Division II crown.
"We've just got to play it one game at a time," Lane said. "We've got to become a tough, hard-nosed football team.