Americans set to compete for German rugby clubs
by
Seth Robson
September 7, 2006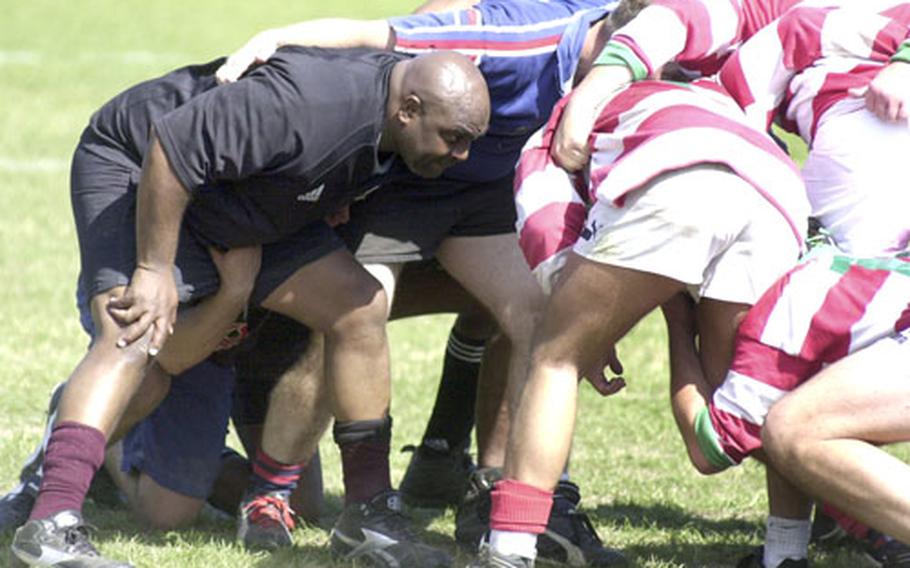 GRAFENWÖHR, Germany — Rugby season kicks off this weekend for U.S. servicemembers and Department of Defense civilians in Europe with the start of play in German club leagues.
U.S. military teams from Illesheim, Ramstein, Schweinfurt and Vilseck, Germany, as well as Naples, Italy, and Mons, Belgium, will take to the field this fall, according to U.S. Forces Europe captain Gerald Broom, 33.
In addition, many troops turn out for local teams, said Broom, a Quitman, Texas, native, who plays for the Kaiserslautern Rugby Club, a mostly German team.
On Saturday, Illesheim and Vilseck take on German teams in the opening of their Bavarian league 12-game schedule, while Ramstein has its first game next week in the Rheinland-Pfalz league.
The newest U.S. military team in Europe is Vilseck, which played its first game, a preseason clash with nearby Regensburg, last month. Vilseck captain Dan Frazier said the team won that game, 75-10, and went on to defeat Illesheim the next week in another preseason friendly 12-7.
Frazier, a Grafenwöhr-based physical fitness specialist, said he started the team after playing several seasons for a German club — Nürnberg TSV 1846 — the team that Vilseck faces in its first regular-season match Saturday.
Most of the Vilseck players are soldiers who recently arrived in Germany with the 2nd Cavalry (Stryker) Regiment.
"I know that Fort Lewis, Wash., (2nd Cav's former home) has a strong rugby program, and there were rugby clubs at Vilseck and Grafenwöhr in the past," Frazier said. "We have enough veteran players to coach and bring along the younger players who are enthusiastic about the sport and want to try something new."
One of the Vilseck players, Bradly Wagner, 28, of Westminster, Mass., took up rugby this year after previously playing football and wrestling. The Grafenwöhr-based range controller said he was looking forward to playing alongside the 2nd Cav soldiers.
"They have boosted our numbers and a lot of guys with experience have come over," said Wagner, who played at prop in the preseason games.
U.S. rugby players in Europe have the opportunity to qualify for the U.S. Forces Europe team, which played in the U.S. Military National tournament in the States in May, and can apply for all-services rugby teams as well as playing in the local leads.
The Vilseck team would welcome any new players, Frazier said, adding that American football skills translate well to the rugby field.
"It takes a little getting used to the rule switch, but once you make the adjustment it is pretty similar," said Frazier, who also plays football for a German team — the Franken Timber Wolves.
Anyone interested in playing rugby in Europe should contact Frazier at: daniel.fraizer@us.army.mil
Editor's note: Stars and Stripes reporter Seth Robson is a member of the Vilseck rugby team.