All-Europe high school football: Lucky seven back for more honors
by
Rusty Bryan
November 23, 2008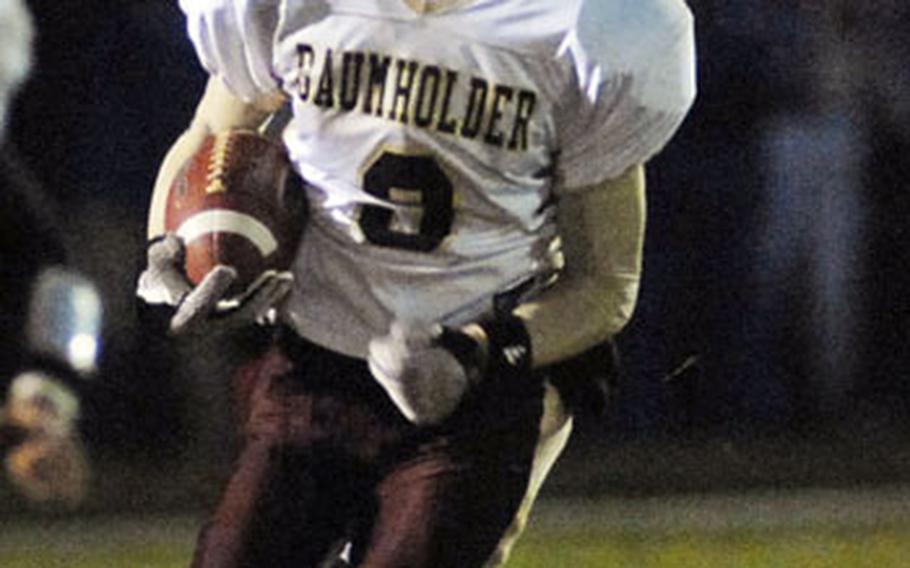 Seven holdovers from 2007 top the list of 41 standout performers named to the 2008 All-Europe football team by a panel of high school coaches.
Two-way choices Brock Blankenship of Division III champion AFNORTH and Fred Styles of Baumholder are among the repeaters on the '08 squad. Blankenship, picked as a linebacker in 2006 and 2007, made the team for the third time, this time as a running back and linebacker.
In addition to Styles, the two-year selectees are linebackers R.J. Curley of D-IV champion Rota and Bryan Boatner of Baumholder, lineman T.J. Dignan of D-II champion Ansbach, kicker Joe Ward of Mannheim and punter Evan Canfield of Ramstein.
Blankenship and Styles, who was picked at receiver and defensive back, are among the seven players named at two positions. The others are Dominic Barrale of Ansbach at quarterback and linebacker, Kyle Ulses of Heidelberg at running back and kicker, and Dignan and Kevin Stadler of Ansbach, Angelo Hall of Vilseck and Alex Rodriguez of Bitburg as linemen on both sides of the ball.
By being selected solely as the punter for the 2008 team, Canfield, a senior who made All-Europe as a running back and linebacker last year, points up the quality of the current team, according to selector Steve Jewell of Wiesbaden.
"We have a great corps of running backs," Jewell said of the seven runners picked in 2008. "Some deserving candidates didn't play enough games. Canfield and Andrew Feazelle of Vilseck had good years, but they were injured at times. Marcus Williams (of Wiesbaden) and Prince Owusu of Baumholder also deserved to make it."
Jewell said he also was impressed by the quarterback candidates.
"Quarterbacks all over DODDS-Europe were outstanding," he said. "Several who were left off the team were just as good as the ones who made it."
If they were truly the equal of the three who made the team — Barrale of Ansbach, Tyler Hall of Vilseck and E.J. Ruiz of AFNORTH — the also-rans were mighty good.
Barrale, who led an Ansbach offense that averaged more than 50 points a game in an 8-0 season that ran its winning streak to 24, completed 31 of 54 passes for 17 touchdowns. Barrale posted those totals despite not being allowed to play a whole game as the Cougars struggled to hold down the score.
Hall, who was 9 of 18 for 225 yards in Vilseck's 33-24 D-I semifinal loss at Ramstein, had 10 touchdowns on 36-of-71 passing during the season. Ruiz connected on 64 of 83 passes, 10 for touchdowns, in leading AFNORTH to an unbeaten campaign.
"What impressed me," Jewell said, "is that they all made it as juniors."
Juniors manned 14 of the 48 positions on the team. Seniors were selected for 33 of the slots. Wiesbaden running back Jeremiah Simms, one of two 1,000-yard rushers on the team, was the lone sophomore.
Simms, who rushed for 1,096 yards and 15 touchdowns on 127 carries, averaged 8.7 yards an attempt. Surpassing Simms was Alconbury's Devin Pryor, who exploited the wide-open spaces of Division IV's nine-man game for 1,229 yards on just 89 rushes. Pryor's 17 TDs tied Ansbach's Jordon Shack for tops in rushing scores, and he had a staggering 13.8- yard average.
Selection panelist Matt Martinez of Lakenheath said Pryor's achievements were genuine.
"We put his performance into perspective," Martinez said. "We scrimmaged him before the season, so we knew he was a good athlete."
Pryor is one of three D-IV players named All-Europe. D-III performers filled nine spots on the team, 15 slots went to D-I and 21 to D-II. Of the 41 selectees, many played for European championship teams — seven from Ansbach, four each from D-I champ Heidelberg and D-III king AFNORTH and one from D-IV champ Rota.
Whatever the size of the school the players represent, Martinez said the 2008 All-Europe squad is one to be reckoned with.
"Overall, I would not hesitate to play anybody with these kids," he said.
"I'd put them up against any varsity team in the country."