Far East tourneys - Day 3
All-Erika battle goes to Yokota in tennis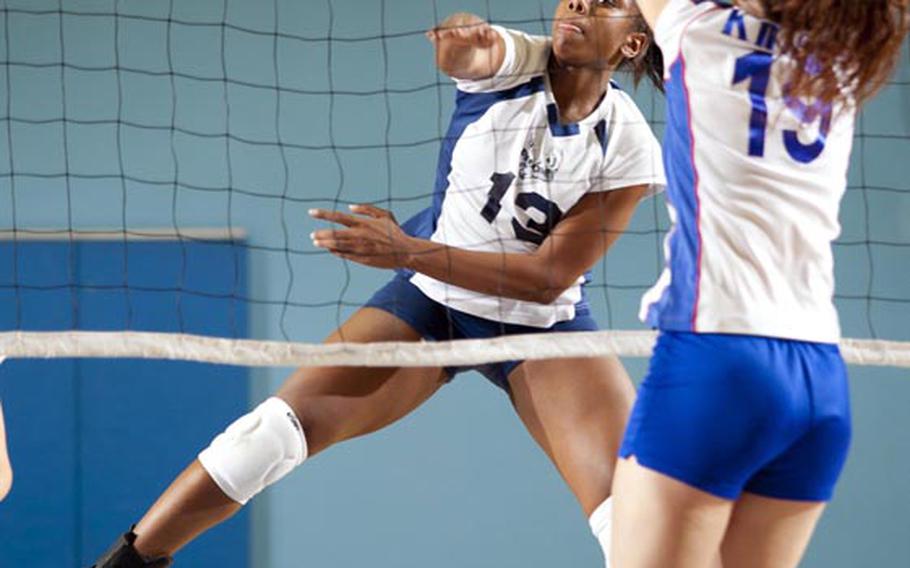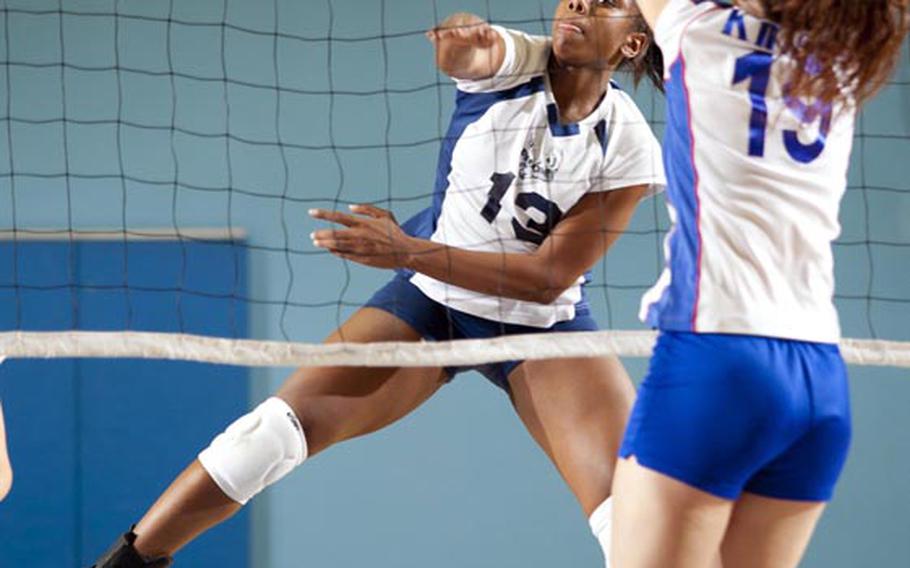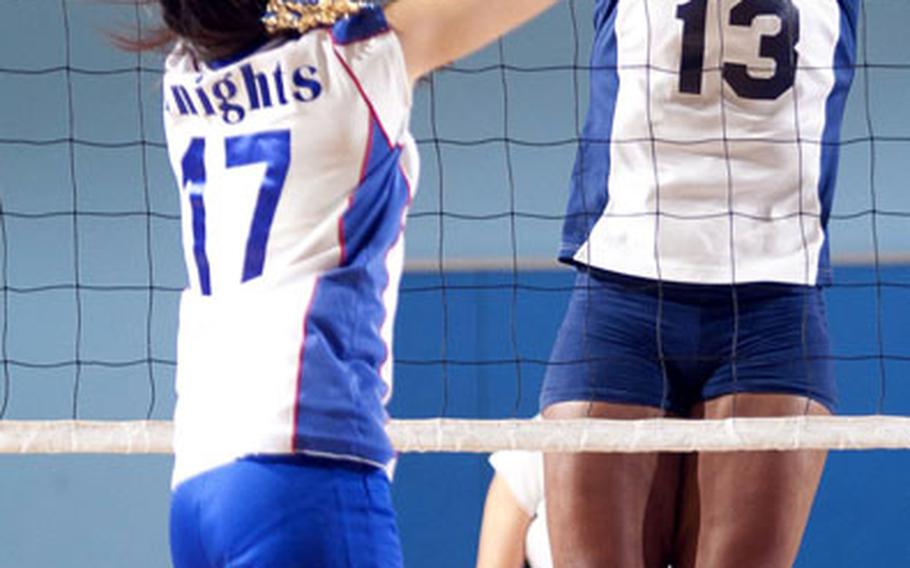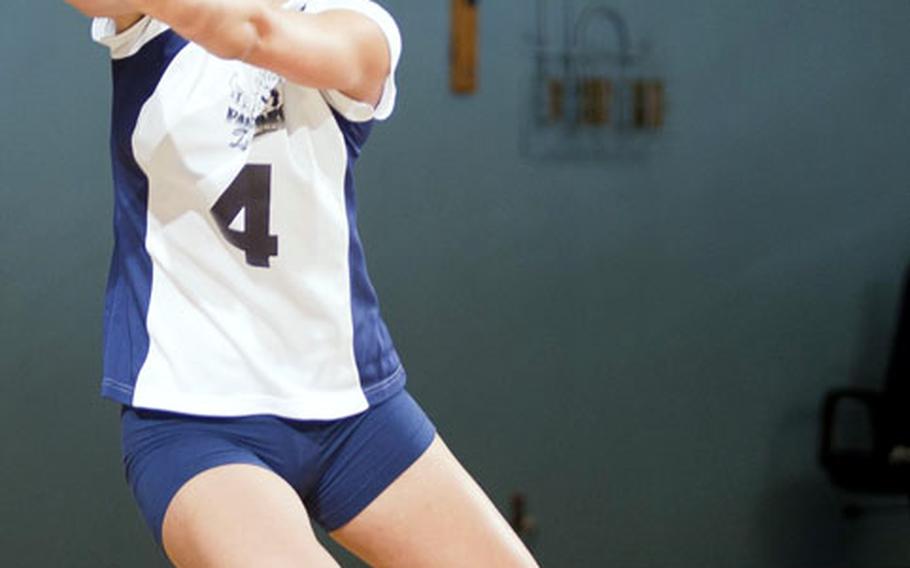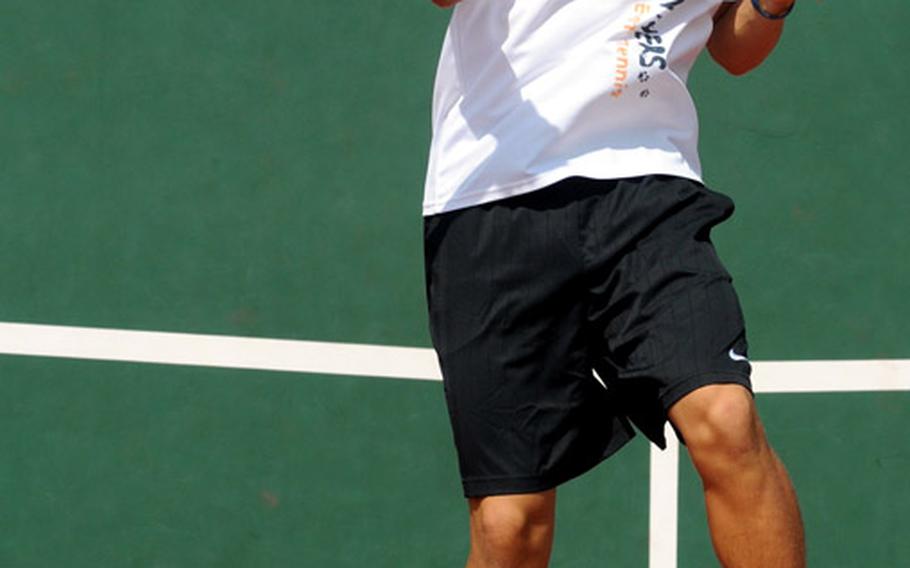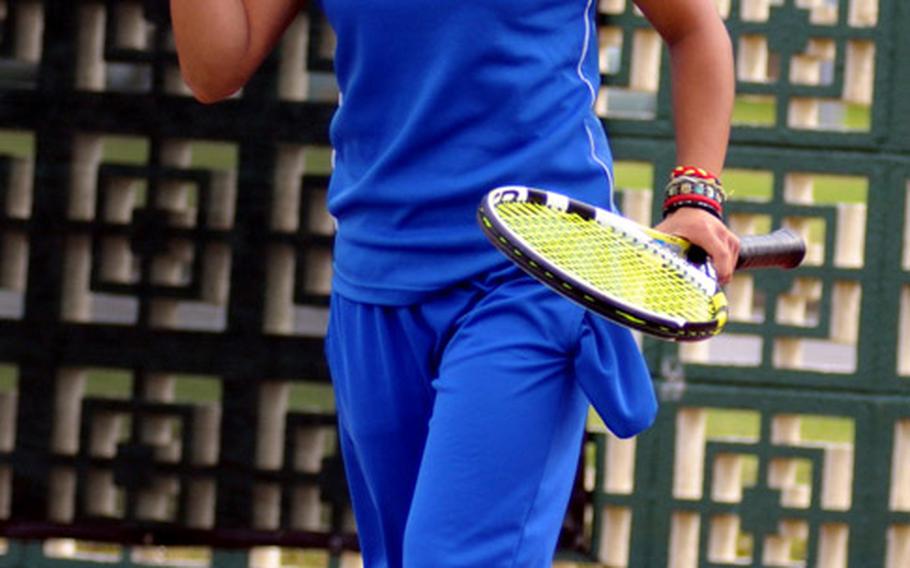 KADENA AIR BASE, Okinawa – An Erika vs. Erika tennis match anticipated for months evoked a floodtide of emotions for the victor, the vanquished and the man who once coached them both.
Yokota junior Erika Ettl, the No. 4 seed, beat Kadena sophomore and former Yokota teammate Erika Youngdahl, the No. 2 seed, 6-2, 6-4 in Wednesday's Far East High School Tennis Tournament semifinals. Ettl moved onto Thursday's final against Guam High's Amber Gadsden.
"It was hard playing against her," Ettl said of facing her former teammate. "As I said at the beginning of the season, I wanted to meet her in the quarterfinals or semifinals and it happened."
After dominating the first set, leading 5-2 in the second and 40-15 in the eighth game, Ettl saw two match points slip away, then Youngdahl won the next two games to get within 5-4, fighting off five total match points before finally fading on her fifth double-fault of the set.
Yokota coach Tommy Palmer cheered loudly for Ettl during the match, but confessed to mixed feelings afterward.
"It was exceptionally hard for me to sit there and root for one of them and not the other," he said.
"On the inside, I'm rooting for both. I love my girls and my players and I really don't want to see anybody lose. But at the end of the day, somebody's gotta do it and I'm glad my girl came out on top."
For Youngdahl, it marked the second straight year she fell in the semifinals. As a cascade of emotion coursed down her face, Youngdahl said she blamed the fact that she didn't play up to her level.
"This wasn't supposed to happen," Youngdahl said. "I didn't play my best. I played at three-fourths the level that I can. I hit for three hours a day for weeks and I thought I was ready. I don't know how she does it. I can't believe I lost to her."
As she did last year after falling to eventual two-time champion Elissa Mason of Kadena, Youngdahl vowed to ramp up her game in anticipation of meeting Ettl again next year. "I'll come back twice as hard," she said.
Ettl said she's hoping for nothing less. "I expect to meet her again next year. It'll be tougher next year," she said.
As for Gadsden, who beat Kubasaki's Tammi Ragan 6-1, 6-2 in Wednesday's other semifinal, Youngdahl said: "Amber better be ready" for Ettl.
In the boys semifinals, Seoul American's Russell Midomaru was leading Kadena's Arlo Taylor 6-2, 5-5, 0-40 when he was overcome by heat exhaustion. He was treated at U.S. Naval Hospital Camp Lester, released and even returned to play and win his boys doubles semifinal.
"I would have probably lost," Taylor said of what might happen had Midomaru been able to continue, adding it was not the way he wanted to win the semifinal. "I'm happy, but …"
In Thursday's boys final, Taylor plays Kent Sikama of St. Mary's International, who rallied past Seoul American's Chong Lee 5-7, 7-5, 6-2.
VolleyballAfter Wednesday's Far East Girls Division I Volleyball Tournament quarterfinal play, Denny Hilgar found himself two steps away from his Seoul American Falcons' dream of an ever-elusive championship as he exits following 31 years of coaching.
Seoul American dethroned Christian Academy Japan 25-15, 25-21 in the quarterfinals behind Liz Gleaves' 14 spike kills and Destinee Harrison's nine.
The Falcons face American School In Japan, 28-26, 25-18 winners over Academy of Our Lady of Guam, in Friday's semifinals. "If they play Friday like they did today, they have an excellent chance," Hilgar said of his Falcons.
"(But) there are three other teams that want to do the same thing. I've been to the Final Four before; I know what we're up against. We have two more matches to play, one at a time."
Two-time Kanto Plain and DODDS Japan champion Nile C. Kinnick downed George Washington of Guam 25-23, 25-15 to reach the other semifinal berth, against Faith Academy of the Philippines. The Vanguards downed Seisen International of Tokyo 23-25, 25-19, 15-13 in the quarters.
All seven Guam teams in the tournament were eliminated from title contention Wednesday, the first time in the tournament's 34-year history Guam teams have been eliminated this early. Guam teams have won the tournament 12 times.
---
---
---
---