All-Armed Forces players return to diamond at Kadena Klassic,
by
Dave Ornauer
October 9, 2006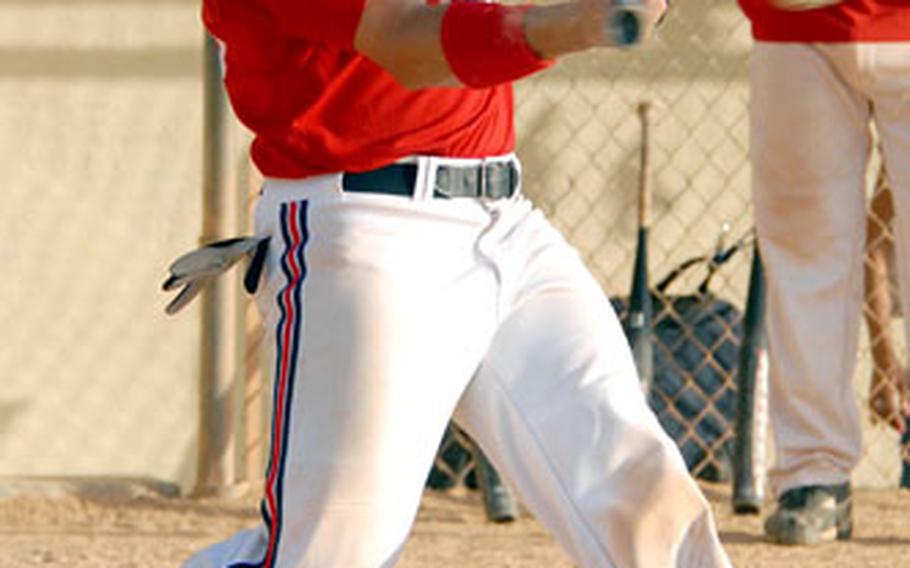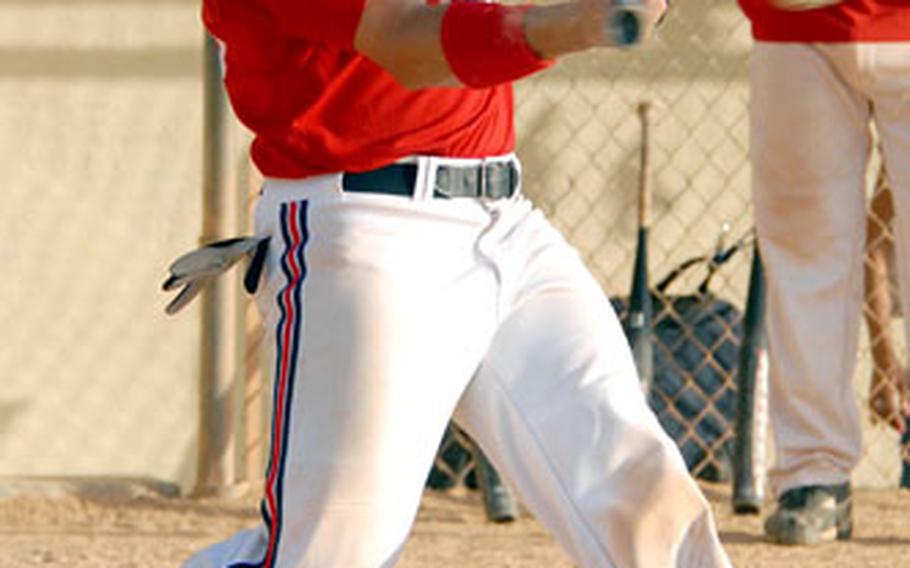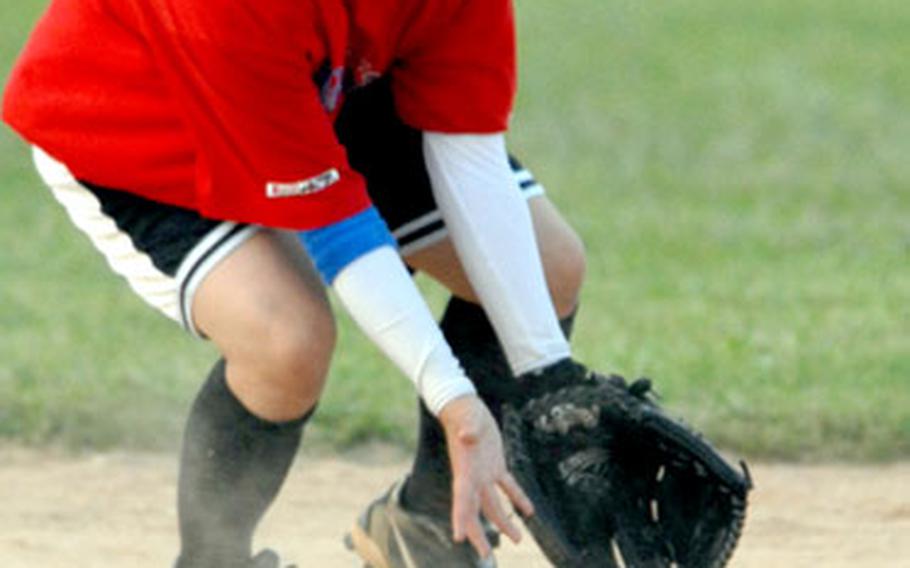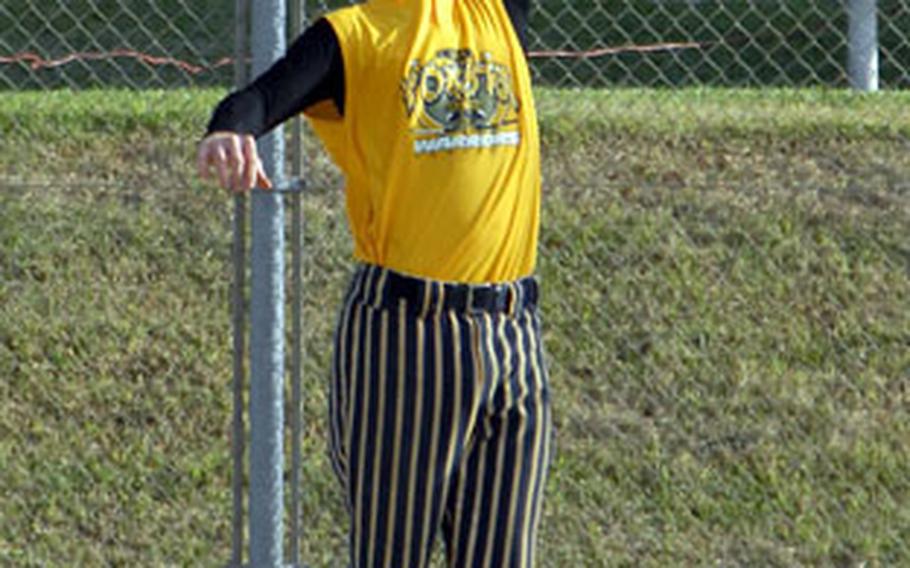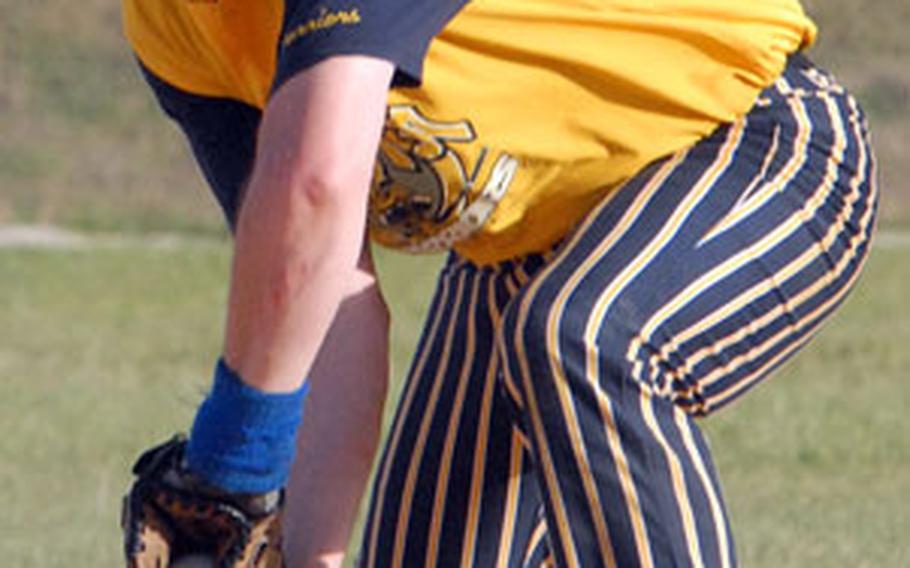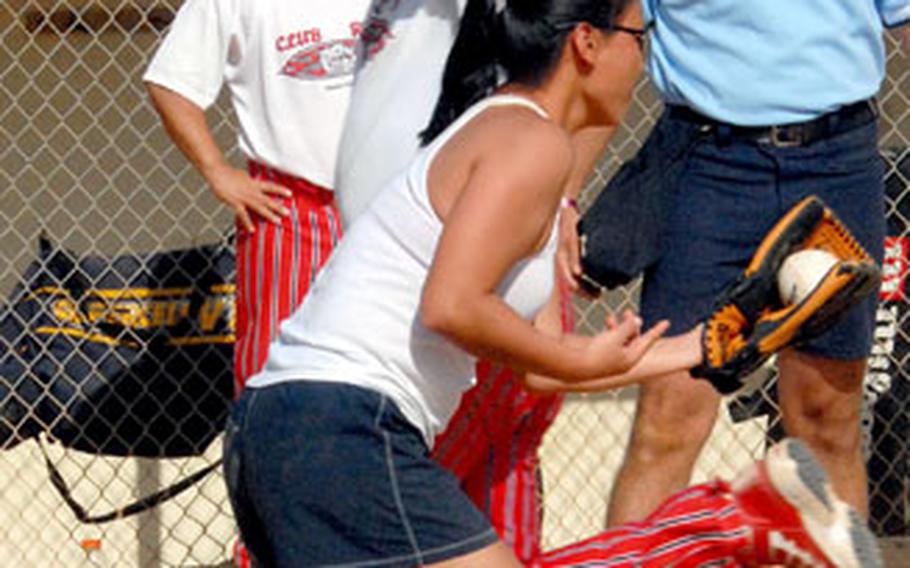 KADENA AIR BASE, Okinawa — Sept. 21 dawned beautifully at Eglin Air Force Base, Fla. But for the All-Air Force softball team, it might have been midnight.
At the start of the last day of the All-Armed Forces men's tournament, two-time defending champion Air Force was on the ropes. Trailing Army by a game, the airmen needed to win all three of that day's games and have Navy or Marine Corps beat Army.
Air Force got its wish in the day's first game: The Marine Corps edged Army 11-9.
"It was a ray of light," Chadd Malin, a three-time All-Air Force outfielder, said on Saturday, the second day of 12th Kadena Klassic tournament.
But the two-week-old memories of Eglin — where Air Force bulldozed its way to an All-Armed Forces title three-peat — remained sharp.
"We knew we had to go 3-0 that day and we had to have help from somewhere," Malin said. "It just so happened to be the Marines. … After that, it was happy days."
Fellow three-time All-Air Force outfielder Jim Flagg of Kadena was gathering laundry when told of the Marines' victory. "I thought they were messing with me," he said.
The Marines victory "totally pumped up" the Air Force team, Flagg said. "Up until then, we'd been playing to win. After that, we had a determination to win."
Flagg and Malin were among nine All-Service team selectees playing in this weekend's Kadena Klassic and in All-Armed Forces tournaments this summer, the men at Eglin and the women at Hill Air Force Base, Utah.
Kurt Tom, assigned to Kadena with Flagg and Malin, made the All-Air Force team for the first time; T.C. Grey of Okinawa's 1st Marine Aircraft Wing was tabbed All-Marine for a third time. Tom, Malin and Flagg are playing for American Legion and Grey for Club Red in the Kadena Klassic.
On the women's side, Okinawa's Yard Busters picked up three-time All-Air Force outfielder Kischa Scott-McCloud of Osan Air Base and two-time All-Air Force infielder Latricia Munday of Kunsan Air Base, South Korea, for the Klassic, while All-Army infielder Roxanne Finks joined forces with Area III/Camp Humphreys of Korea.
Three-time All-Air Force pitcher Twyla Sears and All-Air Force rookie infielder Katherine Braun are playing for their home Kadena Falcons.
Said Grey: "Army held its own fate in its hands. They could have beaten us but it didn't happen."
Air Force then beat Army 10-5 and drubbed the Marine Corps 20-8 — in effect, a title-clinching game.
"We knew what we had to do," Malin said, "and we did it."
At Hill, Army captured the women's title for the second time in three years in a tournament with little drama other than whether Army could achieve its stated goal of going 9-0, something only Air Force had done, in 2002. Army lost the final game 10-9 to Air Force, finishing 8-1.
"Nine-and-oh. … That was our goal from Day 1," Finks said, "so it hurt a little when we didn't get it. But we took the rest of the games. That was good."
Finks, assigned to Yongsan Garrison in Seoul, said she learned much from her first All-Army experience. "One error won't cost you a game," she said. "Learn to let it go."
"And there's a reason the coach is there. Learn from him, and learn from players who have been there before you."
That would include Yongsan's Vivian Colbert, 10-time All-Army first baseman. Their Yongsan teams won the 8th U.S. Army and Koreawide post-level women's tournament titles in weeks leading up to All-Armed Forces. "That was sweet," Finks said.
12th Kadena Klassic
12th Kadena Klassic
At FourDiamonds Complex Kadena Air Base, Okinawa
Final round-robin standings
(listed in order of playoff seeding; x-clinched playoff berth; y-clinched first-round playoff bye)
Men's Pool A
W-L
y-Kadena Air Base, Okinawa 4-0
x-Osan Air Base, South Korea 3-1
x-Camp Humphreys, South Korea 2-2
x-Fat Kids, Okinawa 1-3
Guzzlers, Okinawa 0-4
Saturday's games
Kadena Air Base 20, Osan Air Base 19
Osan Air Base 18, Camp Humphreys 3
Kadena Air Base 11, Guzzlers 10
Osan Air Base 21, Guzzlers 3
Camp Humphreys 24, Fat Kids 11
Osan Air Base 19, Fat Kids 1
Men's Pool B
W-L
y-Club Red, Okinawa 3-1
y-Yokota Air Base, Japan 3-1
x-Benchwarmers, Okinawa 2-2
x-Shogun, Okinawa 2-2
Torii Army Knights, Okinawa 0-4
Saturday's games
Yokota Air Base 21, Shoguns 5
Benchwarmers 21, Torii 13
Shoguns 19, Club Red 7
Club Red 23, Torii 7
Yokota Air Base 34, Benchwarmers 6
Men's Pool C
W-L
y-American Legion, Okinawa 4-0
x-Sasebo Naval Base, Japan 3-1
x-Naval Forces Okinawa 2-2
x-Camp Schwab, Okinawa 1-3
CLB, Okinawa 0-4
Saturday's games
American Legion 30, Camp Schwab 5
Naval Forces Okinawa 14, CLB 9
Sasebo Naval Base 21, Camp Schwab 7
Sasebo Naval Base 21, CLB 4
American Legion 21, Naval Forces Okinawa 4
Women's Pool
W-L
x-Kadena Air Base, Okinawa 5-0
x-Yard Busters, Okinawa 4-1
x-Okinawa Typhoons 3-2
x-Camp Humphreys, South Korea 2-3
Yokota Air Base, Japan 1-4
Okinawa Vixens 0-5
Saturday's games
Kadena Air Base 15, Camp Humphreys 6
Typhoons 12, Yokota Air Base 5
Yard Busters 8, Vixens 0
Yokota Air Base 7, Vixens 1
Yard Busters 15, Yokota Air Base 2
Camp Humphreys 6, Vixens 1
Kadena Air Base 18, Yokota Air Base 0
Yard Busters 12, Typhoons 5
Camp Humphreys 10, Yokota Air Base 0
Kadena Air Base 14, Typhoons 0