Alconbury set to hold D-III soccer fest
---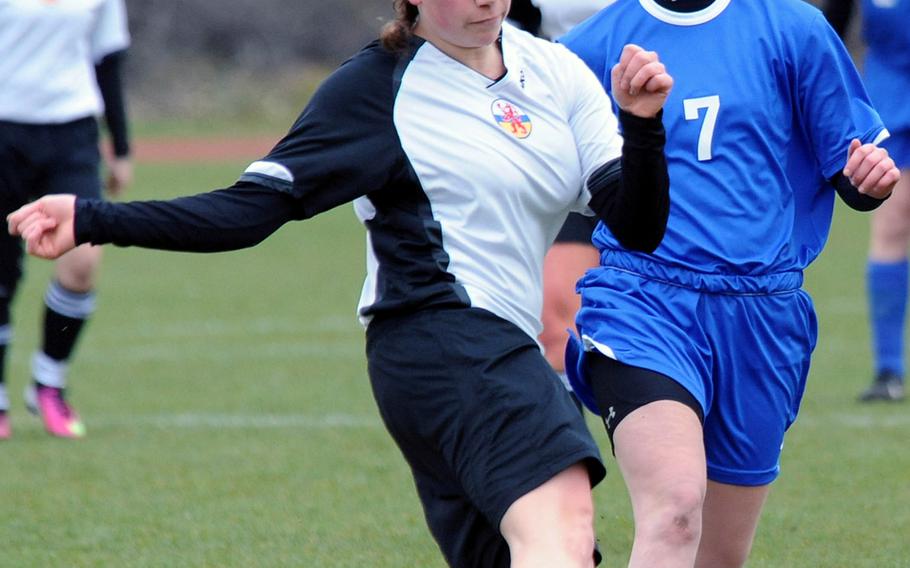 Until they look across the field at one another, the teams of DODDS-Europe Division III soccer are often nothing more than memories, rumors and reputations.
The members of the perennially-competitive small-school field are flung far and wide, from Sicily to Spain and from Brussels to Britain. That's why this weekend's four-school tournament at Alconbury, England represents such a high point of the compact spring schedule.
"We're a work in progress," said Greg Marinich, coach of both the Brussels boys and girls squads. "We won't really know how we stack up until we meet some of the other D-III schools."
While it's not a comprehensive survey of the competitive landscape, the two-day event does offer its participants a valuable early-season evaluation. Spain's Rota and England's Menwith Hill round out the bracket.
Each school has cause for optimism as it wades deeper into the regular season.
Host Alconbury fields star power in the form of senior All-Europe fixture Jeff Black, a recent commit to Division I Cornell University. The Alconbury girls, meanwhile, played in-country Division I foe Lakenheath to an impressive 1-1 tie March 29.
Brussels boasts the defending girls European championships and a strong core lineup including striker Ali DeFazio, defender Paige Brown, midfielder Aleeza Vitale and goalkeeper Sarah Snyder. Explosive striker Kristian Javier wields a dangerous leg for the Brigand boys.
DODDS-Europe's only Spain-based school will especially benefit from this weekend's collection of competition. Rota reached both the boys and girls championships last May but left without a European title. The program has renewed itself with considerable young talent, but the boys retain the senior leadership of Juan Pablo Fuertes and Kris Rios.
Seasoned seniors, many stars in more sports than just soccer, also spearhead a solid Menwith Hill program. All-Europe senior Kaia Pierce headlines the girls, while Alex Abing and Schuyler Backlar pace a deep boys roster.
Ultimately, it's very possible that the eventual 2013 Division III champions won't be present at Alconbury this weekend.
Baumholder, down from Division II this season, remains a largely unknown quantity as a Division III contender after early games against upper-division opponents. Sigonella has been very competitive in its rugged Italian region, tying Division II Aviano in both boys and girls games on March 30. Florence emerged from obscurity to claim last year's boys European title.
As always, all bets are off at the European championships. But this weekend, four Division III hopefuls will at least know what kind of hand they've been dealt.
Twitter: @broomestripes
---
---
---
---