D-III softball
Alconbury seniors finally finish on top
---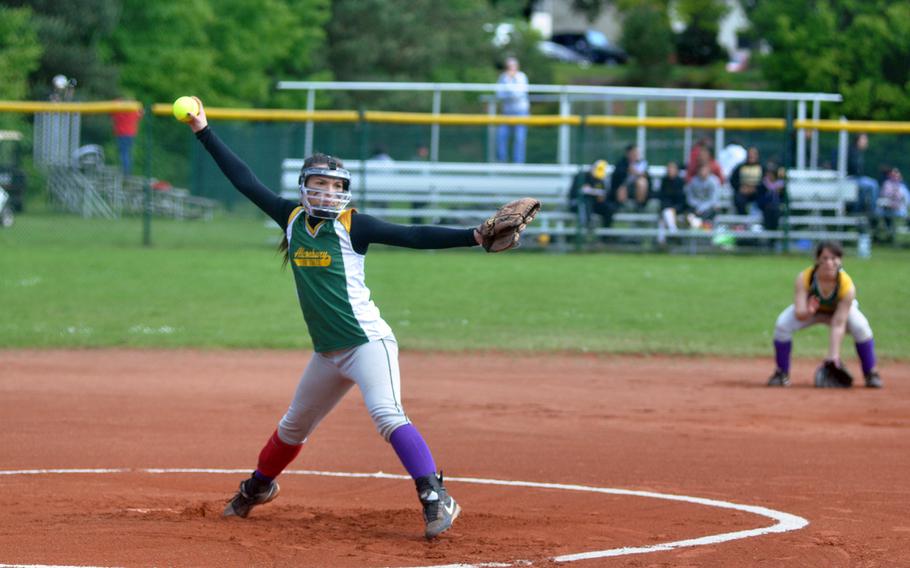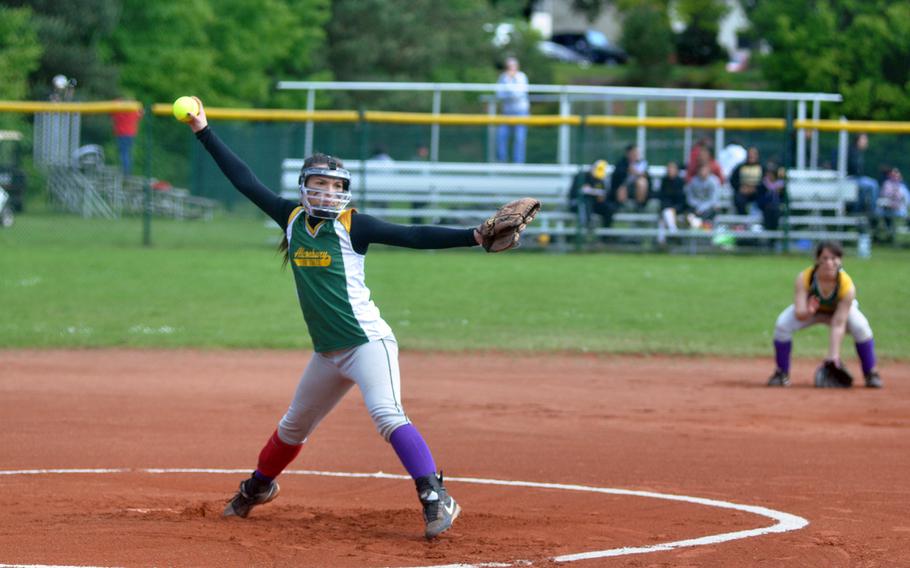 RAMSTEIN AIR BASE, Germany – Sporting purple socks in honor of a beloved coach, the Alconbury Dragons coasted to a 13-2 victory over the Rota Admirals Saturday to capture the European high school Division III softball championship.
The win avenges Alconbury's loss to Rota in the 2012 title game. It also came on starting third baseman Riley Sorensen's 18th birthday and two weeks after the death of assistant football coach Bob Shaw, who died of pancreatic cancer.
A British ministry of defense K-9 handler, Shaw is the reason why the Dragons wore purple, the symbolic color for that form of cancer. He was a familiar face around the school and coached the football team's offensive line.
"He touched everybody's heart at our school," senior Jemma Matthews said after the game.
Alconbury blew the game open in the bottom of the second inning, sending 15 batters to the plate and pushing across 10 runs on eight hits to erase an early 2-1 Rota lead. Matthews drove in two runs that inning and three for the game.
When starting and winning pitcher Marrissa Cole wasn't striking her Rota opponents out, she was inducing many of them to hit routine infield grounders. Cole finished with six strikeouts, one walk and scattered six hits over five innings.
"This time I just wanted to show them that we could beat them and make up for last year," Cole said.
Cole, Jemma Matthews and Riley Sorensen finished their high school careers on a rather interesting note, one that underscores the necessity of persistence. As freshman, the softball team finished fourth. Each year afterwards they climbed one spot, culminating with this year's crown.
Head coach Kurtis Miller said while he'll miss his three seniors, he believes nine of his players, including six starters, will return next year. The roster, Miller said, is loaded with hitters.
"I knew they had it in them," Miller said. "They just had to go out there and do what they do, which is play ball."
---
---
---
---