Alconbury has no answer for Menwith Hill
by
Bryan Mitchell
October 1, 2006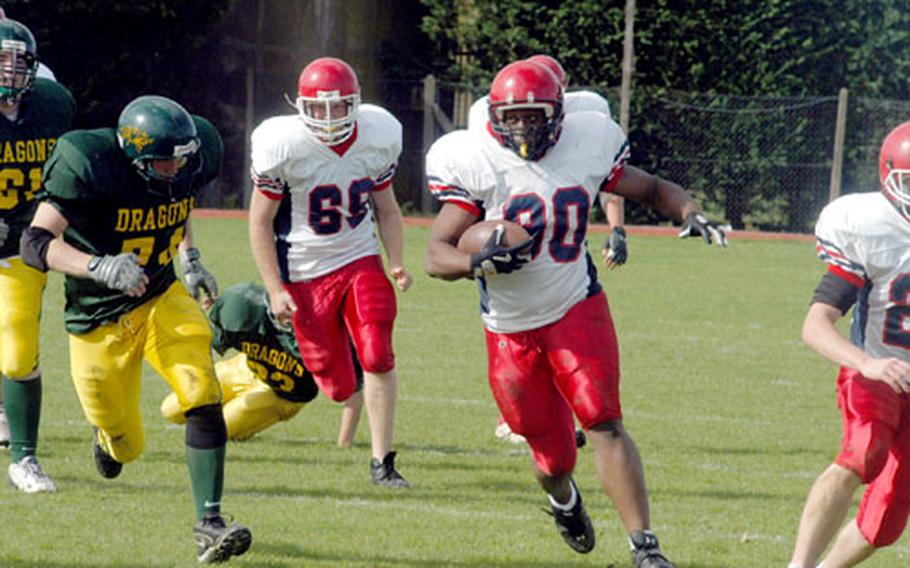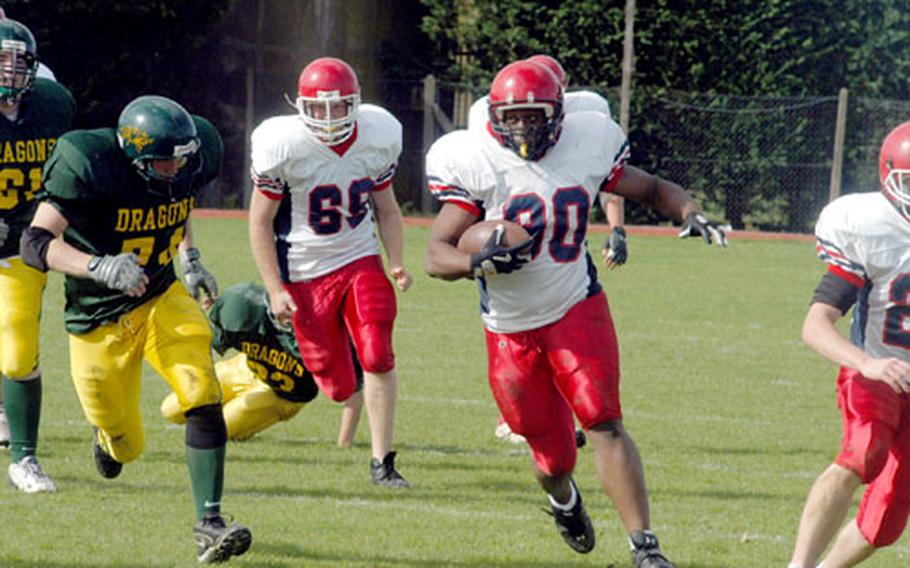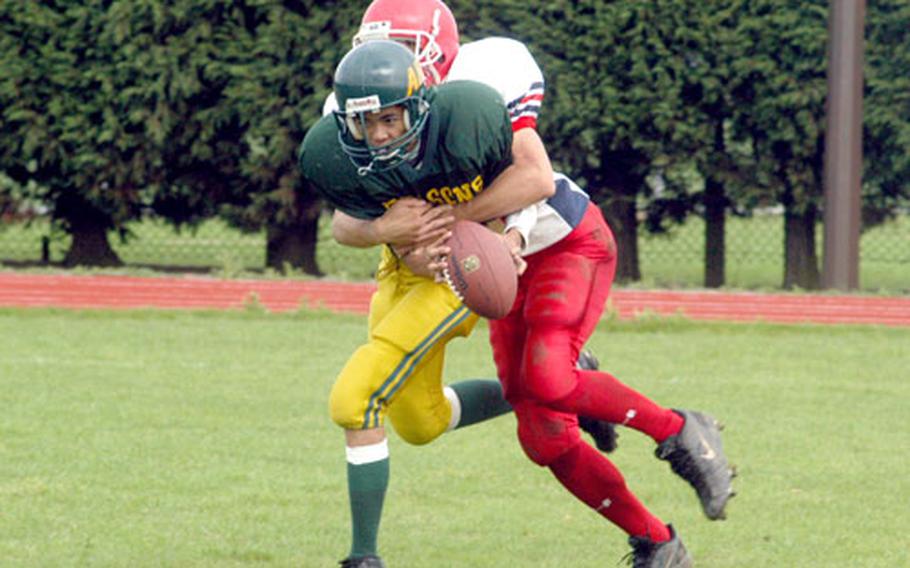 RAF ALCONBURY, England — Menwith Hill overpowered Alconbury Saturday from the opening whistle to the end of the game, which was called with about 3½ minutes to play because of lightning.
The Mustangs used a balanced offense led by senior quarterback Andrew Kaaihue and a defense that caused several turnovers to dump the Dragons 36-8 in the Division III-North matchup.
"The kids did a great job today," said Menwith Hill coach Dave Grana. "We had three or four people score and several players rush for more than 100 yards. Our kids had a great effort."
Junior running back LaShawn Adams provided the power, often taking on three or four Dragons defenders before going down. He finished with 155 yards and two touchdowns on 12 carries.
"We knew we needed to come out strong and get a win so we can win a few more games and make the playoffs," Adams said as rain fell after the game. "We wanted to run hard and play hard and that's what we did."
Kaaihue started the game at quarterback and rushed for 23 yards and threw a 44-year touchdown pass to sophomore Mike Faust late in the second quarter. He also excelled on defense, playing linebacker and recording four tackles and a fumble recovery.
Todd Moyer and Jesse Best got the other two Mustangs TDs, while Todd Moyer sacked Alconbury quarterback Jimmy Luong in the end zone for a safety.
Michael Faust, who replaced Kaaihue at quarterback in the second half, rushed for 77 yards on 10 carries.
Luong scored the Dragons' only touchdown on a 5-yard keeper in the third quarter. His run capped the Dragons, only impressive drive, including three pass completions by Luong to keep the march going.
Senior Ben Rhiner nearly got the Dragons on the board in the closing moments of the first half with a 30-yard punt return. The Dragons offense then turned the ball over and Alconbury never got back into the game.
Kendrick Collins had 11 tackles to lead the Alconbury defense.
Both teams had problems with penalties. The Mustangs were flagged several times for delay of game while the Dragons were twice penalized for having 12 players on the field.
Menwith Hill improved to 1-2 while Alconbury fell to 0-3.