Alconbury finally puts end to losing streak
by
Jason Chudy
October 9, 2005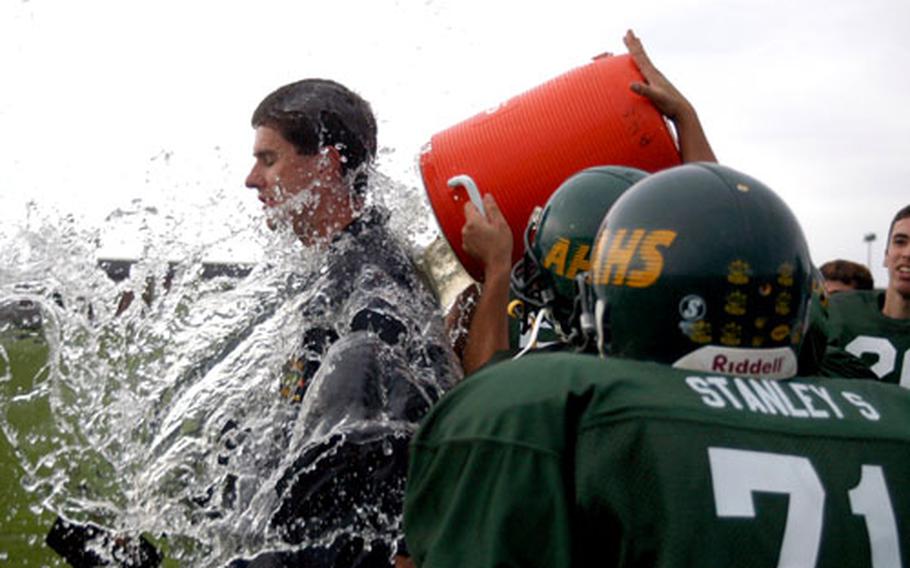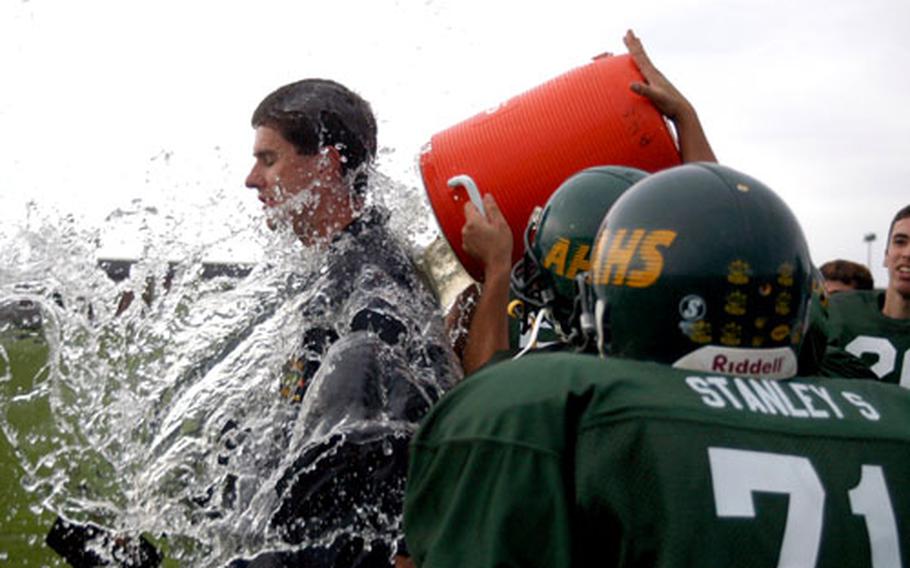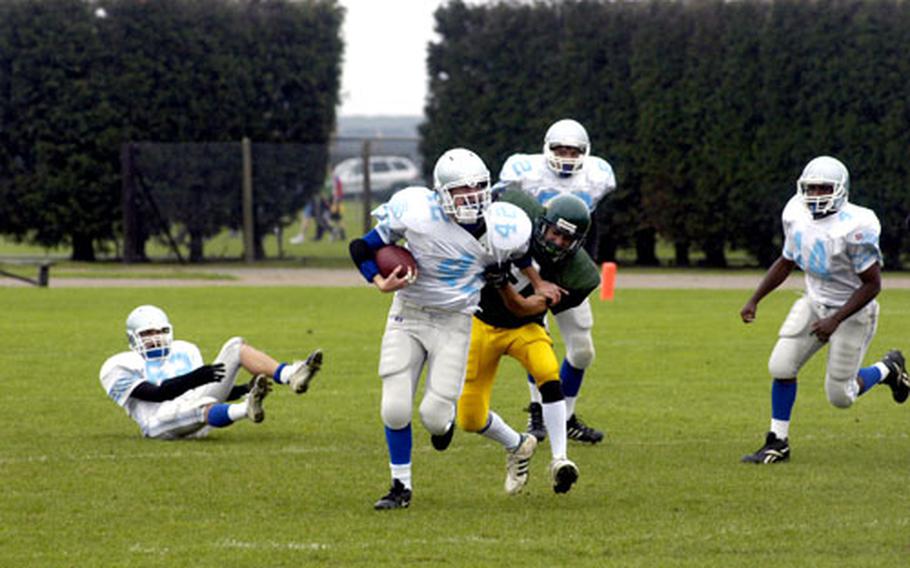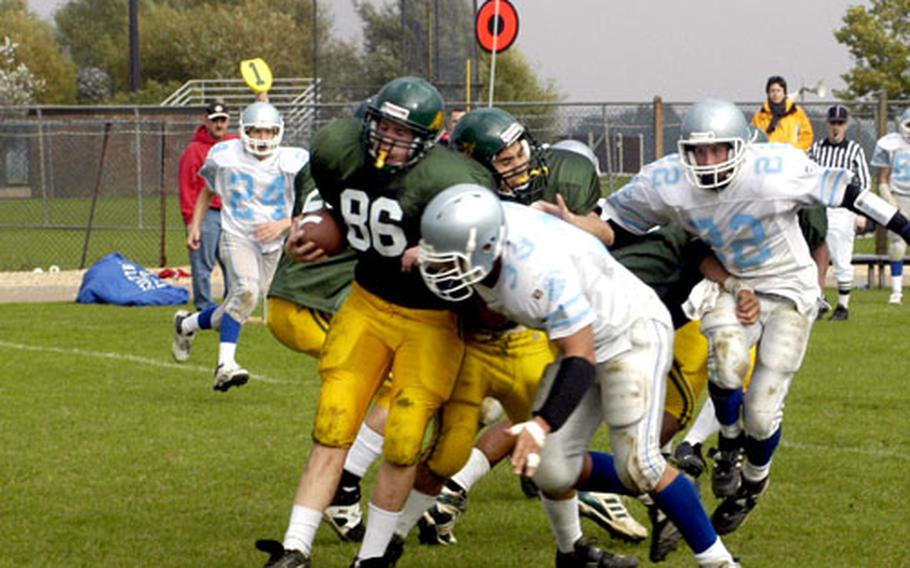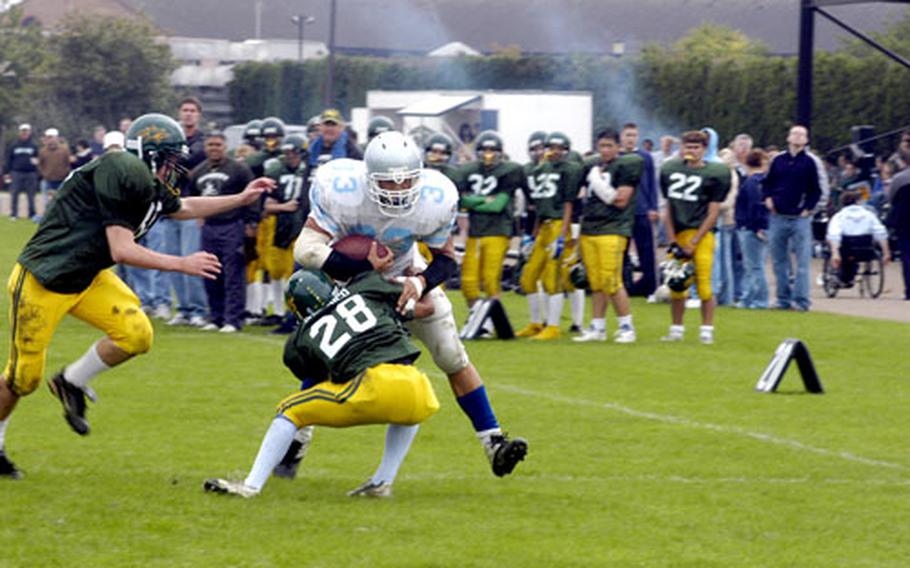 RAF ALCONBURY, England — After 4½ seasons, the Alconbury Dragons' football team is winless no more.
Even better, they did it with an incredible second-half performance that catapulted them to a 52-36 victory over Brussels.
The victory was the first for the Dragons since the start of the 2001 season — a streak believed to be 25 games. Because of turnover on the coaching staff, officials are fuzzy on how many losses were involved. Even Bob Shaw, the offensive line coach who had been with the team the entire time, said he was not sure.
Part of the reason the streak is over is a halftime dressing down the coaches gave the Dragons, who trailed 30-22 in their homecoming game.
Head coach Ron Behr said he and the other coaches laid it on the line.
"We pretty much gave them an ultimatum," he said. "You've got six seniors on the team — what do you want to do?"
That seemed to bring the team around. Although Alconbury's first half was characterized by lots of errors and turnovers, the Dragons played well in the second half.
And it paid off: Alconbury (1-3) scored 30 unanswered points in the third quarter and early part of the fourth.
"Offense, defense, everybody stepped up," said senior quarterback Ben Davis. "We didn't stop. It feels great to finally win."
Brussels (1-3) managed to literally score a last-second touchdown, but officials wouldn't let them take the extra point attempt, despite the protests of head coach Joe Fiedler.
Afterward, Fiedler said that the loss of halfback and linebacker Brian Desrochese, who left the game in the first half with a broken collarbone, and the loss of another player who remained in Belgium to take a college entrance exam, hurt the team.
"We had no depth," he said. "We mainly had young kids, and that hurt us. The other kids played well — the best they could. We were too thin."
Eric Popp led the Brussels' offense with 109 yards and three touchdowns on 19 carries. He also had 10 tackles on defense.
Quarterback Mike Hebing was 7-for-13 passing with 106 yards and 12 defensive tackles. Brandon Pierce had two touchdowns, including a 99-yard kickoff return, and 11 tackles.
Alconbury's offense was carried by Davis and wide receiver Xavier Ferguson. Davis, Ferguson and Kyle Lucas had two touchdowns apiece and Andrew Hunt, who managed a great late-game jumping, fingertip catch, had one touchdown.