Alconbury edges Sigonella in double-OT thriller
by
David Hodge
September 25, 2010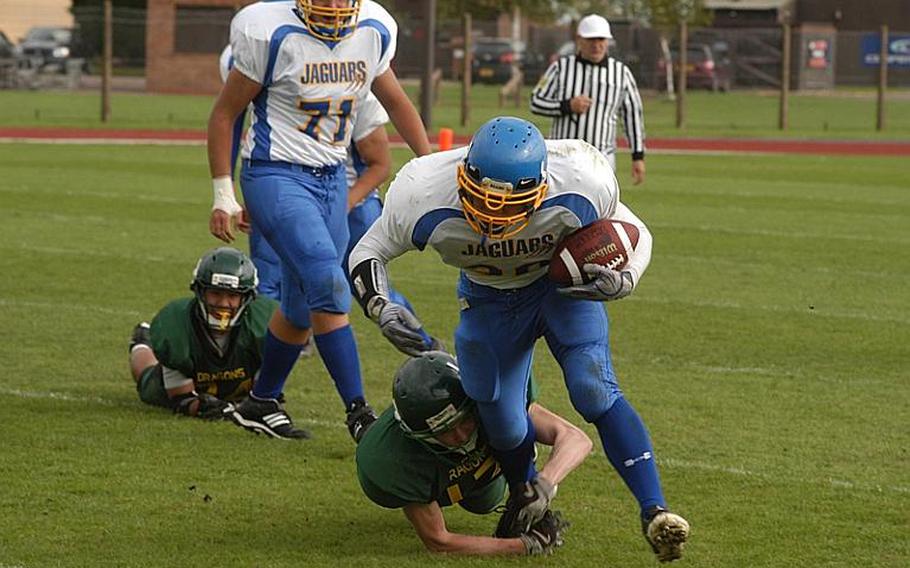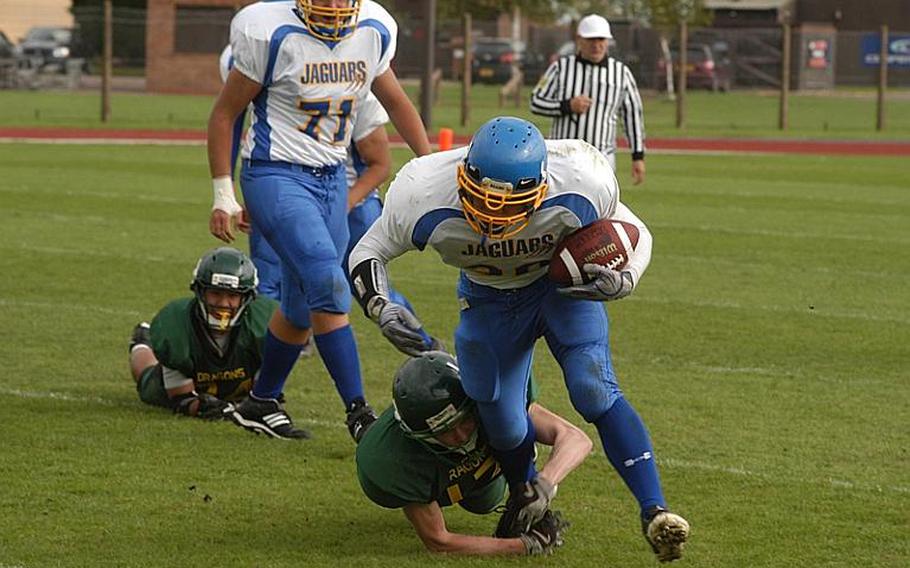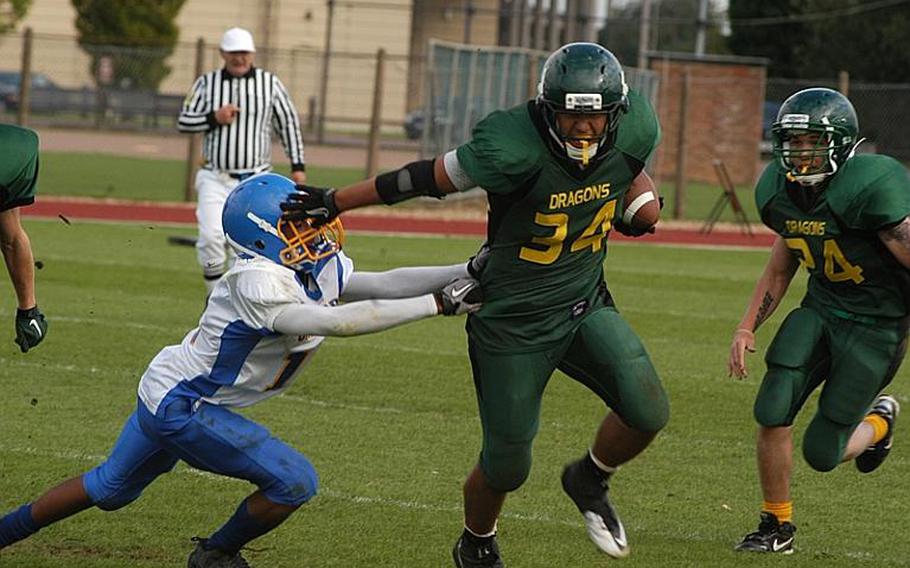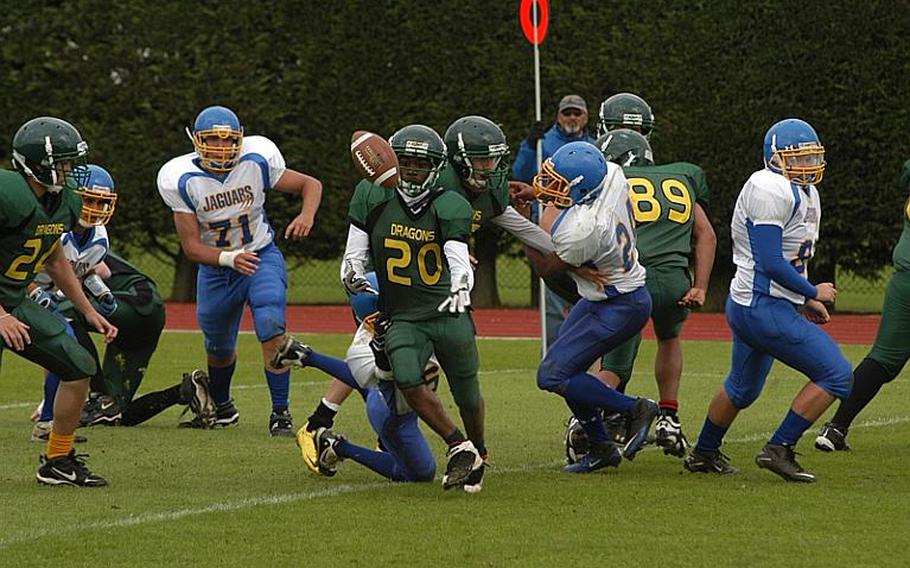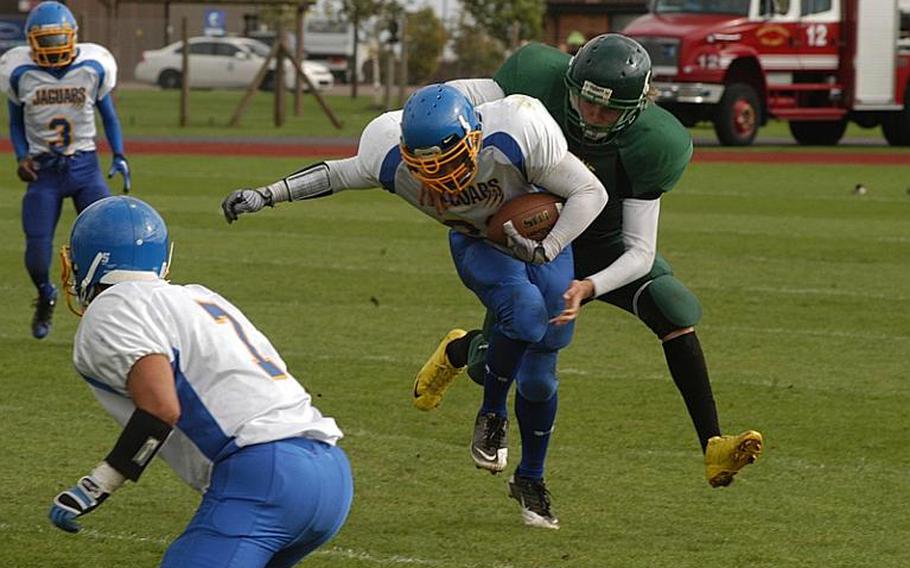 RAF ALCONBURY, England — Only one team could come away undefeated when Alconbury and Sigonella played Saturday, and it took a long time to determine who that would be.
In a game that had no shortage of action, big plays and turnovers, Alconbury defeated the Jaguars 26-20 in double overtime when Taylor Williamson scored on a short touchdown pass, and then turned around and recovered a fumble inside the 5-yard line to seal the game.
"Perseverance, heart and the want to win the game came through for us today," Alconbury coach Jeff Black told his players moments after the game ended.
The game was tied 20-20 at the end of regulation and the teams then played a college-football-style tiebreaker, with each team given four downs starting on the other team's 10.
Alconbury got the ball first and failed to score, and then needed a super play by senior Dominique Littleton who stopped Sigonella at the goal-line with a game-saving tackle from his safety position.
On the next series, Sebastien Schniebs, the Dragons' fifth-string quarterback, hit Williamson with a 5-yard TD pass. Williamson then finished off the Jags and the game with his fumble recovery.
The back-and-forth game saw Sigonella jump off to a 6-0 lead, fall behind 14-6 and then go ahead 20-14 before Alconbury scored again to send it into overtime.
The Dragons began the game with second-string quarterback Justin Thibodeua starting in place of injured starter Jeff Black. When he went out right before halftime, he was replaced by the third- and fourth-string quarterbacks, both of whom were hurt, setting the table for Schniebs to enter the game in the second tiebreaker and throw the winning TD pass.
Schniebs, a senior, also contributed on defense with 10 solo and two assisted tackles.
Alconbury running back Kerey Kuheana, a junior who also took a turn at quarterback, scrambled for 296 all-purpose yards and two rushing touchdowns. Senior Jimmy Kirchner scored the Dragons other TD.
Williamson had 15 tackles, one forced fumble and one sack, Kuheana had 13 tackles and Littleton had two interceptions and the game-saving tackle.
Sigonella, which accumulated 405 yards of total offense, was led by senior quarterback Larry Stevenson, who threw for 144 yards and two TD passes to Marco Summerfield, rushed for 43 yards and grabbed one interception on defense.
Kahlil Bowen scored the Jaguars' third TD, while junior running back Jeff Lastrella rushed for 89 yards.
Defensively for the Jaguars, sophomore Brandon Albert led the team with 11 tackles.
"The boys battled really hard and we've never played an overtime game before," said Sigonella coach Matt McKown. "It was a classic."
---
---
---
---