Boys basketball roundup
Alconbury, Brussels big men earn split
---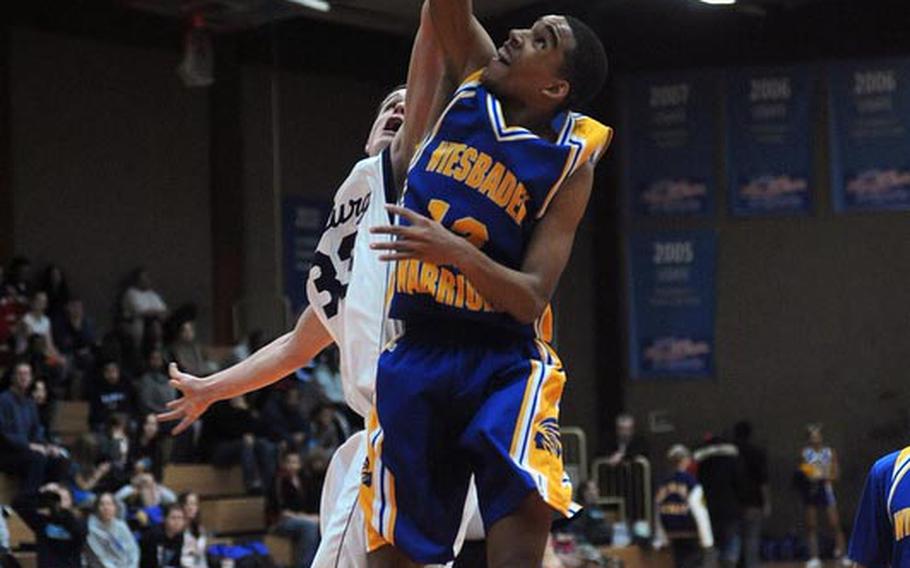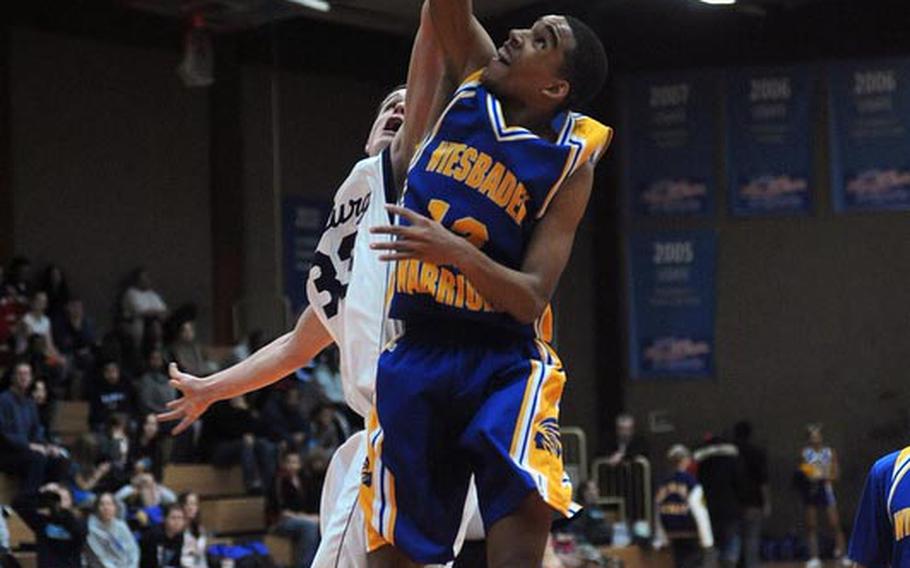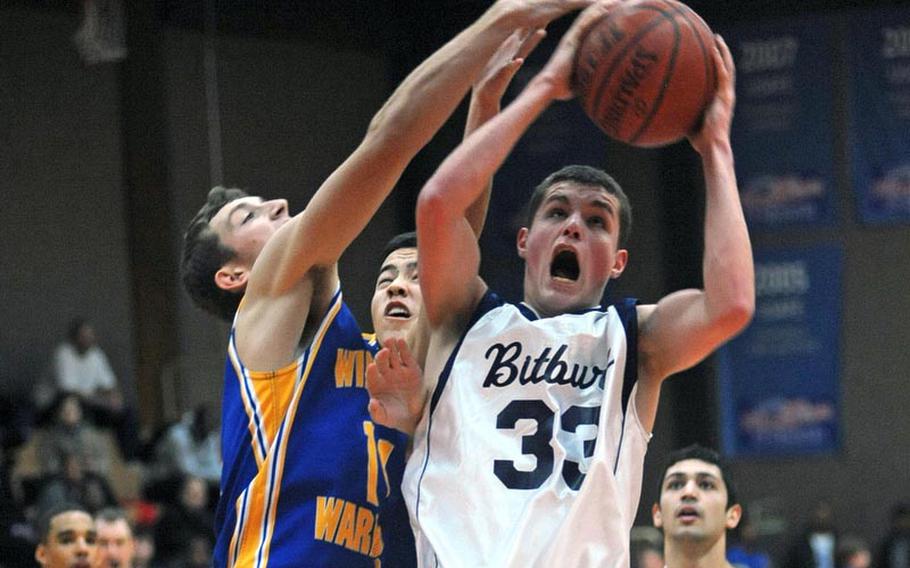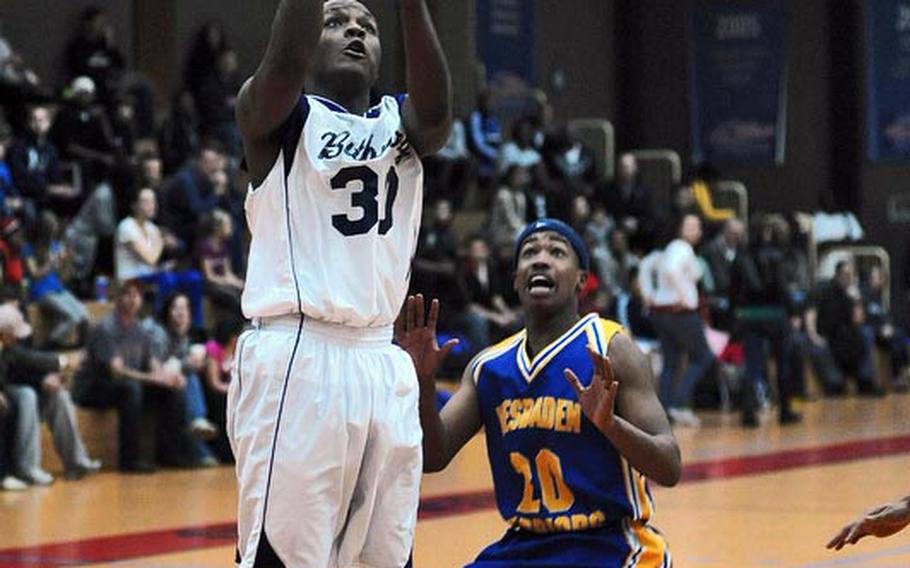 Alconbury's 6-foot-5-inch senior Chris Lanphear threw a second-straight block party on Saturday in the Dragons' 40-36 Region I Small-Schools victory over the Brussels Brigands.
Lanphear, who blocked 10 shots in a 42-39 loss to Brussels in a Friday game designated as non-conference, came back in Saturday's conference tilt to reject eight Brussels shots. In addition, Lanphear took game scoring honors with 18, and grabbed eight rebounds in an individual duel against 6-6 Brussels center Braden Brower.
Brower, who scored 28 points on 53 percent field-goal shooting on Friday, tallied 17 on Saturday and matched Lanphear with eight rebounds.
Saturday's victory gave Alconbury a leg up in the Small-Schools race in Region I. Unlike the Division III teams which compete in the school system's Regions III and IV, the D-III schools of Region I – Alconbury, Brussels, Menwith Hill and Rota – separate themselves from the region's larger schools and compete for their own version of a regular-season crown.
The four small schools are to gather Jan. 27-28 at Alconbury to sort out their title chase, and thanks to Saturday's victory, the home team will enjoy a 1-0 small-schools conference record going in. The Dragons are to play their second conference game against Brussels at that meeting.
Kahlil Williams, who grabbed a game-high 14 rebounds on Friday, tied Lanphear with eight on Saturday as the Dragons (1-4 overall) won their first game of the year. Brussels fell to 2-4 overall and 1-2 in the Small-Schools race.
In other boys' games of note on Friday and Saturday:
AOSR 58, Aviano 48: Saturday at American Overseas School of Rome, senior scoring ace Lorenzo Mannozzi poured in 29 points and grabbed seven rebounds as the Falcons handed Aviano its first loss of the season.
Aviano, which survived 24 points by Mannozzi in Friday's 44-42 victory, got 18 points from Cory Webb on Saturday, but was held to just 10 points in each of the game's final three periods and fell to 5-1 overall and in Region IV. The Saints are to host Sigonella, a D-III school, on Friday and Saturday.
Naples 57, American School of Milan 14: Saturday at Naples, the Wildcats improved to 5-1, 5-1 in a game in which the idea chiefly was to hold down the score.
Nigel Alexander led the way for Naples, with 12 points, in a game in which nine Wildcats scored. Next up for Naples is a trip to Vicenza on Friday and Saturday.
Wiesbaden 59, Bitburg 42: Saturday at Bitburg, Kelsey Thomas scored 16 points to lead a trio of Warriors in double-figures. Thomas, who scored 29 points in Friday's 68-47 victory at home, added three steals on Saturday to help the Warriors, who got 14 points from Roscoe Johnson and 10 points from Andrew Murray, up their record to 4-2 overall and 3-1 in the region.
Daren Aiken led Bitburg (1-5, 0-4) with 12 points. Christian Eidenschink added 11.
Patch 48, Schweinfurt 31: Saturday at Schweinfurt, the Panthers kept pace with Heidelberg and Vilseck as the school system's only unbeaten D-I boys' teams with a weekend sweep of the fledgling Razorbacks.
Dylan Measells, who struck for 24 points and seven rebounds in Patch's 42-32 victory over Schweinfurt on Friday, again took game scoring honors, this time with 14 points to help Patch improve to 4-0 overall and in Region III.
Schweinfurt fell to 1-4 despite 11 points and five assists by Brandon Wright.
---
---
---
---