D-III girls soccer
Alconbury beats Sigonella again for another title
by
Dan Stoutamire
May 24, 2018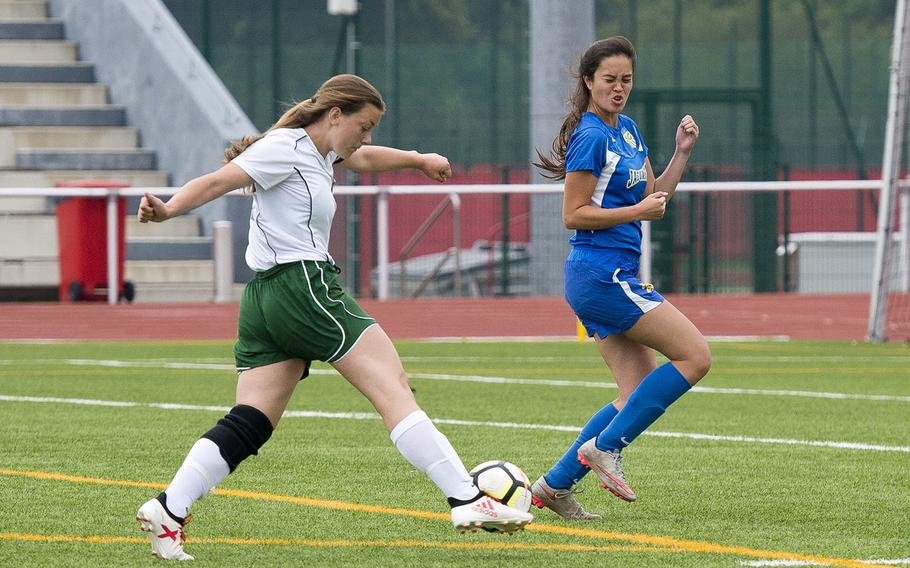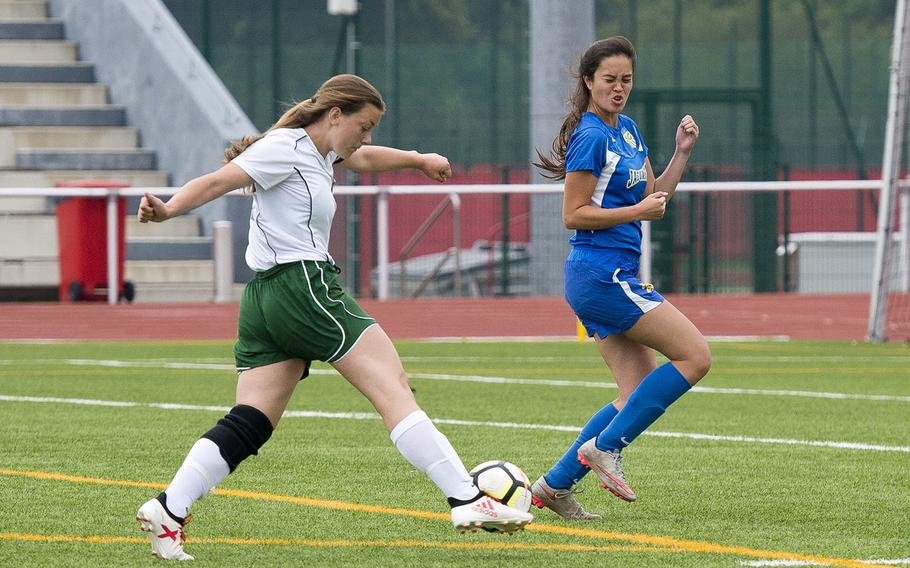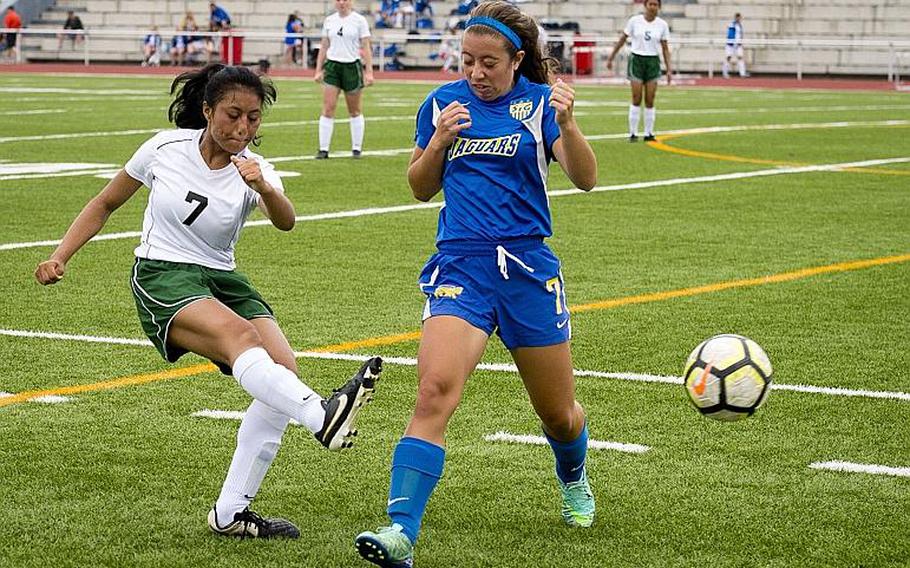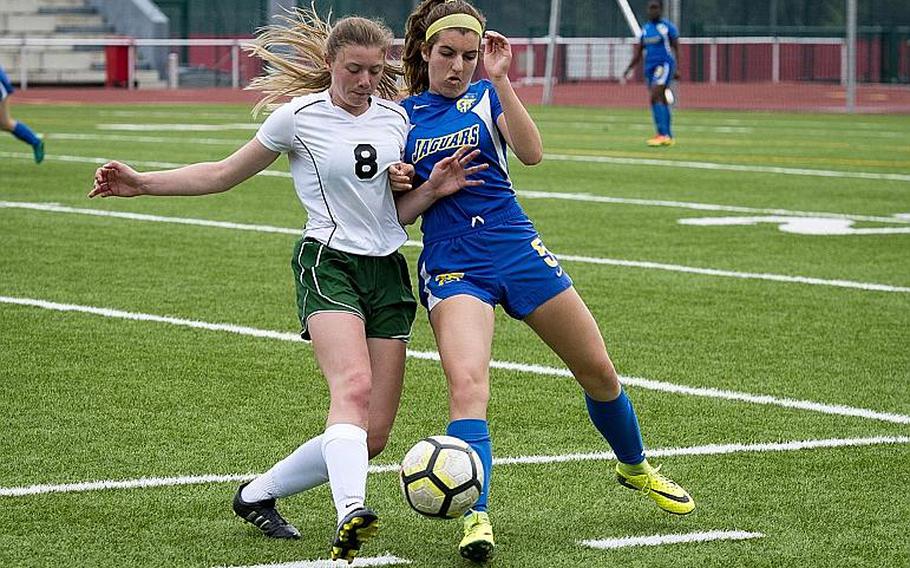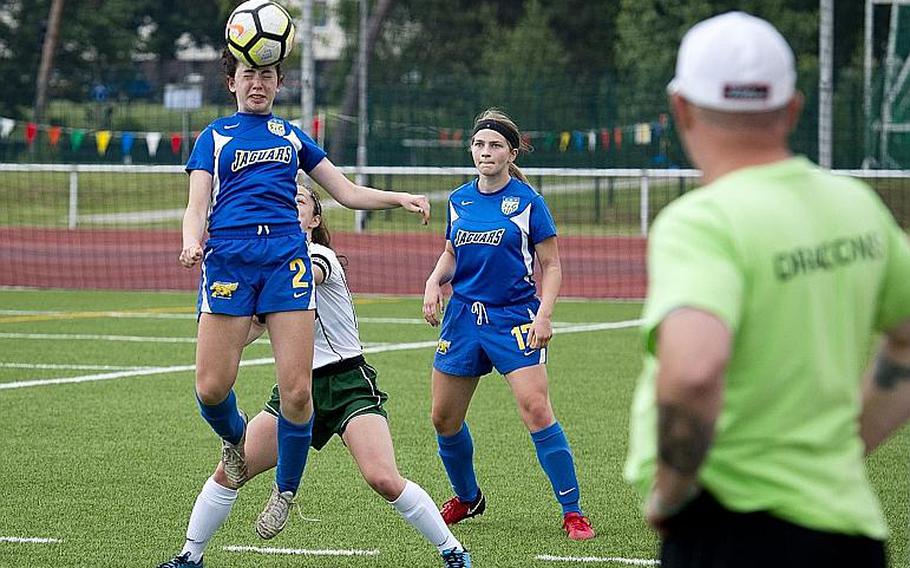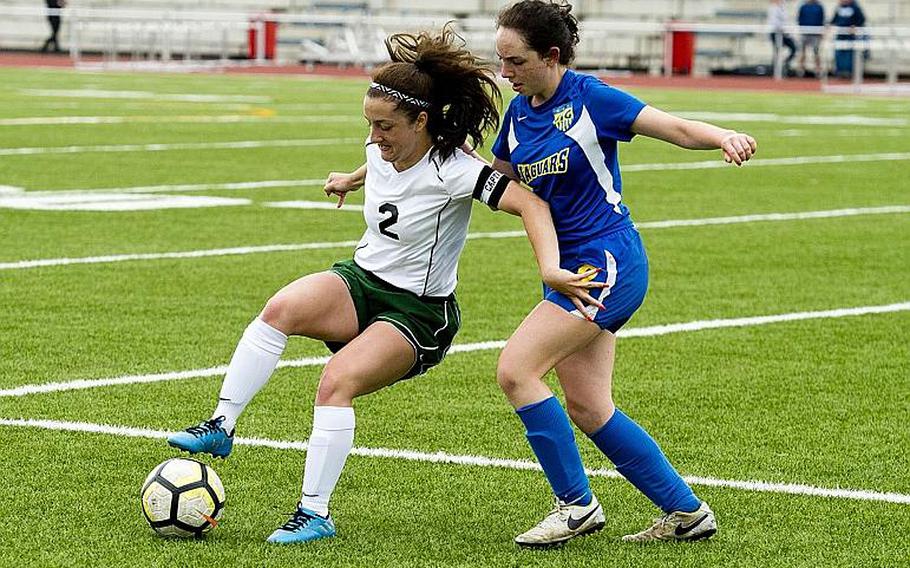 KAISERSLAUTERN, Germany — The Sigonella Jaguars have seen enough of Alconbury and senior striker Isabel Black.
The Dragons won their fourth consecutive DODEA-Europe Division III girls' soccer championship Thursday with a 1-0 win over Sigonella - the third straight year Alconbury has won the season-ending finals between the two schools by the same score.
Black, always a threat behind the defense, scored the game's only goal after a shot by teammate Laela Evans was deflected into her path. She pounced, poking the ball past outstretched Jaguar goalie Samantha Sanders in the 26th minute of the first half. Previously, both teams had struggled to create chances, but Black's goal opened things up for the senior-laden Dragons.
"Laela was putting in a lot of effort and had a couple crosses that didn't quite click but we had that one that found my feet and I was able to finish," Black said.
Evans soon tested Sanders again with a strong effort from range. After one half, it was clear Alconbury was playing with confidence and would be tough to beat.
"I think it was because we had so much support around the field with Haley (Starr) and Victoria (Flores) and Isabel, we have a strong team throughout the field, so there wasn't as much pressure because I knew I had all that behind me to help," Evans said.
The second half started much the same way, with Evans sending Black through on goal, but Sanders made a good save and an Alconbury rebound was saved off the goal line by a well-placed Kenzie Brown.
As time wore on, the narrowness of Alconbury's lead meant that any mistake could mean Sigonella tying things up, but the Dragons continued to press forward while the Jaguars struggled to string passes together to get forwards Mia Packhauser and Alex Garcia involved.
In the end, it was enough, and Dragons coach Jeffrey Black had his fourth straight title leading his daughter's team.
"That's four in a row, Isabel is a four-year winner and there's a handful of them that have won three," he said. "But sometimes you get lucky and get a group of girls who stay together."
Next year could be a different story, with seven Dragon seniors graduating and some more expected to move over the summer.
For Sigonella, making it this far was something of a surprise for an inexperienced team that struggled during the regular season.
"The last three seasons we've had a different crew up here every time, and this year especially we started from scratch," Sigonella coach Shawn McCarthy said. "To get to this point – it's funny that oftentimes you see somebody get to a final and say it's too bad they lost, but sometimes it's the maximum you can be. We played them to an even match, but in the end, they had two veteran players in Laela and Isabel. Those two were the difference makers."
Stoutamire.dan@stripes.com
Twitter: @DKS_Stripes