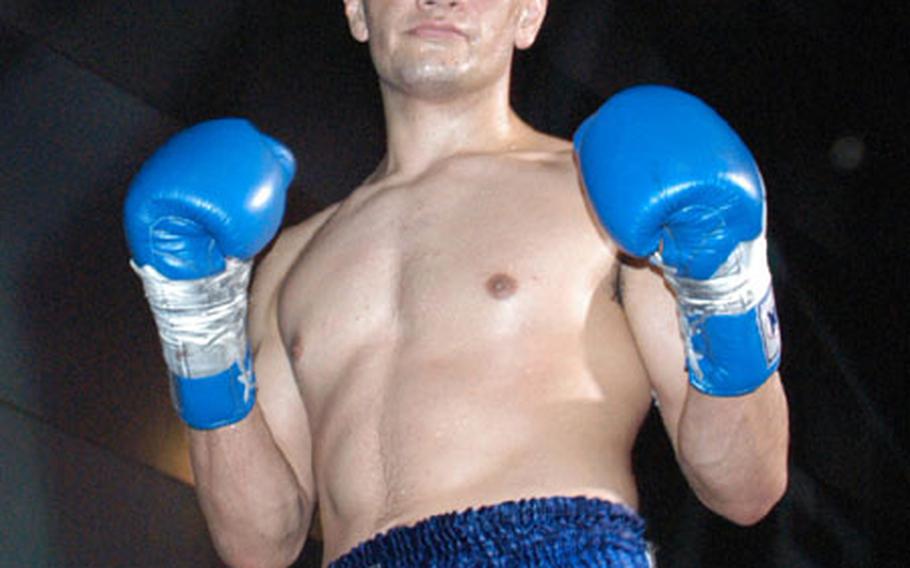 TOKYO — Senior Airman David Archuletta used flurries of low kicks and knee strikes to defeat Hiroyuki Abe by decision Saturday in a non-title bout in Velfarre, one of Tokyo's trendiest clubs.
The fighters taunted each other throughout the three-round match and Abe, a shoot-fighting grappler, repeatedly threw Archuletta to the canvas.
Abe was penalized in the first round for throwing Archuletta (18-3-1, 11 knockouts) down.
Archuletta, 22, who holds the Universal Kickboxing Federation junior welterweight title, said the fight was frustrating.
"When I started hurting him, he started running," he said.
Kevin Glapion, who travels with Archuletta to be his "eyes and ears" from outside the ring, explained the airman had to change his fighting style against Abe.
"We all know he's [Archuletta] a great kicker," Glapion said. "But today he showed some hand skills."
Glapion said fighting against a grappler is difficult, because "he waits for you to move then goes for your legs."
It was the first time Archuletta, an Albuquerque, N.M. native who belongs to Kadena's 733rd Air Mobility Squadron, had fought a grappler.
Archuletta pounded Abe with low kicks to the legs in an effort to get him to drop his left hand; when Abe dropped his guard, Archuletta pounced, throwing combinations.
"It was a little weird, but OK," Archuletta said.