Ahner gives Kadena leg up: Junior, known for kicking, tastes success on mat
by
Dave Ornauer Stars Stripes
January 28, 2010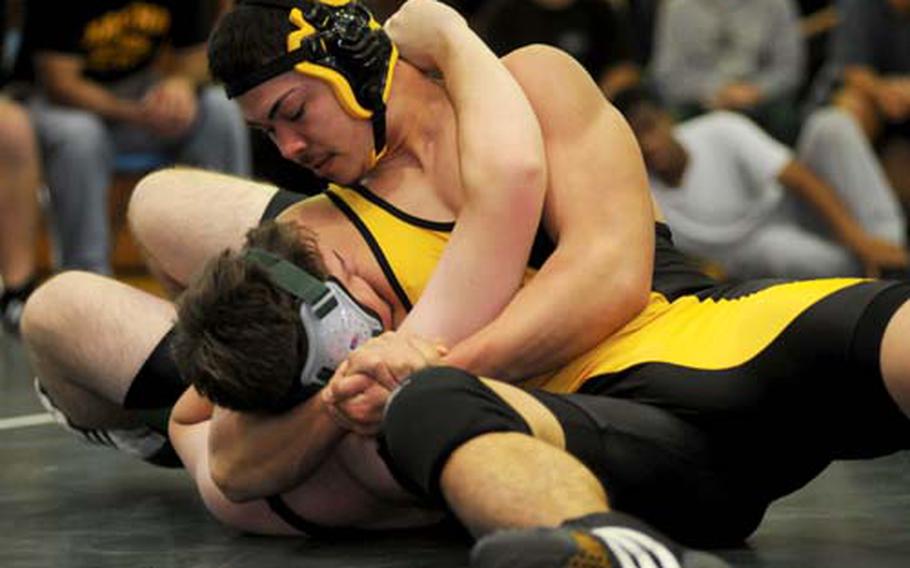 KADENA AIR BASE, Okinawa
Aaron Ahner does perhaps his best work with his powerful left leg, capable of sending a soccer ball or football 70 yards in the air, a one-man field-position determiner on the gridiron and versatile playmaker on the pitch.
So, what is the Kadena Panthers' 6-foot-4 junior doing on the mat? Try a 7-3 record so far, including third-place finishes in two tournaments, with his only three defeats coming against seasoned, year-round Japanese wrestlers.
"That's an indication of his athletic ability," said Ahner's wrestling coach, Steve Schrock, who also is Kadena's offensive coordinator in football.
"He's just an extremely good athlete. He's a very fast learner and that's because of his athletic ability. If you show it to him, he sees it a couple of times, a couple of corrections with technique, he then will take it and do it over and over again on the mat."
During Saturday's Okinawa-American Friendship Tournament, Ahner sent a Japanese wrestler flying out of bounds, then from the back position wrapped his arms around a foe and wrenched him onto his back as if he were a child.
"The fun part is where you get to throw people, using all your strength to pin them or score points with it," Ahner said.
Schrock credits that strength to Ahner's workouts against his sophomore brother, heavyweight Gabe Ahner.
"I think there were some instances of brotherly love going on in the living room or the backyard somewhere and maybe some lamps were kicked over," Schrock said.
That, the Ahners say, was precisely the genesis of Aaron trying the sport for the first time.
"We wrestled around the house a little bit," Aaron said. "Sometimes I win, sometimes he does, but mostly him because he's strong."
"He didn't do anything last year," Gabe said, adding that when soccer season started, "he was kind of out of shape. I told him [wrestling] would be a good thing, it would keep him healthy and strong. And he's doing really well for his first year."
How did he get so good so quickly? He "gets it," Gabe and Schrock say.
"When he sees it and has a chance to practice it, it becomes part of him like he's been wrestling for three years," Schrock said.
"Everything he does, even if it's his first time doing it, he gets it quickly, he understands it quickly and gets it right," Gabe said.
Coaches of opposing teams have taken notice.
"He's an extremely gifted athlete," Kubasaki coach Ken Gipson said. "This kid, he's a natural. It's going to take a little fine-tuning, but this kid is going to be outstanding."
Gipson's boss, Kubasaki athletic director Fred Bales, calls the tandem of the Ahners and 180-pounder Tyler Broome "Murderer's Row." Broome moved down from 215 pounds to 180 to make room for Aaron, Schrock said.
"I don't think I've had a strong top third of the lineup like that for a long time," Schrock said. "We're really fortunate to have those three in the top part of our lineup."
As much as he's enjoying wrestling — "I love it," Aaron said — the sport takes a back seat to his other passions.
In soccer, Ahner has posted 19 goals and nine assists in two seasons in which Kadena's gone 26-18-4. On the gridiron, Ahner had eight sacks last season, in which Kadena won the Far East Class AA title; 75 percent of his kickoffs went into the end zone or pinned opponents inside their 20-yard line. The Panthers were so dominant on offense they did not need him to attempt many field goals.
He says he thinks of a football as "a soccer ball, but in a different shape," adding that the secret to his distance is not so much strength as it is "technique, where you're kicking the ball," Ahner said.
Ahner, who has lived on Okinawa all his life, has yet to attend a kicking camp in the States during summer but says he and his family are actively seeking one. Earning a college football scholarship and an NFL career are front and center in Ahner's dreams, he said.
He thinks about it most, he says, when he's watching football games on TV with his father. "That would be cool to be kicking" in college or the NFL, Ahner said.
"He has definite Division I leg strength," Schrock said. "He just needs to focus and continue training and practice. All aspects of the game have to come together, his mental and psychological approach combined with his physical attributes."
Should the stars align for Ahner, "the sky's the limit" for him, Schrock said, perhaps a college scholarship, maybe even a pro career.
"It would be kind of neat to see a young man from Okinawa, Japan, kicking on Sundays," Schrock said. "He's still a junior in high school. He's got some learning to do, but he definitely has the potential."